Diane Esguerra: Mother who lost her son to a heroin overdose hopes her new memoir will help other parents cope with loss
Her son Sacha had been sexually abused by a housemaster at boarding school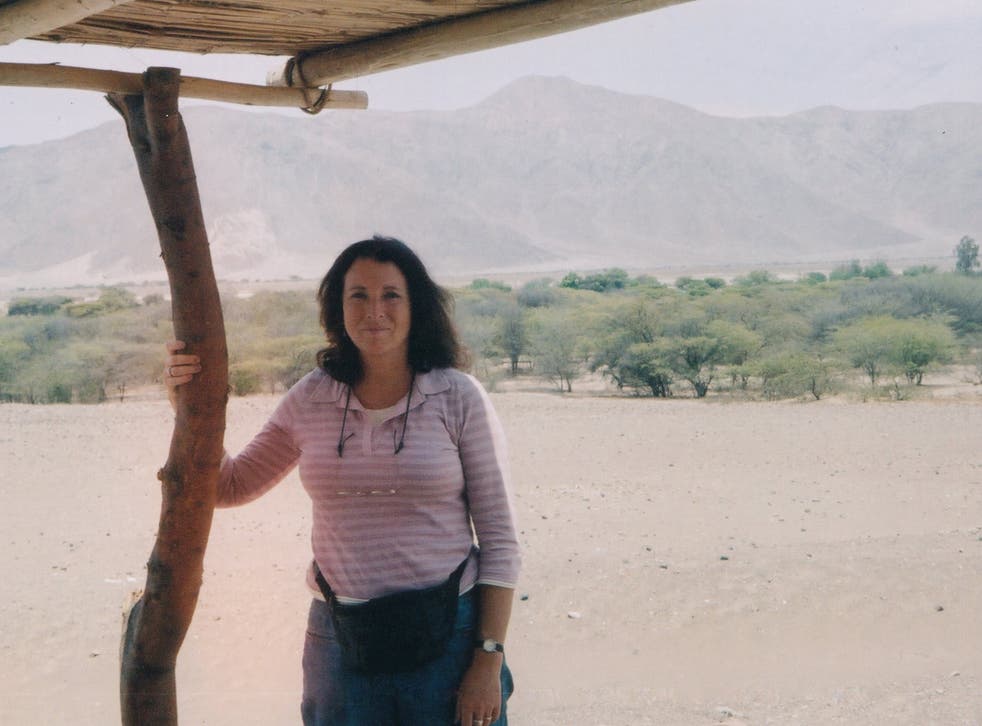 At the Inca site of Machu Picchu, Diane Esguerra grabs handfuls of her son Sacha's ashes from the orange silk pouch that has made the journey with her. She scatters them to the north, south, east and west while whispering to him, "I'll meet you again." It is the most intensely painful journey, the kind a parent never wants to imagine.
Sacha, who would have turned 41 last week, died of a heroin overdose aged 30. He had, his mother now knows, been sexually abused by a housemaster at boarding school. But in her first book, Junkie Buddha: A Journey of Discovery in Peru, Diane was determined to write an uplifting account of her relationship with her son.
"I wrote the book to honour Sacha's memory," she says. "And because I'm a middle-class, middle-aged woman and I want to lift the shame associated with addiction and with abuse. I'd like to see sexual abuse education being taught in schools." Diane, who has worked as a playwright, scriptwriter and performance artist, had reluctantly sent her fishing- and football-obsessed son to prep school in Eastbourne. He was dyslexic, and little support was offered in the state education system in the 1980s, while the boarding school had a dyslexia unit. She had no idea of the abuse he suffered at the time. "I missed him terribly and wrote letters every day," she remembers.
Her son's character transformed as he approached his teenage years. He became miserable and angry, but Diane thought this was because her marriage to Sacha's stepfather was breaking down. His teenage years were troubled. A teacher saw cuts on his arm at 14. Soon after, he was expelled for carrying a Swiss Army knife on a school trip, and moved to a local school in Holland Park, west London.
At 18, he left home but lived close to his mother, bringing back washing most days. He lived for the moment, going to lots of festivals, making music and joining the New Age Traveller movement, where he formed strong, lasting friendships. He loved nature, especially climbing mountains, and spent time travelling in South America, sometimes visiting his Colombian father. "I was aware he was drinking quite a lot, and taking drugs – mushrooms and so on," Diane says. "When I asked why, he would just say, 'You shouldn't have sent me to boarding school, Mum,' but wouldn't say any more."
It was only when Diane, by then living in Brighton with her husband David, retrained as a psychotherapist that she recognised what Sacha had suffered. "I went to a seminar on male abuse and Sacha ticked every box," she remembers. "When he next came to stay, I broached it with him. He ran from the room and I didn't see him again that evening." The next morning, she offered help and support. He remained silent. It was 18 months later that he opened up about his experiences.
"He told me he'd been abused on many occasions by his housemaster," she says. "He took him out of his dormitory and filled him with alcohol. He was 10. He said he'd been too ashamed to tell anyone, even me. His housemaster directed him in plays at school, and invited us to lunch sometimes when I came down to visit. He was repulsive, but I didn't want to say no as I didn't want Sacha to lose favour with him. I thought he fancied me because I worked in the theatre – but that's the grooming."
At the same time, Sacha told his mother he was a heroin addict. "I hadn't suspected he took heroin," she remembers. "He was getting on to a methadone programme and wanted my support."
Sacha continued making music through his twenties, and Diane supported him through his struggles with addiction and his painful withdrawals, when he would go cold turkey, turning to drugs again in times of crisis.
On 2 January 2005, Diane visited her son. She found Sacha's body slumped kneeling on the floor; he had died from an overdose after partying over the New Year. Her husband David came to join her. "We sat in the living room of the flat upstairs, staring down at the hideous blue carpet, holding hands in stunned silence. I was living through my worst nightmare, and there was a horrible familiarity to it all," she writes in Junkie Buddha.
It was a year after Sacha's death that Diane travelled to Peru, a country her son had adored and was hoping to return to. "He loved Macchu Picchu. It felt like the right place to be," she says. She was joined by Sacha's father, Roberto, to scatter their son's ashes, healing a huge rift between them. "It was as if it was what Sacha wanted: it felt spiritual and beautiful."
Drug addiction, overdoses, and a very brief history of Heroin

Show all 14
Her memoir describes her journey through the country and the Peruvians she meets along the way, including an Inca witch who predicts that she will write a book about her travels. "Flying over the Nazca Lines, seeing the temples – it brought me alive again. I think the surprise of travel does that. When your mood is low, you're grieving and thinking one-dimensional thoughts, and are stuck in your own head, it has the power to delight and amaze, as much as to shock and to horrify us. I'm fascinated by the human race – our common humanity, both our similarities and our differences."
Diane now lives in Salford with David, and works as a psychotherapist, often with clients who have been abused. "I want there to be more understanding of what it does to people and why children stay silent, even if there's a close parental bond," she says. "The guilt and the self-disgust that the victim picks up from the abuser, the fears of being judged and the damage to self-esteem."
Police investigating Sacha's death have tried to trace his prep school housemaster, but without success, and the school is now closed.
Diane continues to feel Sacha's presence. "I feel he's happy and at peace," she says. "I sense him sometimes very strongly – especially if I'm afraid and have to have an operation, or something." She hopes Junkie Buddha may help others in a similar situation. "I know suicide rates are very high for adult women who have lost their only grown child," she says. "There's a survivor's guilt. I felt I should have gone before him; he should have been at my funeral."
She says her grief is "constantly there, but not in the same agonising way it used to be. I feel a sense of peace within it". And her Buddhist faith that even the darkest situations can be transformed has helped to carry her.
"Death is part of life," she says. "It's such a taboo in our society, but the dead have a place in our lives – it's not something to move on from or not to mention. We have continuing bonds: it's healthier to continue to talk to whoever you've lost, than 'recover' from it."
'Junkie Buddha: A Journey of Discovery in Peru' will be published by Eye Books on 11 September (Eye Books, £8.99)
Join our new commenting forum
Join thought-provoking conversations, follow other Independent readers and see their replies