Dirty, sexy money: The writer Rupert Smith on his lucrative porn-lit sideline
With his legit literary career heading for the doldrums, a despondent Rupert Smith took on a 'nom de porn', James Lear, and entered the parallel universe of erotica. Now he sells more copies than Alan Hollinghurst...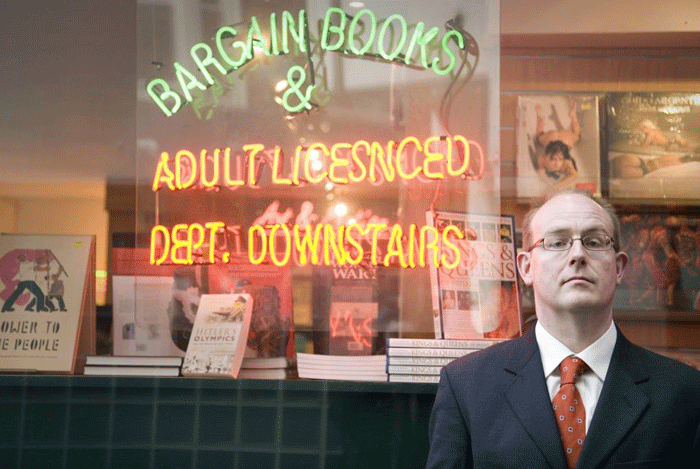 A few years ago, I was complaining to a fellow writer about my inability to find a publisher for my second novel. It was a fairly typical outpouring of frustration and incomprehension at the state of British publishing. "Have you ever thought of writing porn?" he asked. "It's easy to get published, and you sell a lot of books." As these are the only words that a writer ever really wants to hear, I rushed home and embarked without much thought on a filthy homosexual rewrite of Robert Louis Stevenson's Kidnapped, entitled The Low Road. I tossed it off in about a month, and it was duly published by the gay porn imprint Zipper Books.
The Low Road sold its edition quickly, and I was asked for another – this time a steamy backstage drama modelled on Gerald du Maurier's Trilby, entitled The Palace of Varieties. It took longer, because I took a great deal more care over it, and again, it enjoyed brisk sales. Then Zipper Books ceased publication, and there the story might have ended – but for the fact that James Lear – my "nom de porn" – had developed a life of his own.
I was surprised by the enthusiasm with which these books were greeted, and felt reluctant to let the project fizzle out. Without a UK publisher – none of the straight erotic imprints would touch gay material – I turned to the US, and was picked up by the San Francisco-based Cleis Press. They saw the potential in the third James Lear novel – a country house murder mystery entitled The Back Passage – and published it in 2006. Since then, it's regularly topped Amazon's gay and adult bestseller lists on both sides of the Atlantic, and, on the UK site at least, has consistently outsold books by respectable literary figures like Alan Hollinghurst and Sarah Waters.
But you wouldn't know – at least not by going into bookshops or reading the literary pages of newspapers. Erotic fiction, gay or straight, is the most reviled of all genres. While science fiction, horror, crime and romance have their own well-stocked sections, erotica languishes in a dog-eared corner at the back, near the lavs. Some straight smut makes it into airports, to refresh the tired business traveller, but gay material remains beyond the pale.
Pornographic fiction, erotica, "one-handed reading", call it what you will, is a publishing parallel universe. Books sell in large quantities – The Back Passage is now in its fourth reprint – and are gobbled up by extremely diverse audiences. James Lear's most enthusiastic fans are straight women, who love reading about male/male sex. There's an alternative constellation of literary stars in the world of porn – people who will never get invited to Hay, but who enjoy bigger sales than their legit counterparts.
The internet is largely to thank for the rise of erotic literature; it's easier, and less potentially embarrassing, to buy dirty books from Amazon than from your local Waterstone's (who don't stock them anyway). Thanks to networking sites like MySpace, writers can market their work to its target audience – and, if you can't find a publisher, who cares? You can publish it yourself, either in print or online. A lively blogging community reviews and discusses the latest releases with a healthy lack of pigeonholing. In the world of literary fiction, an author's sexual preference has a massive impact on the way his or her books are marketed, reviewed and sold; in porn nobody cares much. Women read about men, men read about women, everyone gets off on everyone else and nobody cares about categories. As one (straight, female) James Lear fan wrote, "I like reading about sex, and I like men. One man is good, two men are better." Another woman recounted how she enjoyed my books at bedtime, and then, when the lights went out, pounced on her (presumably grateful) husband to put her reading into practice.
If the readers are diverse, the writers are even more so. It's a field dominated by women, who approach any and every kink with gusto. There are Surrey housewives turning out explicit male homosexual porn. There are specialists in sub-genres like crime porn, horror porn, fetish and historical. In America, there are writers who make a very good living out of nothing but erotic literature. Hyperactive New Yorker Rachel Kramer Bussel, a Penthouse contributing editor, has edited 20 erotic anthologies, contributed to about 100 more, and writes a regular sex column for the Village Voice. Like her, a growing number of writers are creating one-person porno cottage industries.
I'm by no means the first literary author to dabble in pornography. Horror queen Anne Rice wrote copious amounts of sadomasochistic erotica as A N Roquelaure – and her other novels still get made into movies starring Tom Cruise. Pauline Réage, author of the deeply filthy Histoire d'O, was in reality the translator and editorial secretary Anne Desclos, who wrote the novel as a bet. Many male American writers have served an apprenticeship writing dirty stories, among them the crime writer Lawrence Block who, as Jill Emerson, turned out lesbian porn in the Sixties.
I chose to publish my erotic novels under a pseudonym for the simple reason that, when The Low Road came out, I was earning a substantial part of my income from the BBC, and I feared that if the Corporation knew what I was doing with my other hand, it might stop commissioning me. The name James Lear came from a combination of my own middle name and the surname of my favourite Eurodisco star, Amanda Lear, to whom I have occasionally claimed to be married. (I may or may not also be a descendant of nonsense king Edward.) Gradually, "he" has developed a character of his own: I think of him as an elderly roué, living in an expensive retirement home, making life hell for his athletic male care staff. This flag of convenience has become a useful way of differentiating my output. As Rupert Smith, I write contemporary comic fiction such as I Must Confess and Service Wash; the Lear oeuvre is all set in the past, and has a different motivation. Rupert Smith hopes to make you laugh; James Lear hopes to make you come.
And there, forgive me, is the rub. Erotic fiction has a purpose, and it's not a very highbrow one. James Lear's novels are designed specifically as aids to masturbation: two good orgasms per chapter for younger readers, one for the over forties. Each encounter gives the reader a variation on the theme, keeping the interest fresh. The plot exists to carry the reader from one orgasm to the next.
I think that erotic literature serves the same purpose as other genre fiction, but with a more literal outcome. A good crime novel, be it by Agatha Christie or Alexander McCall Smith, provides a failsafe formula of crime, investigation and solution. The porn parallel is encounter, seduction and sex. While a whodunnit plots this pattern across an entire book, a porn writer must repeat it several times within one novel, allowing the reader time to recover before revving up the engines again. The reason why dirty books remain in the shadows is very simple: the book trade is not comfortable with masturbation. Books in which children are abused, women murdered and men brutalised crowd the shelves of WH Smith. Books in which consenting adults enjoy each other for the healthy entertainment of literate wankers do not.
One disgruntled customer on Amazon described a James Lear novel as "smut with pretensions", and I think this is actually quite a good summary of the Lear method. It is unashamedly smut; let's face it, most readers like good sex scenes, whether they're dressed up in literary drag or not. The "pretensions" are the added extras: I try to provide a ripping yarn, some decent character development and a lot of good jokes. Humour is as essential to pornographic literature as yeast is to bread: without it, nothing is going to rise. Ideally, I would like to provide every reader with a packet of tissues, but as that's not possible I offer them high literary production values instead.
Nowadays, Rupert Smith and James Lear publish more or less alternately. The fourth James Lear novel, an American Civil War epic entitled Hot Valley, will be followed by the reissue next month of The Palace of Varieties and, in the autumn, by The Secret Tunnel, which is basically Murder on the Orient Express with sex. James Lear is invited to read at least as often as Rupert Smith, and his books routinely outsell mine. There have even been serious enquiries from Hollywood about the screen rights for The Back Passage. At long last, dirty books are starting to be taken seriously by a business which used to pretend that they didn't exist.
www.myspace.com/jameslearfiction
T he extract
The Palace of Varieties, By James Lear (Cleis £9.99)
'...Grimes led me back up to the dais, sat on the block, put me over his knee and commenced a firm spanking... I played my part, screwing up my face and yelping as that great shovel of a hand bore down upon my downy bum... once my bum was warmed up, it was time for the main event'
Join our commenting forum
Join thought-provoking conversations, follow other Independent readers and see their replies