The Independent Foreign Fiction Prize nominees put the world in your hands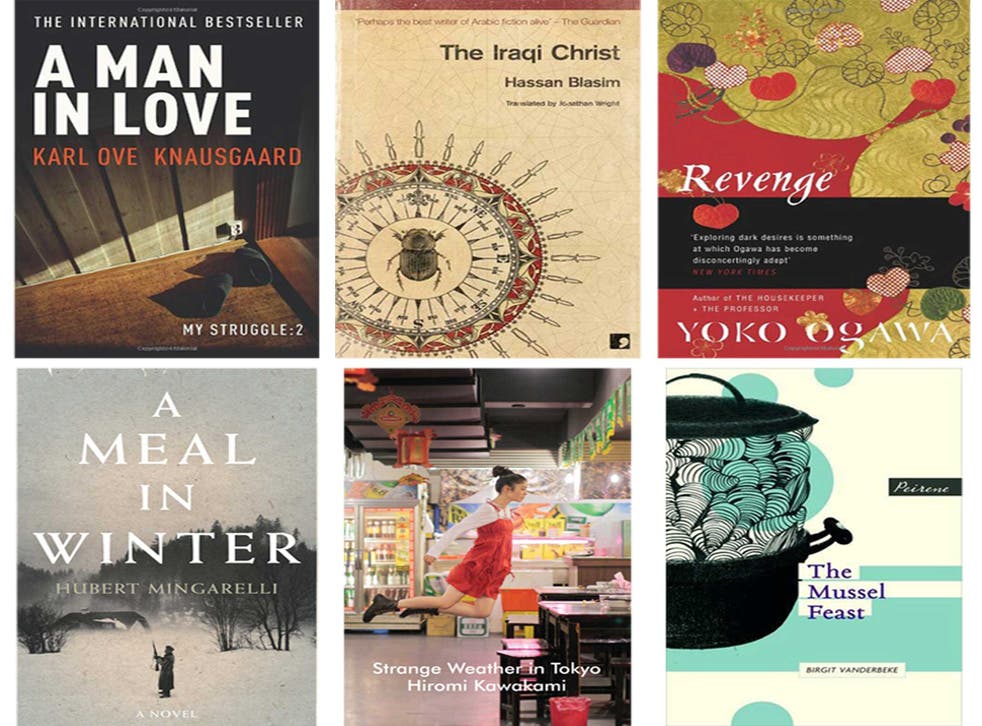 Set sail on a planet-spanning ocean of fiction, as the judges of the Independent Foreign Fiction Prize do every year, and the voyage doesn't simply take you to wondrous new shores of language and culture. It will revise and refresh your idea of what it means to excel as a world-class storyteller. Take this year's exhilarating shortlist.
The panel of judges – Alev Adil, Natalie Haynes, Nadifa Mohamed, Shaun Whiteside and myself – have ranged as far and wide as ever in a list comprised of three women and three men. The final selection encompasses work from Iraq (Hassan Blasim) and Norway (Karl Ove Knausgaard), Germany (Birgit Vanderbeke) and France (Hubert Mingarelli), with two contributions from Japan (Hiromi Kawakami and Yoko Ogawa), all in fluent, subtle and resourceful translations.
Just as noteworthy is the panoramic spread of forms. In the second part of Knausgaard's autobiographical epic, the raw material of memory is shaped, crafted and filtered in deeply sophisticated ways. Mingarelli's lapidary tale of awakened conscience in Nazi-occupied Poland unites historical events with the mood of a forest fairy-tale. And Vanderbeke's grippingly concise monologue fuses the fears and losses of one family with the tragic fate of a nation.
Ogawa braids sharply etched gothic tales into a haunting jigsaw novel of the unburied past. And Kawakami transforms an affecting cross-generational romance into an exquisite poem of time and mutability. In the aftermath of the Iraq war, Blasim's savagely compassionate stories both channel and control the chaotic suffering left behind.
This year's shortlist proves that outstanding fiction may not simply come from anywhere; it can go just about anywhere in its form and voice, mood and mode. We will reveal the winners of the £10,000 prize – divided equally between author and translator, and generously supported again by Arts Council England, Champagne Taittinger and Booktrust – on 22 May. In the meantime, please join us on this trip through the infinite variety of the global storyteller's art.
Best in translation: The Independent Foreign Fiction Prize shortlist
A Man in Love By Karl Ove Knausgaard (translated by Don Bartlett from Norwegian) Harvill Secker
The second instalment of the Norwegian author's autobiographical epic portrays the writer as parent and lover, committed to his new family in Sweden but derailed by passion – and by art. Alev Adil comments on this "candid portrayal of contemporary masculinity" that "Although Proustian in scope, we are far from Parisian aristocracy and, in contrast, Knausgaard is mesmerisingly eloquent about ordinary family life in Stockholm. His writing ranges from the minutiae of domestic life as a father of young children to wider observations on literature, philosophy, memory and desire. Don Bartlett's excellent translation … conveys Knausgaard's shifts between the personal and the general, from the emotional and metaphorical to the theoretical."
The Iraqi Christ By Hassan Blasim (trs Jonathan Wright from Arabic) Comma Press
Strung between reportage, memoir and fantasy, these 14 interlinked stories present Iraq, post-invasion and post-Saddam, as a surrealist inferno. Bizarre horrors become normal events. Outlandish tragedies punctuate ordinary life. Mythical creatures and deeds suffuse the day-by-day struggle simply to stay alive. A shelf of fêted novels and memoirs now tell us what the ill-starred Western intervention in 2003 meant for the invading soldiers and their nations. Veering between rage, despair, lacerating grief and wild ecstasy, this is one Iraqi version of events. Blasim's soaring imagination, pitch-black comedy and fierce compassion, all captured by Jonathan Wright's pacy and pugnacious translation, keep nihilism at bay.
Revenge By Yoko Ogawa (trs Stephen Snyder from Japanese) Harvill Secker
These 11 "dark tales" by a mistress of the uncanny and macabre overlap and intersect. Together, they build into an episodic novel of passion, violence, vengeance and memory, understated but deeply compelling. Everyday incidents in today's Japan slip into another dimension, and from an encounter in a bakery or hotel we suddenly plunge into the creation of a designer bag to hold a human heart, or the bizarre fate of a pet tiger. Natalie Haynes comments that: "Occupying the sliver of overlapping space between elegance and gothic nightmare, this book follows a grieving mother, a vengeful nurse, and a curator of a torture museum." It is "a dark, glinting jewel of a book".
A Meal in Winter By Hubert Mingarelli (trs Sam Taylor from French) Portobello Books
In the depths of bleak midwinter, in occupied Poland, a group of soldiers go in search of fugitives who have so far escaped their massacres. Brief, elegant, quietly lyrical yet driven by an inward fire, Mingarelli's novel shows that the fiction of wartime atrocity can still yield treasures. This frozen sideshow of a sideshow captures all the malice of the genocide, and the burden of resisting it. For Natalie Haynes, "This cold, spare novel is a miniature masterpiece – a devastating story about three German soldiers sent out into the deepest Polish winter to hunt for Jews, as the war inches towards an end." It is "beautifully translated with clarity and pathos".
The Mussel Feast By Birgit Vanderbeke (trs Jamie Bulloch from German) Peirene Press
In an ordinary German home a mother and two children wait for father to come home and eat his favourite food – mussels – with them. As he fails to arrive, this beautifully controlled monologue gathers in tension. Revelation after revelation darkens the family atmosphere. This exposure of domestic tyranny also targets the kind of society that defers to such ogres, and searches for the roots of this fear. For Nadifa Mohamed, this is "A tiny book that leaves a strong impression … the story boils and seethes until it spills over, revealing the trauma and pain that the Second World War inflicted on ordinary German families and the particular yet unique dynamics found in abusive homes."
Strange Weather in Tokyo By Hiromi Kawakami (trs Allison Markin Powell from Japanese) Portobello Books
This is a delicate and haunting novel of a fragile rapport between two solitary people. Kawakami combines deftly sketched glimpses of ultra-modern Japan and a deep affinity with its ancient arts of season-sensitive poetry and painting. For Alev Adil, "So much is said through silence in the subtle and haunting portrait of the growing friendship between Tsukiko and 'Sensei', her former teacher … Kawakami's prose is warm and often humorous, revealing the everyday surrealism of life in contemporary Tokyo. Allison Markin Powell's masterful translation conveys a deceptively effortless, understated delicacy and dream-like tone. Often enchanting but ultimately heart-breaking, this is an unforgettable evocation of love and loneliness."
Join our new commenting forum
Join thought-provoking conversations, follow other Independent readers and see their replies