The Indy Book Club: 'The Grapes of Wrath' shows kindness can endure even the most hostile conditions
The second pick in our new fortnightly book club, this 1939 American epic asks what is it to become an immigrant, writes Annie Lord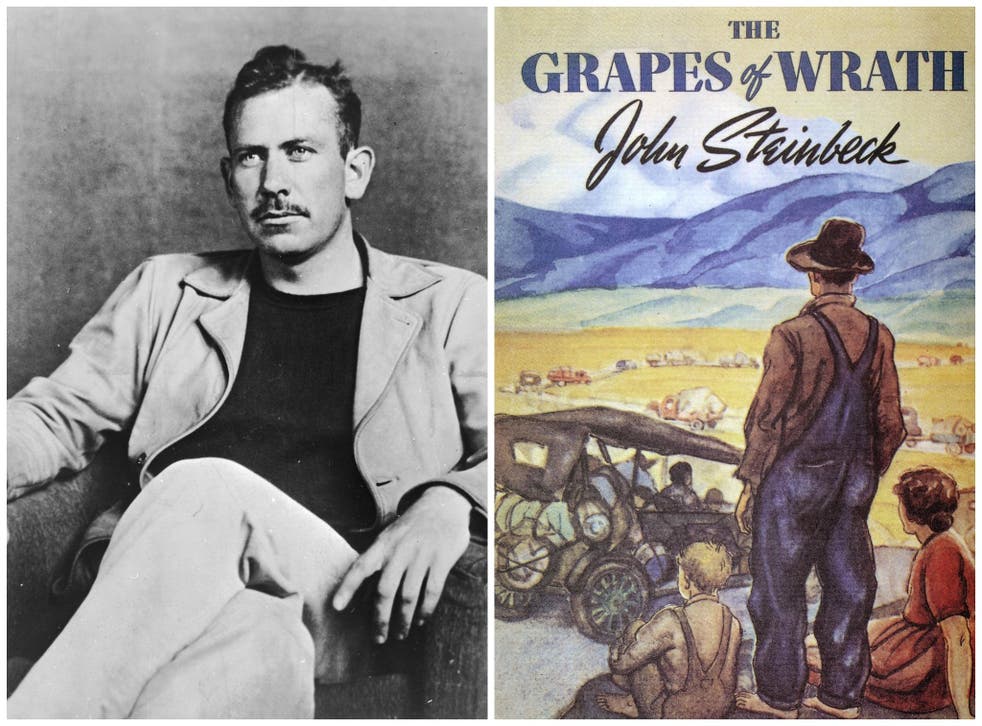 One is not born, but rather becomes, an immigrant. That's what I thought when I read John Steinbeck's 1939 American epic The Grapes of Wrath. Set during the Great Depression, the Pulitzer and Nobel prize-winning novel follows the dispossessed Joad family as they are driven from their Oklahoma farm by a drought that has turned the once-fertile soil to dust. Hungry, poor and homeless, the Joads join thousands of others trekking down Route 66 in search of the fruit fields of California, whose vast swathes of green pasture promise them a better life.
"Immigrant" shouldn't be a dirty word, but society makes it into one. Hostile towards the mass movement of people into California, citizens of the sunshine state begin to treat those from Oklahoma as lesser. "Okie use' ta mean you was from Oklahoma," laments one dust bowl refugee in the novel. "Now it means you're a dirty son-of-a-bitch. Okie means you're scum. Don't mean nothing itself, it's the way they say it." As the novel progresses, the once-proud Joad family are whittled down, broken in and humiliated until they must struggle to remember what it is to move through the world with your head held high. When they reach Weedpatch camp, a place of shelter and protection built by the federal government to protect migrants, the respect shown to them reminds Ma what it is to be valued.
"We're Joads. We don't look up to nobody. Grampa's grampa, he fit in the Revolution. We was farm people till the debt. And then – them people. They done somepin to us. Ever' time they come seemed like they was a-whippin' me – all of us. An' in Needles, that police. He done somepin to me, made me feel mean. Made me feel ashamed. An' now I ain't ashamed. These folks is our folks – is our folks. An' that manager, he come an' set an' drank coffee, an' he says, 'Mrs. Joad' this, an' 'Mrs. Joad' that – an' 'How you getting' on, Mrs. Joad?'" She stopped and sighed. "Why, I feel like people again."
Like all things on the right side of a wrong history, there was much opposition to Grapes of Wrath when it first came out. The Associated Farmers of California called it a "pack of lies" and "Jewish propaganda". It was banned and burnt in a number of places, including Kern County, the endpoint of the Joad family's migration. Ruth Comfort Mitchell suggested in her forgotten book, Of Human Kindness, that in order to make a political point, Steinbeck had ignored how much the people of California had tried to help the migrants.
When preparing to write the novel, Steinbeck said: "I've done my damnedest to rip a reader's nerves to rags." And you can feel them ragged, sawn-off and stinging like too-cold ice-cream around your teeth. There's so much heartbreak. Police put knuckles to jaws. Men with hoses spray kerosene on oranges so that the price of food remains high. Children die of malnutrition. Wages are so low, there's scarcely a point in working. Okies are run off patches of land because the grass is more prized than the people who want to rest on it.
It might be too much to cope with, except each time the heart breaks, the swell of kindness tries its best to sew it up again. When they part from the Wilson family, the Joads offer them $2 from their meagre savings and a meal of pork and potatoes. Roadside diner owner Mae pretends the peppermint sweets she's selling are half the price they're listed at so that a migrant father can treat his kids. And in the shattering final scene, Rose of Sharon Joad, having lost her daughter, offers her breast to a fellow Okie who is dying of starvation. "She squirmed closer," writes Steinbeck, "and pulled his head close. 'There!' she said. 'There.'"
And here's what some of our readers thought...
Harriet, 27, Liverpool
People say of literature, it's a "book for our times" – but this really is. Reading it, I think of how migrants are not seen as humans but rather economic policies, deemed useful only when we need them for cheap labour. I think of how large farms have been flying in immigrants from Eastern Europe to pick crops that would otherwise die in fields while people from the UK stay inside so as to protect themselves from the coronavirus.
Marcus, 43, London
It can be easy as a white person to become blind to the persecution others experience because of their race. Seeing oppression written on the body of a white person can make a starker impression. That's why Noughts and Crosses is shocking: we've never seen a white person struggle to get light plasters before. Or be harassed by police because of the colour of their skin. The impressions are starker because they are shocking. Reading Grapes of Wrath, I got this same feeling. Watching Okies become immigrants, I felt like I could understand more fully what it's like for people coming into this country.
Maria, 34, Derbyshire
I liked Grapes of Wrath, but it's too much a triumph of good over evil. It has an over-moralising tone that I found exhausting. As the family go through one hardship after another, I felt tired and began to hope for it to end.
Katya, 27, London
In an early section of the book, the tenant farmers are burning their belongings because the banks are forcing them out of their homes. Photographs, hats, feathers, there isn't room for it all. In response, someone asks: "How can we live without our lives? How will we know it's us without our past?" People lose their identities with their farms and livelihoods. Immigrants are always also emigrants, and they carry the memory of being somebody, somewhere, even if that was long ago.
Our next Indy Book Club pick is Ocean Vuong's On Earth We're Briefly Gorgeous. You can send over your thoughts on the book to annie.lord@independent.co.uk
We're also now running a film club. Here's what we've watched so far...
Join our new commenting forum
Join thought-provoking conversations, follow other Independent readers and see their replies