Maggie Gee: 'My Manhattan Transfer with Virginia Woolf'
Maggie Gee's novel drops the Bloomsburyite in today's New York. Holly Williams met her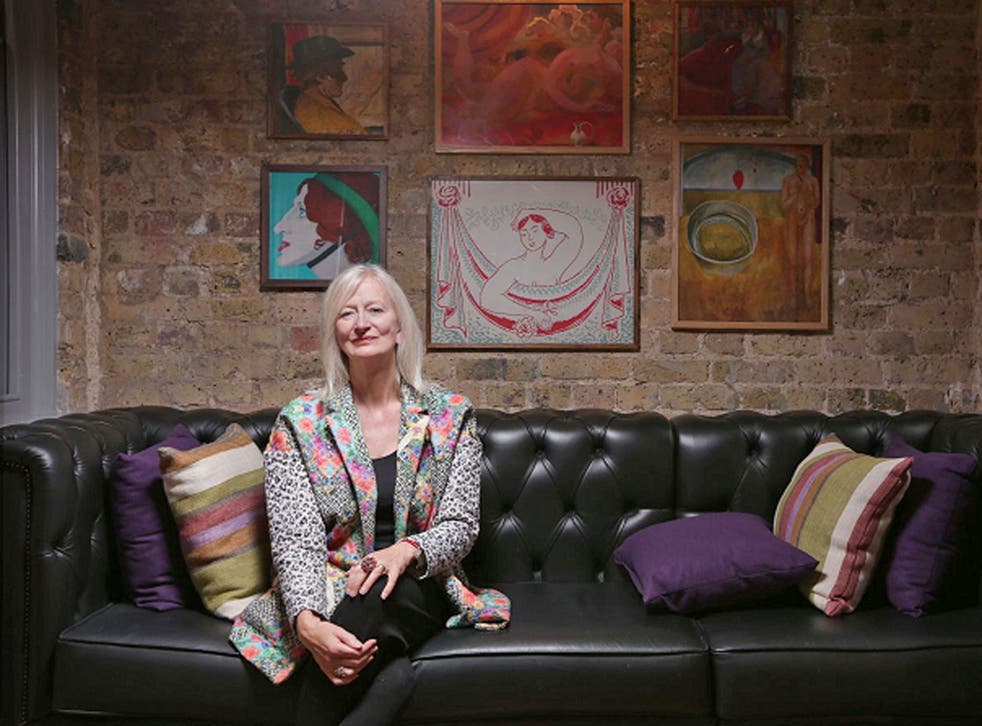 Maggie Gee didn't plan to write a novel about Virginia Woolf – she just appeared one day, uninvited.
The result is Virginia Woolf in Manhattan, Gee's 12th novel, in which a fictional bestselling author, Angela Lamb, accidentally wishes the deceased Modernist writer back to life; they go on jaunts around New York and then Istanbul, with Virginia alternately delighted and puzzled by the 21st century.
The 65-year-old writer completed a PhD on Woolf when she was in her twenties – had she been long lurking as a character, then? Hardly. "I never wanted to do that kind of fiction at all, not in the slightest – I never wanted to write about real people," Gee says, before musing "But I think I never want to do anything I've done before ... which is a great mistake! Publishers really like it [if you do]."
Yet Gee's striving to make it new has worked out pretty well: making it on to the original Granta Young British Novelists list in 1983, she was later shortlisted for the Orange prize for The White Family. In 2012, she became Professor of Creative Writing at Bath Spa University, and was awarded an OBE.
Back to Virginia Woolf. Gee went on holiday to New York, and wanted to see Woolf's manuscripts in a collection there. Turns out, even pre-arranged visitors may only be shown microfilm versions. At first, it felt to Gee like "a big knock back".
"But it's quite creative, being forbidden to do something … I thought: what if she came to life? What if she appeared here? The other thought was, this library is private. If Virginia Woolf came to life, she'd probably be thrown out!" Fans of Woolf's work will note the irony – women being barred from an Oxford library is the starting point for her seminal feminist tract A Room of One's Own – but Gee is adamant that you don't need to be a Bloomsbury boffin to enjoy this story.
Angela soon finds her heroine harder work than expected. Virginia is impetuous, full of joie de vivre, but also a bit of a handful … and how do you explain 2014's laptops, internet, geopolitics and gender politics, plastic surgery and political correctness, to someone who last lived in 1941? A screwball comedy ensues.
"The beginning was easy to write," says Gee, in soft, silvery tones that match her silvery hair, over a cup of tea at the Morton Hotel – a favourite London haunt, stuffed with paintings by Bloomsbury-group artists. "I know this is silly, but I really almost felt [Woolf] was coming back to life, in me. And then a lot of fun carried me along – I was genuinely curious, what would she think of the 21st century?"
If her book were to be made into a film (which incidentally she'd love, suggesting Meryl Streep to play Virginia, Emma Thompson for Angela), you can bet in the trailer they'd use the incongruous image of rarefied, elegant Virginia stuffing her face with a burger – and, as the slogan goes, lovin' it. But then, that was one of the things Gee explicitly wanted to capture: Woolf's vivacity. "The writing is so extraordinarily full of exhilaration, the rawness of life. What I remember, as a 17-year-old reading her, was the sense of 'Oh yes! She caught life!'"
Gee is a generous, warm interviewee, and has a lot of love for both her characters and her readers; she wants both to "have fun". But she admits that she is nervous about what scholars and critics will think …. However, many of those who study Virginia Woolf love her for exactly that liveliness; the image of Woolf as a gloomy, frail, snobbish aesthete is deeply unfair. And Gee's revitalised Virginia certainly contrasts with some representations of Woolf that focus on the tragic, tortured elements of her life (I'm looking at you, Nicole Kidman in The Hours …).
Yet Woolf is famous for taking her own life. Gee doesn't want to dwell on this, but will admit that handling the suicide was the hardest part of writing a novel that took four years to complete, with Gee almost abandoning it halfway through. "A big block for me was that I thought she'd have to come to terms with her own suicide. And that was the thing I hadn't wanted to do: to invade her historical life ... nobody should be judged, actually, by the end of their life – most lives don't end terribly well."
The suicide is alluded to, then, albeit in an impressionistic, poetic fashion – but largely, Gee preferred to create entirely new scenarios, in a new era: "If I'm doing a 21st-century Woolf, nobody can think it's 'real'." And she certainly does give herself a free rein: in Turkey, Virginia even has a holiday romance …. Re-imagining the sex life of any deceased person is bold, but here it feels particularly thorny: Woolf notoriously had a problem with physical intimacy, possibly as a result of abuse by her half-brothers. Some will surely wince at the sexy rewrite.
I question whether this is an attempt to address an element of Woolf that we find difficult today: that she didn't enjoy sex. Might it be a modern urge, the desire to recast her as sexually liberated? "I see that," acknowledges Gee. "But I think she herself felt something was stolen from her. And fiction is an imaginary world where losses can be restored."
Gee does, however, draw on her own life as well as reworking literary heroines: a sub-plot follows Angela's 14-year-old daughter, the plucky Gerda – a comic character based on Gee's own child, Rosa Rankin-Gee. "There's nothing physically similar –Rosa's 27 now – but she's terribly funny. She makes me cry with laughter."
Gerda and Angela have a strained relationship, Angela ignoring her child and swanning off around the world – is this some working through of motherly guilt? "I often exaggerate or satirise things where there's a grain of truth," says Gee – before smilingly dismissing any comparisons with her relationship with Rosa. "Actually, we're both real communicators, there's reams and reams of messages and emails."
Gee clearly adores her daughter, and is a terribly proud mum. Understandably so: Rosa's first novel, The Last Kings of Sark, was published to real acclaim last year. Not, Gee adds, that their writing is at all alike – but it is nice to be able to talk shop. "I hope it's easier for her. I love my profession, I love my life, but it's not so easy as it was in the Eighties – and it's never been secure … [Rosa] doesn't have illusions about getting rich off it," Gee says candidly. She pauses, then adds with a spreading smile "but she does see a happy mother".
Join our new commenting forum
Join thought-provoking conversations, follow other Independent readers and see their replies