Man Booker Prize 2015: A standout opinion-divider tops the billing
'I haven't read anything  that comes close to it this year - People's responses are visceral'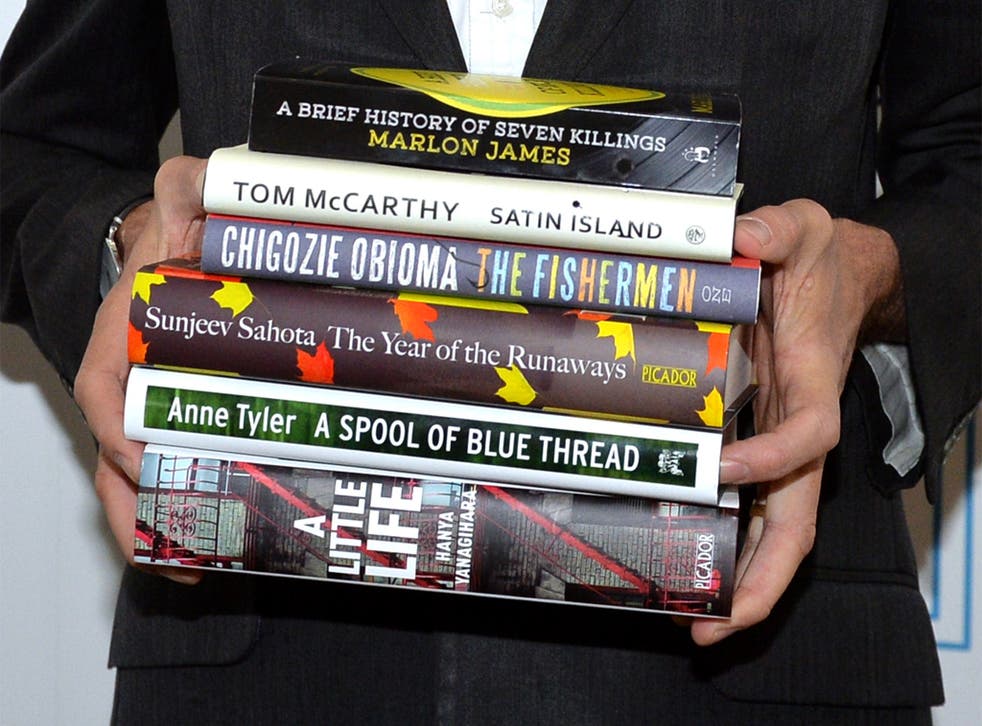 It is inevitably said every year (bar, perhaps, that which was marred by the judges advocating "readability" – McCarthy certainly wouldn't have made their cut!), but this year's Man Booker shortlist reads as one of the strongest in recent history. With one omission: Anne Tyler's A Spool of Blue Thread (Vintage). This is not to say the Pulitzer Prize-winning American author's 20th novel isn't a finely crafted domestic drama – spooling back through the history of the Whitshanks, Tyler reveals the realities behind the myths that, "embroidered and conjectured upon", have come to define the family's sense of self-identity – it's simply not in the same league as the rest of the shortlist.
Another anomaly, though for different reasons, is previous shortlistee Tom McCarthy's Satin Island (Cape), a novel that retains only the barest of defining features, instead resembling the collection of dossiers compiled by its protagonist U, a "corporate ethnographer" chasing "the First and Last Word on our age". It's not quite as alienating as it sounds, especially since McCarthy seems more at home with cultural theory than traditional plot and character – "events!" says U, "If you want those, you'd best stop reading now" – but it's hugely frustrating too. One of those books you can't quite work out if it's a waste of time or a work of genius, ultimately I think it's got more chance of bringing home the Goldsmiths Prize than the Man Booker.
From the seasoned to the first timer with Nigerian author Chigozie Obioma's debut The Fishermen (One), a novel that successfully combines African oral storytelling traditions with the majesty of Greek tragedy. Superstition, prophecy, fate and hubris, Obioma examines these through the prism of sibling rivalry while also shining a light on the tumult of post-independence Nigeria. A fine and worthy inclusion, but given the titles it's up against, I doubt it'll be the winner. I'd be happier putting my money on it marking the beginning of a brilliant career.
Man Booker 2015 shortlist

Show all 6
Now for the three headliners, each dazzling epics in their own right, any of which would be a worthy winner. One of Granta's best of young British novelists, Sunjeev Sahota's second novel The Year of the Runaways (Picador) follows the stories of four illegal immigrants from India trying to forge better lives for themselves in England. Where Sahota's work is unassumingly powerful, the cumulative effect of the hardship and suffering his down-and-out characters struggle through a slow-build of heartbreak, Marlon James's A Brief History of Seven Killings (Oneworld) left me feeling battered and bruised like I'd been hit by a polyphonic patois hurricane. The plot blasting outward with the power of gunfire from the real life 1976 attempted assassination of Bob Marley, the comparisons to Faulkner, Foster Wallace and Tarantino aren't hyperbole, this is a live minefield of a book. Both Sahota and James (the first Jamaican to be nominated for the prize) draw their cast of characters with clarity and precision, their women – Sahota's Narinder, bent on good works; and James's Nina Burgess, who hopes her one-night stand with Marley will help her access an American visa – in particular standing out from the crowd. And last but certainly not least, don't be lulled into a false sense of security by the title, Hanya Yanagihara's A Little Life (Picador) is anything but. This hyperreal portrait of the horrors of the inescapable legacy of child abuse among the gifted and gilded of an otherwise picture-perfect NYC has divided readers, but I have not read anything that comes close to it this year – love it or loathe it, people's responses are visceral, a rare achievement for fiction. It's the bookies' favourite for the prize, and mine too.
Join our new commenting forum
Join thought-provoking conversations, follow other Independent readers and see their replies