Nadine Dorries's novel has received caustic reviews - but don't write off every MP turned author
According to the first reviewers, The Four Streets is a turkey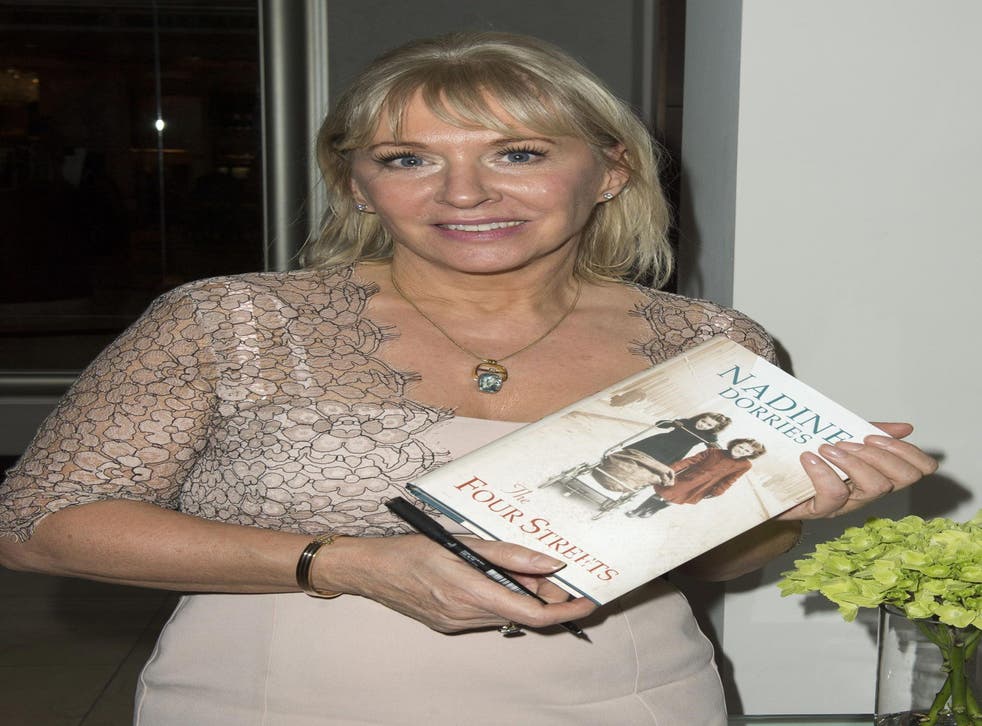 Those of us still thinking of buying the new novel The Four Streets, by the Tory MP, Nadine Dorries, cannot say that we have not been warned. According to its first reviewers, it is a turkey – "the worst novel I've read in 10 years," says Christopher Howse, of The Daily Telegraph. Sarah Ditum, for the New Statesman, added: "Dorries is just not very good at making things up. Things in the novel appear to happen purely because they seem like a good idea at the time to the author. Characters potter in and then out again as soon as their service to the plot is done…."
You would think that politicians would be good at "making things up". When Nadine Dorries was questioned about a conflict between her blog and her expenses claims, she replied that the blog was "70 per cent fiction", so if she is bad at making things up, it is not for want of practice.
But serious fiction requires more than that: it demands that the writer can enter sympathetically into the minds of others, and empathy is not often a politician's strongest suit. An exception is the thriller, in which the plot is all and it does not matter so much whether the characters are believable, which is why politicians are generally less bad at writing thrillers .
The supreme example is Jeffrey Archer, who failed in two political careers, first as a young Tory MP, then as a Tory peer, but succeeded richly as a best-selling thriller writer, selling books by the million.
Actually the finest and most enduring thriller ever written by a past or future British MP was The Thirty Nine Steps by John Buchan, who was a Unionist MP from 1927 to 1935 – but his was a case of a writer who went into politics, rather than a politician who took up writing.
Douglas Hurd, the former Foreign Secretary, has also written several good thrillers. The Labour MP Chris Mullin wrote one, A Very British Coup, which was converted into a classy TV drama in 1988, and the 2012 Channel 4 series, Secret State.
Ann Widdecombe, a former Tory Home Office minister with the reputation of having a heart of stone, took to writing novels from 2000. They did unexpectedly well. The Independent's Boyd Tonkin was not impressed by her "stodgy meat-and-potatoes prose" of her first offering, The Clematis Tree, but was surprised by its compassion.
There is no sex in Ms Widdecombe's novels. That is not something that can be said of the various novels of Edwina Currie, a former Tory health minister, who surprisingly never won the Bad Sex Award, despite passages such as this, from her debut novel, A Parliamentary Affair, published in 1994: "Then he came at her again, more urgently and hungrily, pushing his tongue down far into her mouth, reaching for her, clutching her body. There was no stopping now. He groaned and whispered her name."
Her books made money, though not critical acclaim. "Anyone who supposes that Edwina Currie's amazing first novel is the usual sort of kill-an-hour-o n-the-beach codswallop had better think again: it is much, much worse than that," The Independent's Robert Winder opined. It was, he added, "only the latest in a growing line of celebrity novels which no one bothers to pretend are anything more than fodder for the chat-show circuit."
That of course is where MP novelists score. No matter how bad their books, they are guaranteed publicity. Nadine Dorries has already had her book plugged by David Cameron, and will be interviewed about it everywhere, while better writers go unnoticed.
Join our new commenting forum
Join thought-provoking conversations, follow other Independent readers and see their replies