Meet Paul Tremblay, the author whose new pandemic novel came true
Finished in October, 'Survivor Song' eerily predicts online conspiracy theories, PPE shortages and a tweeting 'jackass' president. 'If anything I underestimated how poorly Trump and his administration would handle it,' author Paul Tremblay tells Clémence Michallon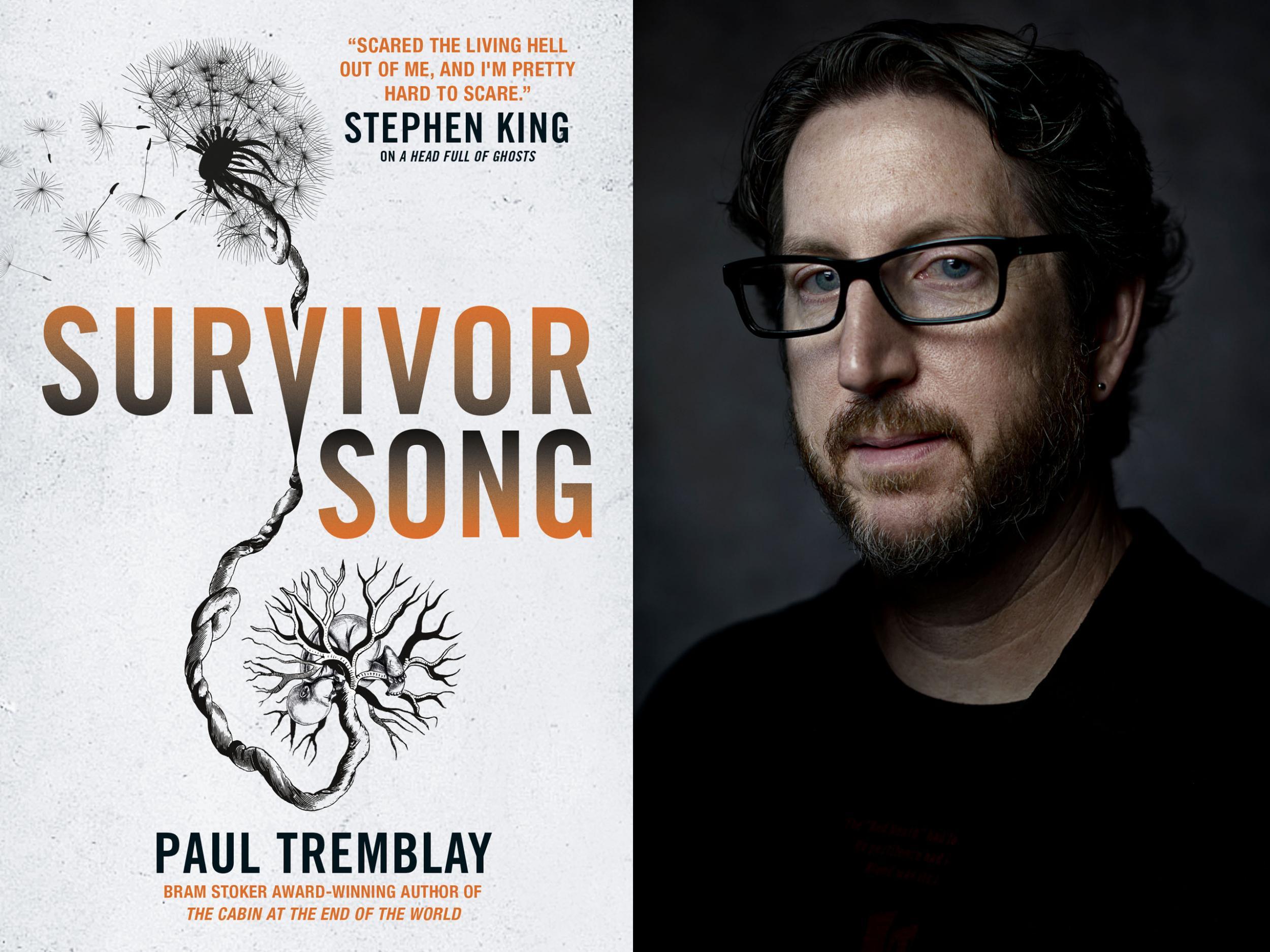 In March 2020, as the UK and much of the United States went into lockdown due to the coronavirus pandemic, it was hard not to feel stuck in a horror novel. The pandemic subgenre of horror, in fact, enjoyed an angst-driven surge in popularity. The 2011 movie Contagion became a hot topic again. Stephen King shared a chapter of his novel The Stand for free, to help readers understand how viruses spread.
Somewhere in suburban Massachusetts, Paul Tremblay, one of the foremost names in contemporary horror fiction, found himself in a strange position. That horror novel we all feel stuck in? He wrote it, by chance, months before his imaginary scenario became reality.
Survivor Song, Tremblay's eighth novel, is published on 7 July, as the world confusedly attempts to reopen. In this fast-paced, intimate take on pandemic fiction, a rabies-like virus that turns people into flesh-hungry creatures spreads with alarming pace.
Many details in Tremblay's novel will ring eerily true to anyone who has experienced the Covid-19 pandemic. In the book, unverified information about the new virus spreads on social media. Online, people disagree on how worried they ought to be. Medical personnel are concerned about their hospitals' weak response plans, and coping with a lack of protective equipment (PPE). To top it all off, the "jackass president" is tweeting his way through the crisis.
Tremblay wasn't trying to establish himself as a forecaster. He first got the idea for Survivor Song in July 2018. The final version was ready by October 2019 – long before the pandemic made headlines around the world.
"As someone who was a teenager in the Eighties, my biggest fear was apocalypse and nuclear war," Tremblay, now 48, tells me in a Skype conversation from his Massachusetts home. "As I got older, a lot of my early short stories in particular are about my fears of being around to see the end of everything. So it felt like, 'Here it is, you've been writing about this for years.' It messed with my head."
The accuracy of Tremblay's scenario comes in part from his research, particularly through a nurse relative who worked at a hospital during the 2014 Ebola outbreak. It's also the result of his own obsession with misinformation, and how reality becomes "refracted through the prism of online".
"Prior to the pandemic, one of the things I've been most afraid of is the effects of mass amounts of misinformation and what it's doing to society," he says. "So I didn't think it was hard to predict that if something like this were to happen, you would have right-wing conspiracy theories that would crop up. If anything, I think I didn't realise how much the pandemic would be politicised." The same goes, he adds, for Donald Trump's handling of the pandemic: "I think I underestimated how poorly he and his administration would handle it."
When stay-at-home orders became a widespread reality in March, Tremblay, like most, struggled to cope. In addition to being an author, he teaches maths at a private school, meaning he, too, had to get acquainted with remote work. Other than that, he spent much of his time watching MythBusters or the Animal Planet channel, "just because I couldn't deal". And he felt "weirdly apologetic" about his then-upcoming book.
At the time Tremblay and I talk, 130,000 people in the US have died of coronavirus, according to data from the Johns Hopkins research facility in Baltimore. For Tremblay, the way the crisis has been handled across the territory is a "total nightmare", and the lack of a coordinated national response is making it worse.
"It's an unhealthy healthcare system [in the US], and we could spend hours talking about all the different ways that it is. That's already enough of a hurdle, and then throw on top of it states fighting to get PPE, and what's going on now – it's been totally politicised. It's somehow less manly or less Republican to wear a mask. I don't get it. 'Frustrating' doesn't cover it."
Tremblay is outraged yet affable, thoughtful but humble. He's in the camp of authors who have retained a strong foothold in the non-writing world. In addition to his teaching job, he's a husband and a father. He tends to write in 500-word increments, stealing time when he can. (Broadly speaking, novels typically average 80,000 to 100,000 words.)
Tremblay came to writing in his twenties, inspired by Joyce Carol Oates and Stephen King. The Stand, a standard for modern pandemic novels, is the first novel by King he ever read in full. King himself has endorsed Tremblay's work, famously declaring his 2015 novel A Head Full of Ghosts to have "scared the living hell out of me".
But where The Stand is a wide-ranging pandemic novel, Survivor Song is – by design – a more self-contained take on the genre. Two friends, Natalie and Ramola, must navigate this newly threatening environment in a bid to save Natalie's life – and, if possible, that of her unborn child. Tremblay hoped to deliver a tale readers would find "somewhat hopeful", focusing on a few hours in two friends' lives instead of depicting a pandemic on a wider scale.
Speaking of King – he faced some criticism earlier this year, when he tweeted that as a member of the Film Academy, which oversees the Oscars, he "would never consider diversity in matters of art". King later explored the topic in more nuance in an opinion piece titled "The Oscars are still rigged in favour of white people", in which he acknowledged systemic inequalities.
Publishing, like many other industries, has had to reckon with its failures in that regard. As a noted writer, Tremblay says he feels a responsibility to help amplify other voices – especially as many authors have uplifted him along the way.
"If it wasn't clear before, it's totally clear now that there's a responsibility to help promote 'own voices' [when authors from marginalised communities write characters who share their background] and BIPOC [black, indigenous and people of colour] voices in horror. There's a lot of self-congratulation about how welcoming and diverse we might be, but I don't think that's necessarily true. We have a long way to go."
'Survivor Song' is out now in the UK (Titan) and in the US (HarperCollins)
Join our commenting forum
Join thought-provoking conversations, follow other Independent readers and see their replies