Peter Ackroyd on Alfred Hitchcock: How London shaped the director's art and obsessions
Ackroyd has devoted his literary career to chronicling the capital and its characters. He tells John Walsh why he chose the master of suspense as his latest subject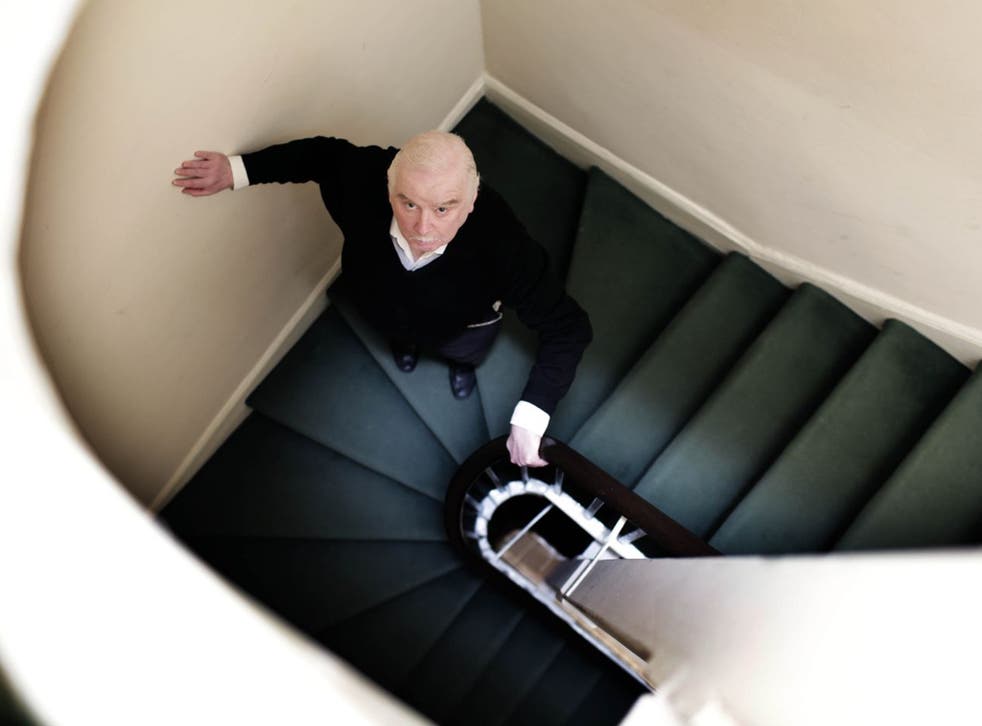 Peter Ackroyd is London's most devoted acolyte – the cartographer of her unseen tracks, the auditor of her secret harmonies, the cardiologist of what Wordsworth called her mighty heart. He has devoted his prodigious writing career to celebrating the city in fiction, writing its "biography" as if it were a person, and inspecting the lives of its most vividly imaginative citizens. "London," he told Kirsty Young on Desert Island Discs in 2012, "has been the landscape of whatever imagination I have, all my life."
His own patch of the metropolis is in a square beside Doughty Street, in London's Bloomsbury, where Dickens lived while he was writing Nicholas Nickleby, and where the offices of The Spectator were located when Ackroyd was literary editor in his twenties. Across the road from the Dickens house is the former home of the Rev Sydney Smith, the droll Anglican clergyman who once remarked that some people's idea of Heaven was "eating pâté de fois gras to the sound of trumpets". Four doors from Ackroyd's office is the home of RH Tawney, the author of Religion and the Rise of Capitalism. Ackroyd has cleverly pitched his creative tent at the interface of classic English fiction, history and religion, an apt location for this novelist, chronicler and urban metaphysician.
He yanks the door open with difficulty, as it's snagged on a tarpaulin ("I've got the builders in"), and waves me to a chair at the huge table on which books, files, DVDs and assorted electronica are festooned. From this room he churns out books of consistent distinction, year in, year out, as if on some divinely inspired assembly line. He works every day, including weekends, usually on two or three books at once, and claims to have no outside interests or louche beguilements, except for alcohol. At 65, his slicked-back hair and blond moustache give him the look of a cherubic militiaman. But the life he presents to the world is that of an anchorite, pursuing his vocation in a kind of holy cell.
Alfred Hitchcock's Greatest Films

Show all 10
Ackroyd was born in London, has lived most of his life there and seldom leaves it. He's written 18 novels, all with London themes or settings, from the multi-award-winning Hawksmoor (which dealt with spooky spiritual connections between an 18th-century church architect-cum-Satanist and a 20th-century detective) to the densely atmospheric Dan Leno and the Limehouse Golem (murder and music hall in Victorian east London). His first biographies were substantial works on huge literary subjects – TS Eliot, Dickens, Blake – that tried to cram all available scholarship into their pages (1,000 pages in the case of Dickens). Later he scaled down his operations with his Brief Lives series on Chaucer, Turner, Newton, Edgar Allan Poe, Wilkie Collins and Chaplin. They occupy between 150 and 250 pages, while still managing to convey the essence of their subjects with polish and authority. And, like his major works, they deal exclusively with Londoners. (If you're wondering about the Americans, Poe spent five childhood years in London and went to school in Stoke Newington, while Eliot moved to London aged 26, worked for Faber & Faber and Lloyds Bank, and wrote about the "unreal city" in The Waste Land.)
His new life is of Alfred Hitchcock (pictured), the filmic master of suspense. Ackroyd didn't pluck the name out of the air. His passion for London lives made sure the great director would claim his attention one day. "Hitch" was born in Leytonstone, five miles north of the metropolis and technically in Essex, in 1899, but the family moved to Limehouse when he was six. It was a tough and smelly neighbourhood, because of the glue factories, dye works and his father's fishmonger shops, and it was desperately poor, populated by cockney ruffians and drunkards. From his early days, young Alfred yearned to get away, pinning maps to his bedroom wall, collecting railway timetables, planning journeys across the oceans; but, as Ackroyd points out, the London of his childhood – the street markets, pubs, and picture houses – populates his early films.
How did the place stir Hitchcock's imagination? "It's a sort of cockney vision," Ackroyd says, "that goes way back, past Shakespeare, and is about the conflation of irreconcilable things: pantomime and tragedy, horror and farce. They're right there in both Chaplin and Hitchcock, especially the latter – you never know whether to laugh or scream in his films. It's also to do with the spectacle of power and money which looms over London and affects the sensibility of the people who live there. Hitchcock and Chaplin were both interested in the movements of crowds, the waves of sensibility en masse. It's a condition of living in the city, that you're less concerned with the individual moral being, than with a communal, collective sense of the world – which is what Dickens and Hitchcock had."
What they also had, of course, were huge audiences, caught spellbound in their melodramatic plots. "One of Hitchcock's greatest thrills was being able to provoke essentially the same reactions from audiences as far apart as Tokyo or Sydney and London," Ackroyd says. "He had a sense of what would work. He tapped into his own neuroses and fears, to influence the neuroses and fears of other people."
Indeed, Ackroyd presents Hitchcock as a man chronically terrified of the world he encountered, "a shuddering, shivering human being, afraid of judgement and punishment", who erected a carapace of aloof and critical superiority to hide his panic about human interaction. And who made several films about people being accused of something they haven't done, and being hunted down for it. What was he so afraid of? "Oh, he used to bring up all these incidents from his past," Ackroyd says, "when his mother said 'Boo!' to him as a baby, and his father had him locked in a police cell for a few minutes when he was seven. But it all sounds very contrived and doesn't ring true. I think he just had this alert, acute, primal fear, perhaps from the womb."
Had he enjoyed watching the complete Hitchcock oeuvre of 52 movies? "It was rather an ordeal, but no worse than reading all Shakespeare's plays, and far less of an ordeal than reading all Dickens' novels." What recurrent Hitchcock motifs and obsessions had he found? "Oh, the shadows, the bars across people's faces, the stairs, the spirals – I noticed all that, but soon realised others had spotted them too." He was pleased, however, to note how many Hitchcock heroines wore spectacles, and how women removing their glasses seemed to him a motif of vulnerability.
Many critics have written about Hitchcock's ambiguous attitude to beautiful women: how he obsessed over them – Grace Kelly, Janet Leigh, Kim Novak, Eva Marie Saint, Tippi Hedren – but liked to see them being assaulted, raped or killed on screen. In Dial M for Murder, the level of vicious brutality in the scene where Grace Kelly is attacked by a would-be murderer is still shocking today; the new biography reports that it took five days to shoot until the director was happy – and the actress was covered in bruises. Ackroyd plays down the "dark side" of his subject. "I think all that is overemphasised. I think whatever dark side there is was exemplified on the screen. I can't imagine it manifesting itself in his actual behaviour." What about his treatment of Tippi Hedren in The Birds, when she had real-life angry birds flung at her and tied to her with elastic bands in the famous attic scene? "I don't believe he was deliberately malicious or cruel – though he could get very bad-tempered. He may have treated her badly to get a better performance out of her." Hitchcock wasn't above using his actresses to show himself in a good light. "There was one occasion when he was in the back seat of a car with Ingrid Bergman, going to a party. As soon as he caught sight of other guests arriving, he pulled her into a clinch so they would see, and could assume they were having an affair."
Something that surprised Ackroyd in his trawl through the films was Hitchcock's effeminacy. "I had no idea he was like that. You occasionally get little snatches of documentary film, in which he's behaving – not outrageously, but in a rather camp way. I think it was a component of his personality, but of course he was too scared and undemonstrative to allow it to take over." In the book, he says: "It would be an interesting parlour game to name any [of Hitchcock's] leading characters who were not intimated to be bisexual." Seriously? What, Richard Hannay in The 39 Steps? "Well, OK, not him," Ackroyd says, smiling. "But they all seem a bit… funny, don't they? Michael Redgrave in The Lady Vanishes? Cary Grant in North by Northwest? The two men in Strangers on a Train? They're all fey and unserious and camp. And he treated his heroines as more masculine than the men."
Ackroyd itemises, with clear disapproval, his subject's fascination for practical jokes. None of his casts or crew members or visiting stars was safe from his juvenile humour. He put whoopee cushions under the more grand and formal guests at his house. He threw a dinner party for Gertrude Lawrence at which all the food was dyed blue. When Gerald du Maurier opened in a play, Hitchcock sent a horse to his dressing room instead of the usual flowers. He would arrange an end-of-filming party for 40 actors and technicians in a space designed for 12.
"I've never met anyone who plays practical jokes," Ackroyd says, "but I'm sure I wouldn't like them. I think it was to do with his basic attitude to the world. He wanted to master it at one level, and to cause it injury at another. He liked subverting social manners. He had a habit, when he finished drinking tea on set, of tossing the cup and saucer over his shoulder so it smashed – a recognition, I suppose, that all social niceties are just a game and the world is very fragile. In all his films, almost without exception, people are plunged into the deepest chaos and fear; there's no safe hiding place from the world."
Like Dickens and Chaplin, Hitchcock made himself a brand, known to audiences all over the world for his movies, but also for his television appearances on Alfred Hitchcock Presents, where he would tease the audience with promises about horrible sights they'd see, uttered in that famously lugubrious voice.
Like Dickens and Chaplin, he was also keen on making money out of his talent. When he was a young cinematographer, he was heavily influenced by German Expressionist cinema, especially that of FW Murnau. In later years he was pleased to see his work taken up by the French New Wave and praised by Truffaut and Godard. But in between, he always emphasised the importance of being commercial. How does his biographer square this?
"It's true – when he was young, he joined arcane film clubs, showing the latest European crap, but he decided that was not the way for fame or profit," Ackroyd says. "He said it was important to create a name for yourself, because then you'd be given money by distributors." So how conscious an artist was he? "I think he was an un-conscious artist, on the whole. I think the ideas emerged from him fully formed. I wouldn't say he was a conscious artist in the style of Antonioni. I'd say he had an instinctive grasp of the cinematic medium, and by an internal chemistry made it work." What's his most arty film? "The one everyone thinks is wonderful," Ackroyd says. "Vertigo. I can't think of another where art takes over to such an extent, to stifle the plot."
With that waspish judgement duly noted, we come to the end. Ackroyd says he never thinks about his books once they're written, he simply moves on to the next. His current major project is The History of England, and Volume Four comes out this autumn. He's now buried deep in Volume Five. Bringing it all up to the present day will take him another seven years. But he's managing to squeeze in another book along the way: "It's a history of queer London, quite a good idea that somebody gave me. My days are really very simple. In the mornings I work at home on Queer London, then I come here and do the History. In the evenings I think about doing a novel but don't do anything about it. And then I have a drink."
Ackroyd's wild drunken sprees, sometimes in public, used to be a vivid feature of literary London launch parties, but he's calmed down these days. Does he drink huge amounts of brandy, as Hitchcock did in his tragic last years? "GOD no," Ackroyd says, "only wine from the supermarket shelves. No more Scotch or rum. That was my downfall." And with a dry chuckle, the anchorite of Bloomsbury, the indefatigable chronicler of London and her most exciting inhabitants, bade farewell and got down to some serious work.
'Alfred Hitchcock' (Chatto & Windus) by Peter Ackroyd is out now
Join our new commenting forum
Join thought-provoking conversations, follow other Independent readers and see their replies