Samuel Beckett - it's a journey worth making to the Happy Days Festival, Week in Books column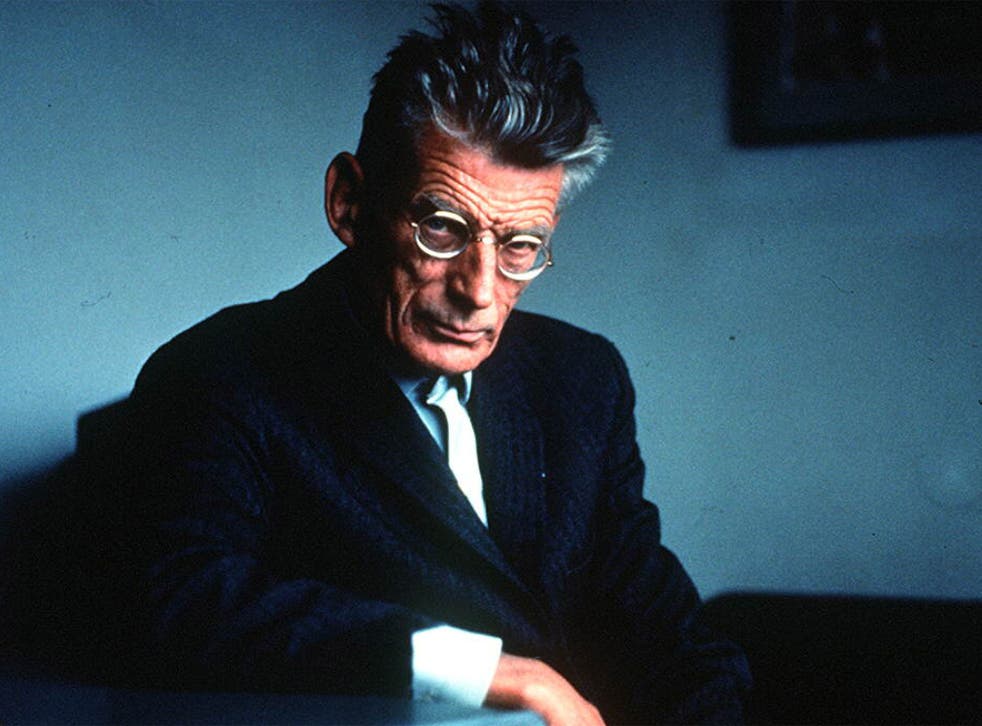 Site-specific art can sometimes be a waste of time and breath: a journey to nowhere. One of the revelations at this year's Happy Days festival, devoted to Samuel Beckett and held in and around Enniskillen in County Fermanagh (where he went to boarding school from 1920 to 1923), was the inspired choice of locations.
A case in point: Catastrophe. Beckett wrote this short play for the imprisoned Vaclav Havel in 1982. A tyrannical "Director", with a compliant assistant, arranges the body of a silent, victimised "Protagonist" into a posture of defeat and abjection. Yet at the end, the victim rebels in a gesture of wordless defiance.
Beckett, who died in December 1989, lived long enough to see Havel lead the Czech "Velvet Revolution". Enniskillen-born actor and Beckett enthusiast Adrian Dunbar directed Catastrophe in a disused chapel deep in the sweet, green Fermanagh countryside. Headstones tilted at crazy Gothic angles while, inside, the musty space became interrogation room and torture chamber. The stench of enforced conformity lingered. On the way, we had passed through the village of Lisbellaw, a Unionist stronghold, where among the Union Jacks, I spotted an Israeli flag. Conversely, Republican districts in Northern Ireland often fly the Palestinian colours. As ever, each to their own.
In Greek, "catastrophe" means "turning-point". It transpired that, in Gaelic, so does Tempo: the name of the nearest village. "We think we're making the decisions," mused Happy Days founder and director Sean Doran. "But perhaps we're not."
Only in its third year, the festival already boasts a level of stellar support that puts Enniskillen in the company of Avignon or Edin-burgh. Drama and music aside, Beckett-linked artworks by Tacita Dean, Steve McQueen and Antony Gormley settled around the town. I missed Klaus Maria Brandauer performing Krapp's Last Tape, but I did catch, back to back, two Waiting for Godots in different languages, from Theatre Nono in Marseilles and New York's New Yiddish Rep company. The Yiddish Godot exemplified the way that Doran's stewardship has helped to plant this most ageless and absolute of writers not only in place but in time. Here, Vartn Af Godot became an explicitly post-Holocaust play, with Didi and Gogo the stranded, benumbed wreckage from an unfathomable offstage horror. The text supports this reading, and the before-and-after presence of a joyful klezmer band enhanced the effect.
Terry Eagleton, one of the speakers in a line-up that featured Germaine Greer, Roy Foster and Alfred Brendel, related Godot to its author's courageous wartime contribution to the French Resistance and dubbed Beckett "one of the few high modernist artists to be a militant of the left rather of the right". Up to a point: anti-Fascist and anti-Stalinist, certainly. Thanks to his gnomic exactitude of words and movement, Beckett travels well –across cultures, locations, creeds.
Early one bright morning, we took a boat across Lough Erne to see Frank McCusker, another Fermanagh actor, read from Texts for Nothing on Devenish Island.McCusker read the very Kafka-like piece in which "the clerk, the scribe" of some all-powerful court experiences "the silence of quite a different justice, in the toils of that obscure assize where to be is to be guilty". The Fermanagh sun shone on the ancient stones. Then the words stopped, and we sailed back to reality. Of a sort.
Join our new commenting forum
Join thought-provoking conversations, follow other Independent readers and see their replies