The Saturday Miscellany: How to do the cryptic crossword; football phrases; David Bowie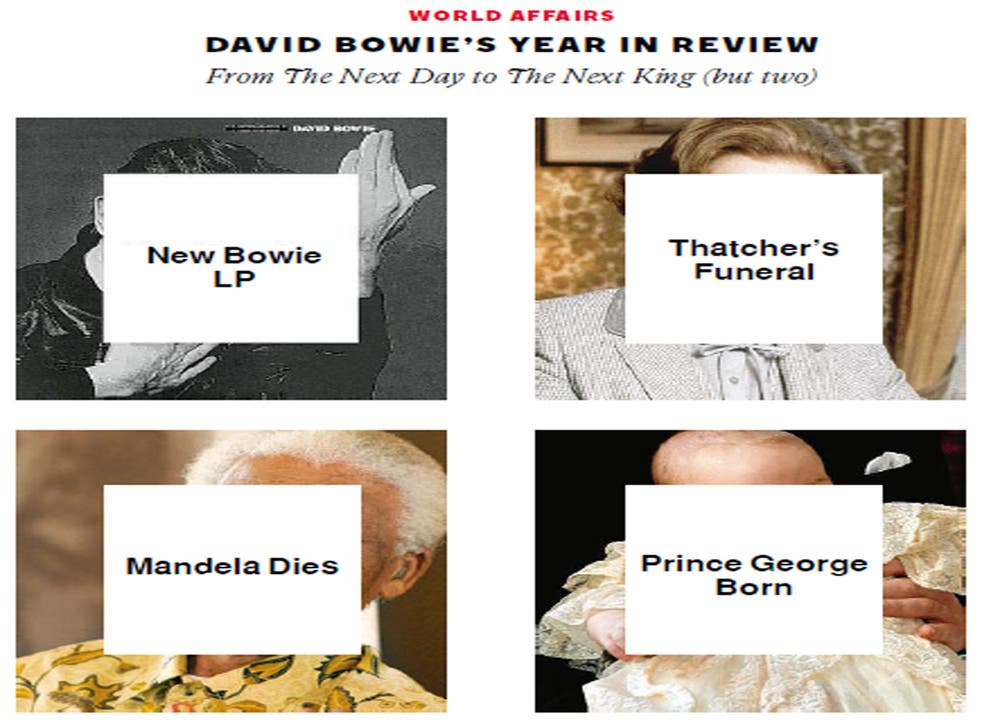 How to: Do the cryptic
By Oscar Quine
Furious with Peruvian ancestry (12)? Well pick up a pen: 'tis the season to tackle that cryptic crossword head-on. Use these three tips from Alan Connor, author of 'Two Girls, One on Each Knee (7)', a how to guide for the budding solver:
"Cross-examine each word in the clue. A 'flower' may well be a river, and a 'wicked thing' is probably a candle. If you think you understand a cryptic clue on first reading, you've likely been hoodwinked."
"And remember the battle is unfair. But this is good news: it's weighted in your favour. The cryptic setter wants to lose: partly through a sense of fair play; partly to avoid their boss receiving hundreds of letters of complaint."
"Solve with a loved one. The solitary commuter with furrowed brow is a poor ambassador for crosswording. Share the delights of wordplay. Take your time, under a blanket on the sofa."
Rotating column: Team talk
By Larry Ryan
I like to talk about my clothes as if they are a football team. Wearing different shirts is squad rotating. Choosing what to take on holiday is like picking a World Cup squad: the black jeans have made it on the plane.
For me, there is a distinct joy in using football phrases and clichés on the playing fields of everyday life – as opposed to when talking about football: that's torrid.
Recently, at a wedding, I described it as having a cup-tie atmosphere. Alas the person I was speaking to was not a football watcher and responded with confused silence.
At work, if a colleague responds aggressively to a situation, I note they've come in with a two-footed tackle.
After a long spell in charge, I should probably change the formation of my phrases, lest things turn stale, but for now, I have the backing of the board.
(Larry Ryan has the full backing of the board – ED )
Micro extract: Quitting talk
"Kiplagat would prefer to have a job that would allow him to continue training, but he is content to stop running tomorrow if someone offers him a decent living."
From 'The Sports Gene' by David Epstein (£8.99 Yellow Jersey)
Four play: Things from Iowa*
1. Herbert Hoover
2. The world's largest truck stop
3. Bill Bryson
4. Deep-fried butter on a stick
*Iowa became 29th US state, this day 1846
Join our new commenting forum
Join thought-provoking conversations, follow other Independent readers and see their replies