The war, the ward and a mind set free: How war poetry helped Owen Lowery find a voice
Lowery was a judo champion but suffered a spinal injury during a tournament that left him a C2 tetraplegic dependent on a ventilator to breathe.
The war, the ward and a mind set free: How war poetry helped Owen Lowery find a voice

Show all 4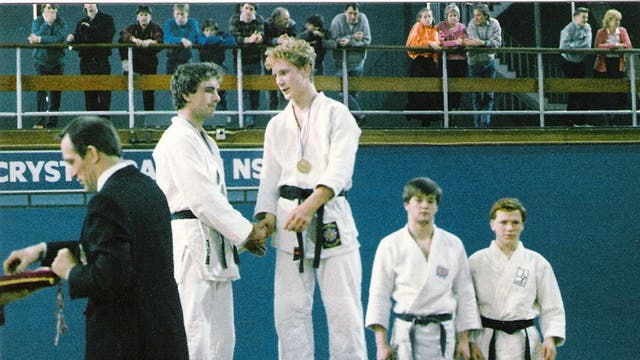 The first time that I really noticed formal poetry having a marked effect on me, I was absent from junior school with some sort of illness and an anthology for company. One poem stood out as I trawled through the pages. It told the story of three lighthouse attendants who had disappeared and been replaced by three black seabirds too large to be "guillemot or shag". The birds were absorbed by the sea as soon as they were approached by the poem's narrator, leaving an empty lighthouse and the idea that the black seabirds were both themselves and, in some magical way, the three missing attendants.
The poem was "Flannan Isle", by Wilfrid Wilson Gibson, and while I immediately forgot the name of the poet, the vision of the mysterious birds stuck. Perhaps part of that lies in a childish fascination with anything ghostly or magical, but I think I was also attracted by the mixture of sight and sound in the poem: the way that what I was reading spoke to me, or sung to me, and was so obviously different to an ordinary story. It was a bit of an epiphany. The subject matter of missing lighthousemen, eerie sea-scapes and spectral birds played its part, but also the way in which the story was presented.
A few decades on, and the same subject – the relationship between the physical and spiritual, the concrete and the abstract, the point at which Macbeth could either see or imagine a dagger or Hamlet his dead father – has become an important part of my thesis on Keith Douglas. In Douglas's case it relates to his wanting to write "extrospective poetry", especially between 1942 and 1944 (when he was killed in action during the Normandy invasion) while he served in North Africa and the Middle East as part of Montgomery's desert army.
What Douglas had in mind was unfussy and honest poetry, based on personal experiences, that began by focusing on what he could see, feel, and smell in the region's cities and battlefields. Badly injured in a trip-wire explosion in 1943 before returning to active duty with the Nottinghamshire Yeomanry, the 23-year-old soldier certainly had plenty to write about. But even at his most stripped-down and "extrospective", Douglas would still use abstractions and metaphors, as well as writing more straightforwardly about his subject. The result is that war, life, death and love are all theoretical as well as physical in his poetry. As much as he might have wished his writing to be tied to a context, it seldom is.
Adopting a similar approach in the poetry that I began to write – with the help of Professor Jon Glover – during an MA in creative writing at Bolton University has given me a unique chance to think about my own experiences. In 1987, while competing in a judo tournament as a British champion, I suffered a spinal injury that left me a C2 tetraplegic dependent on a ventilator to breathe. While accepting that most, if not all, of what I would write might be affected by what had happened, I also realised that there was no need for my poetry to be contained by it.
It seemed likely that poetry could play a part in helping me to deal with the situation, as well as a means of escaping it for a time, or for the timelessness of a poem. I could see a way of writing, among other things, about my experiences of a world that Douglas described as existing "through the looking-glass which touches a man entering a battle", though on a basis that was anything but exclusive of other more and less intimate subjects.
In "Early morning on the ward", one of several hospital-related poems in my collection, Otherwise Unchanged, the view that a patient in traction has of a nurse gliding across the surface of an angled set of mirrors is both real and surreal. This makes an approach that reflects the personal experience of the situation, while allowing for a more abstract view of events - an ideal solution, particularly when it comes to understanding and writing about the hallucinations that were a big part of the first weeks following my injury.
The poem's final image is that of a fakir who slides down a rope from the ceiling tiles to steal a piece of fruit from the bowl beside my bed. Despite being an abstraction, the product of prescribed drugs and sensory deprivation, the vision of the fakir is presented as an equally physical reality to the nurse who slides across the mirror, and the ward itself. As a result, the physical reality of the hospital seems no more reliable than the fakir. Myth and matter meet in a place that belongs to the patient and first-person speaker, but one that has its parallel in the world beyond the looking-glass that Keith Douglas pursued with such zeal.
It might be going too far to claim that the combination of poetic representation and embellishing effect had a cathartic fascination for Douglas, but their presence in much of his war-related poetry is undeniable. The same mixture is a regular feature of my own poems, including the other hospital-related poems in Otherwise Unchanged, such as "In conversation with Chiron", "A frieze depicting four centaurs", "Hospital slide-show" and "IVP – intravenous pyelogram". Again, the effect is not entirely cathartic, but the approach that I took gave me the distance I needed from what could otherwise have been a very emotive subject. It was this that helped me to write about the time I spent in hospital fairly objectively. From a distance, the spinal unit and its patients can be looked at and thought of in mythological terms that give them the timelessness of memories, and recognise that memory and reality never totally overlap.
Stepping away from the situation a little, some patients at the Spinal Injuries Unit can be seen as centaurs. What the doctors refer to as a "complete" spinal injury effectively splits the injured person at the level of the injury, although this comparison does over-simplify what happens.
"An apparition of Kenny Dalglish", another of the poems in Otherwise Unchanged, adopts the same standpoint in looking at the religious implications of an image of Dalglish that appeared one morning on the outside of the fences hemming Liverpool FC's Melwood training ground. The subject matter is at least as firmly embedded in my memory and experiences as that of the hospital, and as deeply personal. I grew up supporting Liverpool and, in 1982 during a visit to my grandmother in Kirkdale, was fortunate enough to see Dalglish score a hat-trick at Anfield in the first league match that I attended there. While acknowledging this connection, one of the intentions of the poem, and many of my other poems, is to keep enough objectivity for the form to remain in balance with its subject-matter and its imagination.
This aim is just as important to my poems based on personal experience as to what might be thought of as more aesthetic and academic compositions. Kenny Dalglish, or the patients from the hospital, should be as open to the processes of poetic re-imagination and representation as the life of Keith Douglas. The same applies to the poems I have written in reaction to Paula Rego's combination of artistic narrative, expression and technique. While absolute equality is as unlikely as a centaur, or as Gibson's sea-birds, I also hope that the more aesthetic poems share much of the emotional investment, the love and dependency, expressed in "Morning Call", one of the more intimate poems in Otherwise Unchanged. In each case, I hope the poems succeed without losing sight of the enduring fascination fuelled by my early reading of "Flannan Isle".
Owen Lowery's debut collection 'Otherwise Unchanged' is published by Carcanet (£9.95)
Early Morning on the Ward by Owen Lowery
I return to find the white cliff
sloughed away like meringue,
the familiar paths I mind-walked
champed and smoothed by a sea
verging on lavender
with troughs of night-purple,. slow shapes
going dry in an hour
to leave the mollusc-eyed sand sore.
Billy is awake. I hear him
growling through the whiteness.
He takes water with a flat 'a'
and no trace of a bur.
Trish says he needs a shave
and flat-foots her way to the sink.
Her head crosses the glass
with the weightless ease of a ghost.
There are sands past the far window,
and an ambitious pier
the sea only laps to in flood.
This I learn from gossip
between sleep and washes.
There is radio noise most mornings
so today seems special.
Trish reappears, or her hair does.
She limbos beneath a devil
and a shoreline of cards
stretched across a distant
bed-space
on a string. Curtains swish.
A fakir melts from rope
he's suspended from the ceiling,
stretches a lean finger
and snakes a peach from my fruit-bowl.
Join our new commenting forum
Join thought-provoking conversations, follow other Independent readers and see their replies