Bad Sex in Fiction Award 2014: Ben Okri takes the gong for The Age of Magic
'When his hand brushed her nipple it tripped a switch...'  begins the offending passage in Okri's novel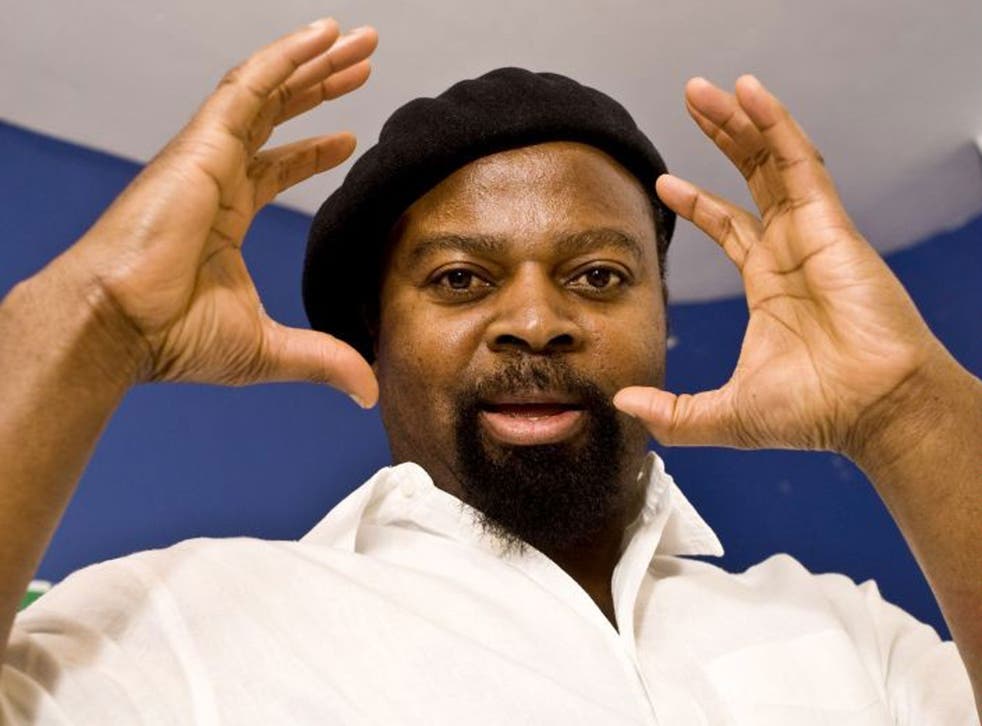 Man Booker prize-winner Ben Okri has another gong to add to his collection: the Bad Sex in Fiction award.
The Nigerian novelist's for The Age of Magic beat other illustrious names, including this year's Booker winner Richard Flanagan and Haruki Murakami, to take the literary world's least coveted prize.
"A writer writes what they write and that's all there is to it," said Ben Okri, who was unable to attend tonight's award ceremony at the In & Out (Naval & Military) Club in St James's Square, in a statement.
A shortlist of 10 books for the competition, which aims to draw attention to "poorly written, perfunctory or redundant passages of sexual description in modern fiction, and to discourage them", is chosen annually by the Literary Review.
Bad Sex In Fiction Awards 2014 shortlist

Show all 10
Last year's winner was Manil Suri for The City of Devi.
Okri's editor, Maggie McKernan, said: "Winning the award is fun but a bit undignified, just like sex, assuming you do it properly".'
The Age of Magic follows a team of filmmakers shooting a documentary about the idea of Arcadia, who wind up in a hotel by a lake in the shadow of a looming mountain. There, they find themselves troubled by an ominous figure called Malasso.
The judges were swayed by an ecstatic scene involving Lao, the documentary's presenter, and his luminescent girlfriend, Mistletoe:
When his hand brushed her nipple it tripped a switch and she came alight. He touched her belly and his hand seemed to burn through her. He lavished on her body indirect touches and bitter-sweet sensations flooded her brain.
She became aware of places in her that could only have been concealed there by a god with a sense of humour. Adrift on warm currents, no longer of this world, she became aware of him gliding into her. He loved her with gentleness and strength, stroking her neck, praising her face with his hands, till she was broken up and began a low rhythmic wail. She was a little overwhelmed with being the adored focus of such power, as he rose and fell. She felt certain now that there was a heaven and that it was here, in her body. The universe was in her and with each movement it unfolded to her.
Somewhere in the night a stray rocket went off.
Laura Palmer, editorial director of Head of Zeus, accepted the award on his behalf. She said: "This completes every start-up publisher's dream hat-trick: Head of Zeus have now won a Political Book Award, the Metadata Gold Standard Award, and the Literary Review Bad Sex in Fiction Award all in a single year."
The prize was presented by the Reverend Richard Coles, former member of chart-topping band The Communards, presenter of Saturday Live and latterly a Church of England priest who served as the inspiration for TV's Rev.
The rest of this year's shortlist also included The Snow Queen by Michael Cunningham, The Narrow Road to the Deep North by Richard Flanagan, The Hormone Factory by Saskia Goldschmidt, Colorless Tsukuru Tazaki and His Years of Pilgrimage by Haruki Murakami, The Affairs of Others by Amy Grace Loyd, Desert God by Wilbur Smith, Things to Make and Break by May-Lan Tan, The Lemon Grove by Helen Walsh, and The Legacy of Elizabeth Pringle by Kirsty Wark.
The award is in its 22nd year.
Join our new commenting forum
Join thought-provoking conversations, follow other Independent readers and see their replies