Byron treasure found in gift to used bookshop
Volumes inscribed by poet's half-sister and lover given to secondhand store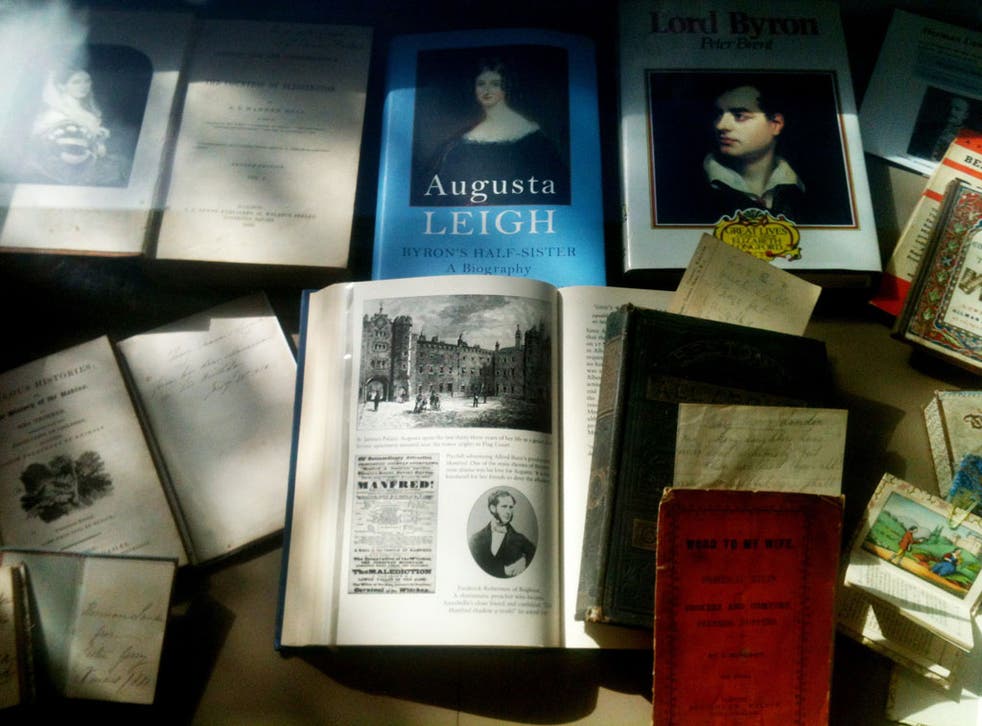 She was born to wealth and privilege; he was "mad, bad and dangerous to know". The affair between Augusta Leigh and her half-brother, Lord Byron, is said to be one of the reasons why the Romantic poet fled Great Britain for Greece in 1816, never to return. A heartbroken Augusta was left at the mercy of her spendthrift husband, Colonel George Leigh, who was also her cousin. Leigh brought shame on their family when, as equerry to the Prince of Wales, he cheated him over the sale of a horse, fiddled his own regimental expenses to fund his gambling, and was dismissed.
Now a donation to the second-hand bookshop at Harewood House, in Yorkshire, has provided a unique insight into the Leigh family history and Augusta's place in one of the biggest scandals to rock Georgian society. Although condemned to poverty for the last 33 years of her life, Augusta, the only daughter of Amelia Osborne and John "Mad Jack" Byron, the poet's father, retained a passion for reading. Her rediscovered literary treasures, inscribed by Augusta and members of her family, belonged to a woman in her 80s who had had them for 40 years without realising their provenance. She acquired the books with a London house in the 1970s Ω the bookshelves were too large to move, so the seller left them, and their contents, behind.
Volunteers at the bookshop were intrigued by an inscription in The Literary Life and Correspondence of the Countess of Blessington, reading: "Augusta Leigh, St James' Palace."
"That raised my eyebrows," said Audrey Kingsnorth, the Harewood volunteer who led the research. "I had no idea who Augusta was... That's when I started looking into the family and saw the [Byron] connection."
Academics have been baffled by the relationship between the poet and Augusta; in their biography, Augusta Leigh: Byron's Half-Sister, Michael and Melissa Bakewell say she was not even interested in his poetry.
Augusta declined Byron's suggestion, in 1813, when she was married but he was not, that she run away with him, condemning herself to a "wretched life". Byron married and named his only legitimate child, born in 1815, Augusta.
Another of the donated books, Trimmer's Fabulous Histories, is inscribed by Augusta to one of her children: "Henry Francis Leigh from his dear Mamma on his birthday, January 28th 1828". Henry Francis died at 33, leaving a widow, Mary, and a daughter; Mary remarried and had another daughter and a son. Augusta had seven children, one of whom, Elizabeth Medora, is thought by many to be Byron's lovechild.
The donor of the books, who was delighted when Ms Kingsnorth told her of their significance, then gave the shop two rare Lilliputian books Ω stories reproduced in small form where printers could show off their skills. Dating from 1864, these were inscribed by all Mary's children.
The collection was valued at a recent book fair in York at around £2,500. It will be auctioned at a later date with proceeds going to educational projects at the Yorkshire stately home. The donor, who did not want to be named, said she was happy that their provenance had been revealed.
Ms Kingsnorth added: "The books are still on display at Harewood... Up to now our prized possessions have been a signed copy of Ian Woosnam's book and a first edition of Enid Blyton.
"Augusta's books have been such a find."
Join our new commenting forum
Join thought-provoking conversations, follow other Independent readers and see their replies