Don't swallow the tripe – a user's guide to weasel words
Lying is dangerous and unnecessary. A new book explains the strategies needed to avoid it. John Rentoul on the art of 'uncommunication'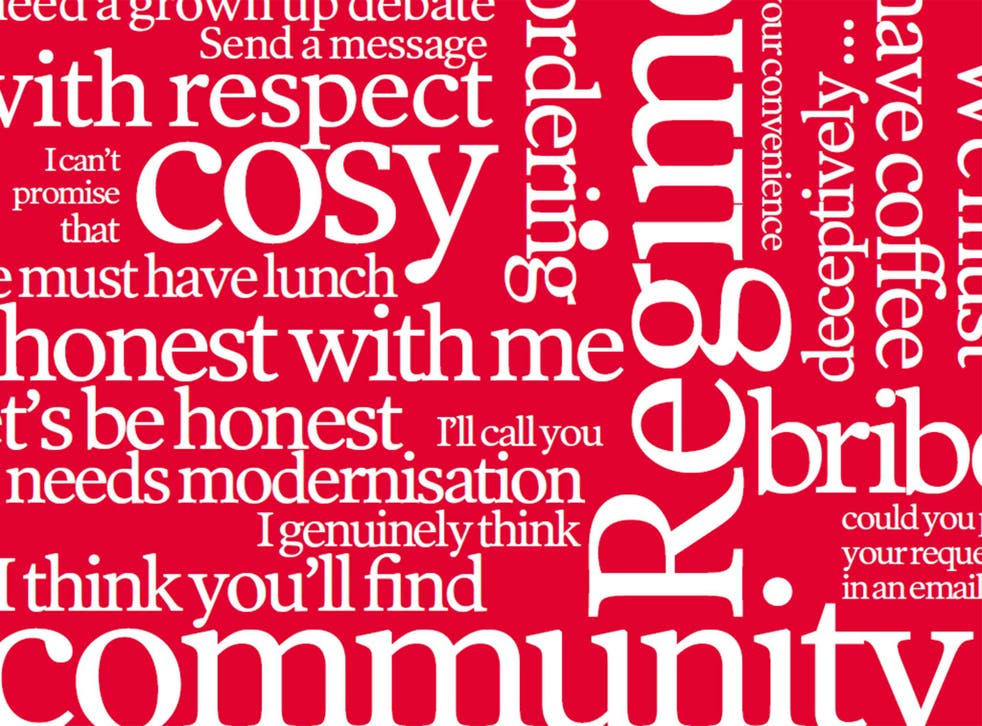 "I wouldn't over-analyse that," the Prime Minister said on Friday when asked if he had been reluctant to recall Parliament because of the Government's defeat over Syria last year. This was a classic example of what Robert Hutton, a Bloomberg journalist, calls the art of "uncommunication". Hutton's new book, Would They Lie to You? is a guide to not saying what you mean. Its lessons apply in life, politics and the housing market.
It includes such skills as the "undenial" (denying something of which you have not been accused), the "unanswer" (answering a different question from the one you were asked) and the "Statement of Fact" (saying something which is obviously the case, but which avoids some awkward truth).
According to the introduction, the book is about "how to succeed through obscurity. Not by lying. Lying is dangerous if you're caught, and it's quite unnecessary. You can steer a truck through the gap between a lie and the simple truth." Hutton's book promises to "tell you how to load the truck".
Politics
Bribe An attractive offer to the electorate made by our opponent.
Regime Government for which I didn't vote. Or for which I did vote, but with which I now disagree.
Send a message The justification for any measure that is going to fail in its stated aim, but will nonetheless be popular with voters.
We need a grown-up debate I will engage only with people who agree with me.
With respect Please die.
Life
Be honest with me Lie to me.
Let's be honest Let's agree with me.
I think you'll find That I'm right and you're wrong. But also that the depths of my loathing for you are unplumbed.
Community Any group of people who don't get on, as in "the theatre community". Or a euphemism for ethnic minorities.
Could you put your request in an email? I stopped listening about five minutes ago.
For your convenience For our convenience, we have done something inconvenient to you.
I can't promise that There is no way in Hell I'm ever going to do that.
I genuinely think The other stuff I've been saying, on the other hand, you should take with a pinch of salt.
I'll call you I have already deleted you from my phone and blocked your number. But thanks for your help.
We must have lunch We won't have lunch. Even if we both find ourselves alone in the same restaurant, I'll be at my own table.
We must have coffee You're so repellent to me that I can't even bring myself to make an imaginary commitment to lunch.
Estate agents
Needs modernisation Needs modernisation to get it to the mid-1980s. To get it to the 21st century, you'd be best advised to burn it to the ground and start again.
Bordering A 15-minute walk from somewhere you might actually want to live.
Cosy You'll lose the remote control during the move, but discover that you can reach the television from the sofa anyway.
Deceptively … Brace yourself, the next word is going to be a lie.
Open day We saw The Hunger Games, and we thought that we could probably sell flats that way too.
Products
Contoured This product exists in three dimensions.
Long-lasting This will last a length of time.
Natural Made from things that occur somewhere in the Universe.
Power This car has an engine. The engine makes it go in a way that conforms to Newton's Second Law of Motion.
Sculpted This device is the shape we intended it to be.
Robust You can drop it, but probably not on to concrete
'Would They Lie to You? How to Spin Friends and Influence People', by Robert Hutton, is published by Elliott & Thompson at £9.99 this week
Join our new commenting forum
Join thought-provoking conversations, follow other Independent readers and see their replies