Google Doodle celebrates life of Hitchhiker's Guide To The Galaxy author Douglas Adams
Daisy Wyatt
Monday 11 March 2013 11:20 Comments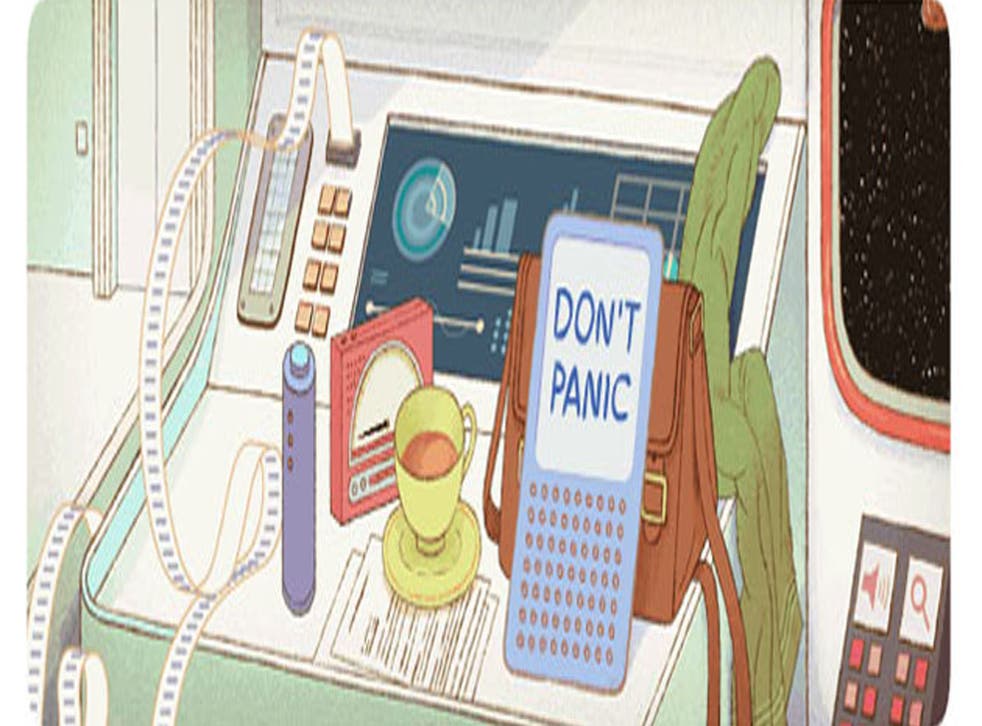 Today's Google Doodle marks the anniversary of the birth of science fiction writer Douglas Adams.
Adams was born in Cambridge on 11 March 1952 and died of a heart attack in 2001 at the age of 49 in Santa Barbara, California. He would have been 61 today.
The doodle pays homage to his popular writing, in particular his best known novel The Hitchhiker's Guide to the Galaxy.
A click on the lift door to the left of the doodle reveals Marvin the paranoid android, and Babel Fish appears if you click on the 'Don't Panic' button.
The cup of tea depicted in the doodle is reference to one his Dirk Gently detective novels, called The Long Dark Teatime of the Soul, and the towel to the right of the futuristic dashboard is an item Adams wrote was essential when travelling in space.
Prior to his career as a novelist, Adams was a radio producer for the BBC and worked with Graham Chapman to write a Monty Python episode.
Adams was also known for his environmental activism, his atheist views and his love of technology.
Register for free to continue reading
Registration is a free and easy way to support our truly independent journalism
By registering, you will also enjoy limited access to Premium articles, exclusive newsletters, commenting, and virtual events with our leading journalists
Already have an account? sign in
Join our new commenting forum
Join thought-provoking conversations, follow other Independent readers and see their replies