J K Rowling turns to sports writing – with Quidditch
Harry Potter author publishes online first part of a history of the fictional Quidditch World Cup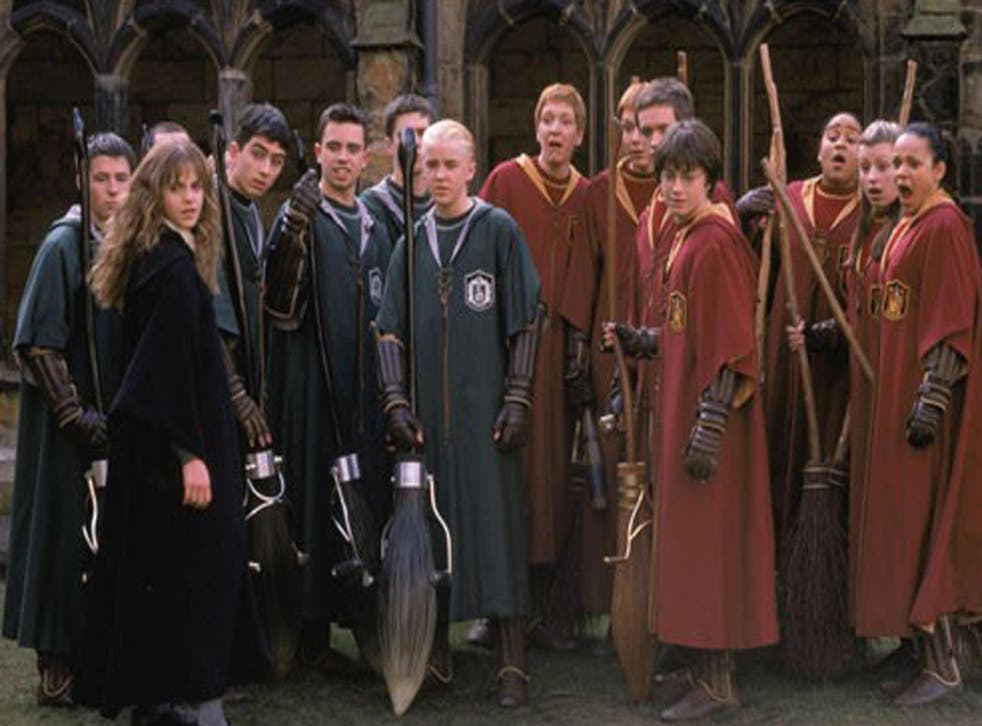 Matches marred by violence and fan protest, bitter feuds in the governing body and a "logistical nightmare" for the host nation.
This may sound like a worst-case scenario for the upcoming football World Cup in Brazil but it actually describes the previously unknown history of its Quidditch equivalent.
To the delight of Harry Potter fans, J K Rowling Friday published the first of a two-part history of the Quidditch World Cup on the Pottermore website she set up to expand the magical "universe" of her boy wizard novels.
Although Quidditch the sport – in which players flying on broomsticks propel balls into ring-shaped goals – owes more to rugby, Rowling's World Cup history seems to have taken inspiration from the petty squabbles surrounding football.
"A source of vehement disagreements, a security risk for all who attend it and a frequent focus for unrest and protest, the Quidditch World Cup is simultaneously the most exhilarating sporting event on earth and a logistical nightmare for the host nation," Rowling writes.
One Romanian player in the 1809 tournament had to be stopped from strangling two referees, she writes, and when the final between his nation and New Spain (Mexico) didn't go to plan he jinxed an entire forest, resulting in a seven-hour battle between trees and wizards.
Violence also marred the 1994 Quidditch World Cup in the UK, when supporters of Lord Voldemort caused mayhem on Dartmoor
Just like Sepp Blatter – the colourful president of football's world governing body Fifa – the head of the International Confederation of Wizards Quidditch Committee has not governed without controversy.
In 1971, Rowling writes, Australian Royston Idlewind was contentiously appointed international director of the ICWQC and caused outrage when he tried to ban wands from matches.
A boycott by threatened fans followed. In the end, supporters took in their wands disguised as a "new style of musical instrument" which emitted loud raspberries (sounding similar to the vuvuzela that caused so much irritation during the 2010 South African football world cup), forcing Idlewind's resignation.
A spokesman for Pottermore said that the first instalment of the history had already proved one of the most popular posts on the site, and the second will be published next Friday, featuring "amusing recaps of some notable recent matches that have been held every four years since 1990".
Susan Jurevics, Pottermore's chief executive officer, said: "We're thrilled to have the opportunity to publish such an imaginative and engaging story from J K Rowling about the history of the wizarding world's most exciting sport."
Rowling is, however, more of a rugby fan and on Friday urged her three million Twitter followers to support Scotland in the Six Nations championship – promising the History of the Quidditch World Cup as a reward.
She has even claimed Scottish rugby is appreciated in the secret magical world, with wizards admiring "the strength and courage of Muggles prepared to engage in sport so brutal" but supporting only Scotland – going as far as to establish the Wizarding Supporters of Scottish Rugby Union: "Discussing Scottish rugby has become one of several covert identifiers for wizards meeting in front of Muggles and seeking to establish each other's credentials."
Join our new commenting forum
Join thought-provoking conversations, follow other Independent readers and see their replies