Man Booker Prize 2015 shortlist: Our verdict on the final six novels
Here is what The Independent's literary critics made of the remaining nominees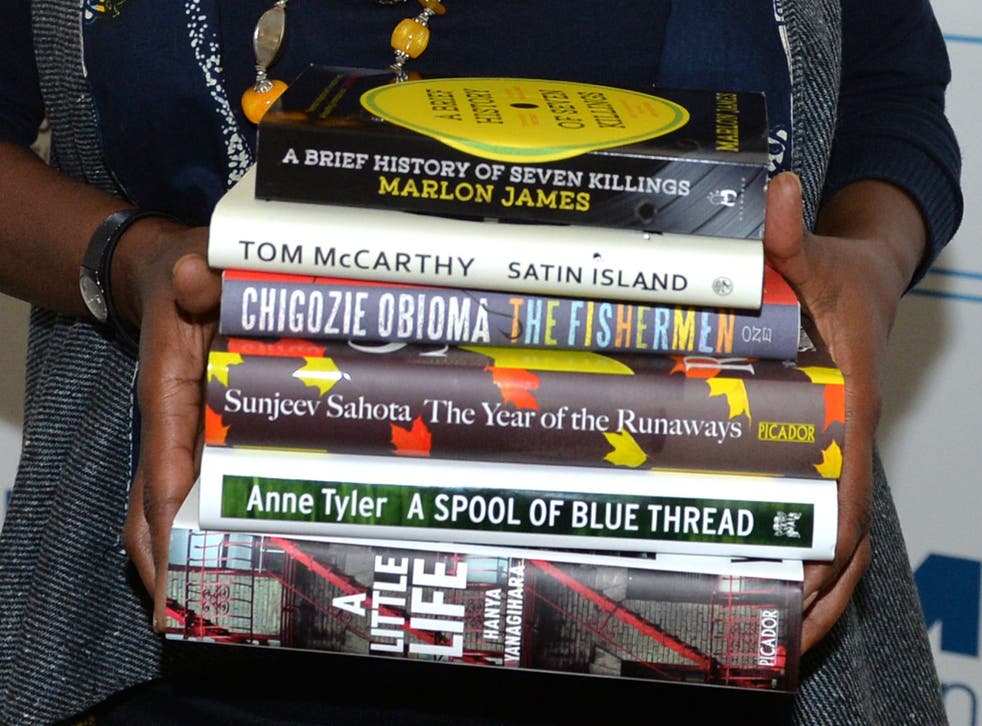 This year's Man Booker Prize shortlist has been announced, with Marlon James, Tom McCarthy, Chigozie Obioma, Sunjeev Sahota, Anne Tyler and Hanya Yanagihara named as the final six authors.
But what did The Independent's literary critics make of the novels for which they are nominated? From Obioma's debut, The Fishermen, to Tyler's bestselling A Spool of Blue Thread, we rate their chances of success.
Satin Island, Tom McCarthy
"The wealth of intellectual ideas can make the novel feel dense. McCarthy's typical eschewal of character development accentuates the intensity, but his crisp clean prose is stimulating, his concepts original and his visual imagery powerful."
Read the full review here.
The Year of the Runaways, Sunjeev Sahota
"It was worth persevering for before the end Sahota proves a wonderfully evocative storyteller, taking us into the heart of the world of illegal migration and how it shapes lives. Sahota throws a piercing light on Indian society, both in India and Britain. A picture of modern immigration that reads like the real thing."
Read the full review here.
A Brief History of Seven Killings, Marlon James
"Marlon James' writing can be at once punchy and lyrical; can alternate strange, dreamy poetry with visceral action; and can bring persuasive life to a kaleidoscopic range of characters. It asks questions that remain pertinent, and demands empathy for characters whom official histories might prefer to overlook. Moreover, it showcases the extraordinary capabilities of a writer whose importance can scarcely be questioned, even if his mode of address will exclude some."
Read the full review here.
A Spool of Blue Thread, Anne Tyler
"Questions of ownership and belonging are raised throughout the novel: the shock of a concealed parentage, the manipulations in relationships, be they with children, lovers, properties. Tyler also writes movingly of the early stages of dementia and its fierce denial, of orphanhood and widowhood. Her portraits of American lives are very fine indeed."
Read the full review here.
Chigozie Obioma, The Fishermen
"The plot's initial fairytale-like simplicity mutates into something darker. The trials faced by this lone family can be read as an allegory of those played out on the larger social and political stage in a post-independence Nigeria as brother turned on brother. A strikingly accomplished debut."
Read the full review here.
A Little Life, Hanya Yanagihara
"Just about every one of A Little Life's 700 pages is saturated with trauma: child abuse, rape, domestic violence, dysfunctional families, addiction, self-harm, suicide, grief. If Emo musicians needed a literary masterpiece, then A Little Life is it. Unlike anything else out there. Over the top, beyond the pale and quite simply unforgettable."
Read the full review here.
The winner of the annual £50,000 prize will be announced on 13 October during a ceremony at London's Guildhall.
Join our new commenting forum
Join thought-provoking conversations, follow other Independent readers and see their replies