Man returns library book with apology note after 49 years
A former student at the University of Dayton, Ohio, originally checked the book out from the campus library in 1967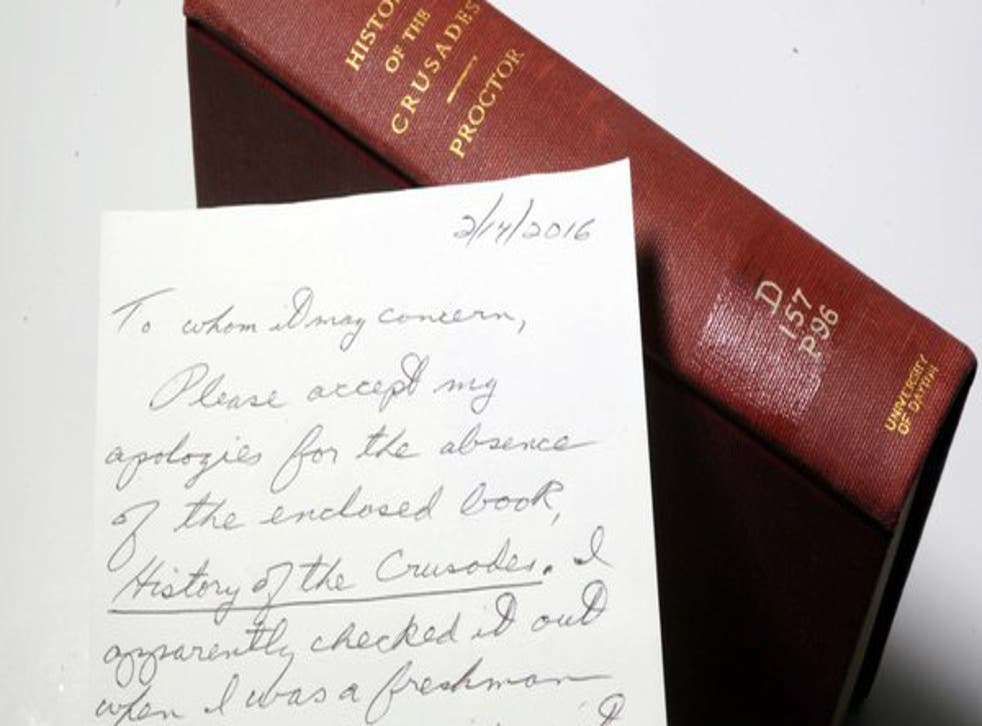 The average contributor to society who forgets something - a birthday present, a doctor's appointment, a borrowed DVD - will tend to lock themselves away within an impenetrable wall of silence. Basically, if you forget something; it's best to never mention it again and hope you've gotten away with it.
Not for James Phillips, former student at the University of Dayton, Ohio; the man who returned a library book 49 years late. Discovering a borrowed copy of the History of the Crusades amongst some souvenirs, Phillips became racked with guilt at a near half-century of students unable to know what happened during the Crusades; leading him to return the book with a deeply apologetic note.
The library was so flattered by his thoughtfulness, they waived the fee; which on a 1967 policy of acquiring a fine of 2 cents each day, had totaled to around $350 (£247).

"Please accept my apologies for the absence of the enclosed book History of the Crusades. I apparently checked it out when I was a freshman student and somehow it got misplaced all these years," the note reads; though, when contacted, Philips gave a fascinating backstory to the book's disappearance. The book was originally checked out during his first year on the campus, but he soon left the school to join the US Marines.
Someone appears to have gathered his belongings from his dorm room and sent them to his parents' house, where they remained until both parents passed away; his father in 1994 and then his mother 2002. The items were then accidentally shipped to Philips' younger brother.
"It was interesting to see a book that had no evidence of our modern technology returned. It still has the old borrowing card stamped with dates back to 1950," Katy Kelly, communications and outreach librarian. "It was very thoughtful of him to do this because not everyone would choose to return it after so long."
Join our new commenting forum
Join thought-provoking conversations, follow other Independent readers and see their replies