Marvel announces black Captain America after confirming new female Thor
The US comic book publisher is pushing for greater diversity in its major titles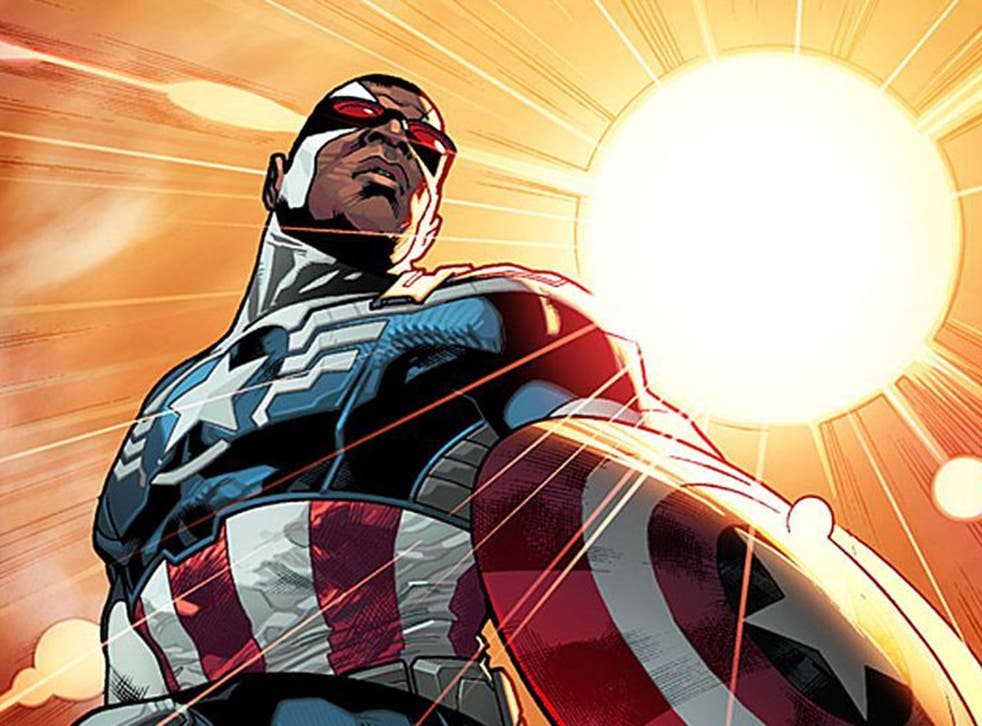 Marvel is set to introduce a black Captain America by replacing Steve Rogers with Sam Wilson, better known as the Falcon.
The special announcement, made on Comedy Central's The Colbert Report yesterday evening, comes shortly after the US publisher's plans to make Thor a woman were revealed.
Marvel is aiming for greater diversity in its big titles, hence these important changes to major characters.
Comic book fans had long-rumoured the shift from Rogers to his old ally Wilson, with the latter set to take up the founding Avenger's patriotic shield this October.
Wilson is set to star in Rick Remender's Captain America #25 with art by Carlos Pacheco. Concept art taken from the cover to All-New Captain American #1 tells fans that his costume will blend elements from his Falcon outfit with Captain America's classic style.
His upgrading will follow Rogers' devastating fight against the Iron Nail, in which the villain drains him of the super serum keeping him physically perfect and depowers him into an old man.
"While Sam shares many of Steve's beliefs in a general sense, he's also a very different person with a very different background," series editor Tom Brevoort told Marvel. "He didn't grow up in the 1930s, he's a modern day man in touch with the problems of the 21st century."
Created by Stan Lee and Gene Colan, Wilson first featured in 1969's Captain America #117 as the first African-American superhero in mainstream comics.
In 1971, Wilson was promoted to join Captain America in the title, Captain America and the Falcon, but Steve Rogers went solo again from 1978.
Before him came The Black Panther, who was African and debuted in Fantastic Four years earlier. The first black Captain America was Isaiah Bradley who appeared in 2003's limited series Truth: Red, White and Black.
Marvel also has plans for other Avengers, with Tony Stark getting a new outfit and moving to San Francisco with the new name 'Superior Iron Man'. He will be 'a character that's hard to root for', accorting to Axel Alonso, Marvel's editor-in-chief.
Join our new commenting forum
Join thought-provoking conversations, follow other Independent readers and see their replies