Bloody Nasty People, By Daniel Trilling
Media support for racist extremism has helped to make legitimate the new politics of hatred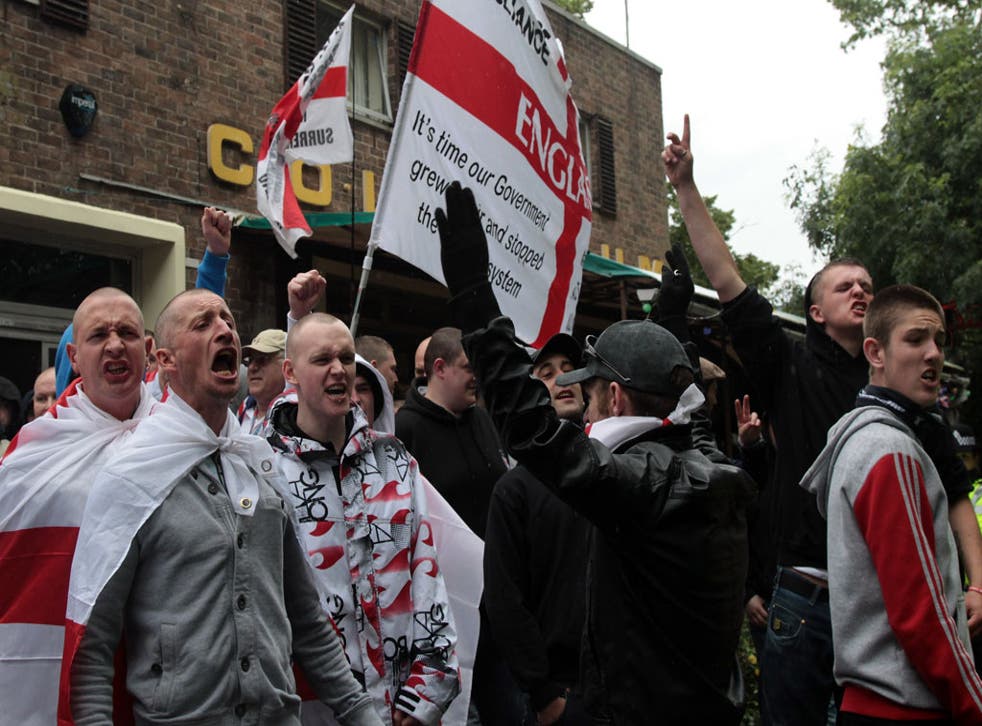 Daniel Trilling has written an instructive account of white extremism in Britain. For this immigrant Muslim, reading it felt like a trek through a lightless jungle with fierce beasts and unseen, stalking, implacable tribes. The intimations of savagery produced a psychic shakiness I've not experienced before.
Neo-Fascist racism is getting more brazen and popular. Its reach is misread by the left, tolerated by liberals, excused and even encouraged by the right-wing political classes and the media, ignored by apolitical citizens, and denied by the deluded many who still believe members of the BNP, English Defence League and other organised belligerents are just loonies with deviant hobbies. Trilling incisively cuts through all that: "the far right has often been portrayed as an aberration, a foreign malady imported into an otherwise tolerant milieu," he argues. "This has had great strategic value for its opponents: highlighting the Hitler-worshipping tendencies of the National Front's leaders during the 1970s was an easy way to discredit a supposedly patriotic movement. But this obscures the home-grown intellectual traditions on which parties like the BNP draw." He notes that Enoch Powell once remarked "The life of nations... is largely lived in the imagination," and concludes that "If that is so, then the BNP takes us into the darkest corners of this national fantasy."
The book's historical, action-packed narrative is underpinned by moral outrage: very unfashionable, very necessary. Though there are frequent implosive power struggles within crypto-Nazi groupings, their adherents are, with remarkable efficiency, managing virally to spread their hate-filled messages. They scrub up well, de-litter neighbourhoods, offer help, distribute lies about migrants and welfare, stir up aboriginal disaffection, spur poorer white families to loathe "outsiders" and even hurt them. That hostility is today considered "understandable" by many with power and influence, some of whom have spun and a new theology of "reasonable" bigotry.
The dispossessed of all races are victims of government policies, the worst being the curtailment of public housing, with cheap, immigrant labour pulled in to facilitate globalised capitalism, an insatiable beast. Yet every PM since Thatcher has shuffled off responsibility for native misery on to incomers. In the middle of the recession, Cameron made a speech attacking multiculturalism; Nick Griffin was elated at his party's "huge leap" into mainstream politics. They're in it together. From slum to suburb, diversity, Islam and immigration are now demonised without a flush of guilt.
Vitally, the author locates Fascist racism within key British traditions. Rural idealists, gentlemen like Hilaire Belloc and GK Chesterton and island poetics inspire Anglo-Saxon chauvinists. Most supporters of the EDL and BNP are not crazies or demons, but solid, sane Brits with babies and grocery lists and a love of picnics. Some have become councillors and MEPs; recruits include lecturers, millionaire, ballerinas, civil servants and Oxbridge students. I once interviewed an EDL fanatic who looked like Kevin Costner and wore Paul Smith shirts.
The worst happened under New Labour, which capitulated to the extreme right while pretending to denounce it. Trilling provides evidence of joint, populist attacks on outlanders by the Blairite clique and tabloids, and of all mainstream parties "borrowing" BNP rhetoric. Once the liberal consensus between the BBC and conscientious post-war leaders like Roy Jenkins and Michael Heseltine kept this barbarism in the swampy fringes. Since 9/11 it has been brought into civil society. Why, Griffin was even asked on to Question Time by the dilettante BBC.
My only big criticism is that Trilling avoids any censure of separatist Muslims or migrants who live by outdated codes, exploit and despise white people. Self-censorship is unhelpful and unwise in a book of such passion, power and urgency. Read it and be afraid, very afraid. As with militant Islamicism, a worldwide web now connects white extremists. We could get our own Anders Breivik, the Norwegian who massacred innocents to punish his progressive, multiracial nation. Perilous laxity and official appeasement have fertilised fanatical British racism. And now it seems unstoppable.
Join our new commenting forum
Join thought-provoking conversations, follow other Independent readers and see their replies