Ed Hawkins, The Lost Boys: Inside Football's Slave Trade: 'Shattered Dreams' - book review
The exploitation of wannabe football stars shames the sport, from club level to Fifa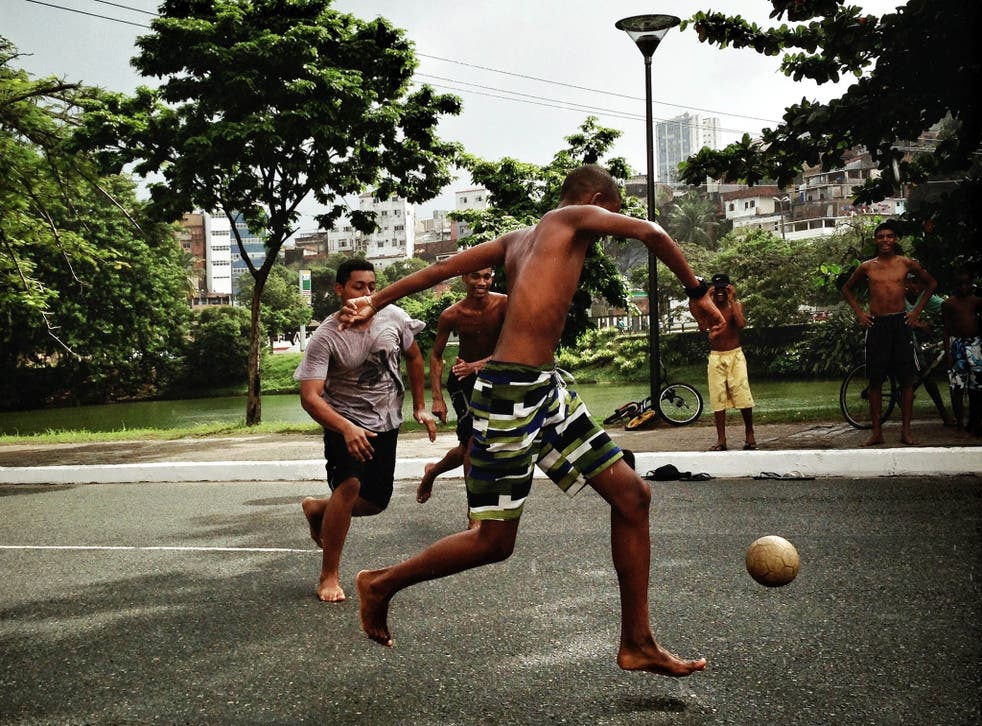 Everyone wants a slice of football and the chance to bathe in its reflected glories. Abu Dhabi and China do billions of pounds of business which no one notices each year, yet when a state-owned Chinese company invested a relatively insignificant £265m in Abu Dhabi-owned Manchester City last week, the whole world was talking about it. That's showbiz.
In the godforsaken, impoverished streets of Ghana, Cameroon, Ivory Coast and most other African nations you care to mention, though, the game is also a magic carpet ride out of a life of destitution. And where there are those desperate enough to pay for that dream, there will always be hyenas, waiting to feed. Ed Hawkins penetrates this world by creating a fake football scouting company purporting to represent professional team Oxford United.
It takes him to the heart of the shadowy network of individuals – traffickers by any other name – who extract money from these boys and their families, on the false promise that they just might enjoy what Michael Essien, Kolo Touré and the others football stars who have been discovered and made it big. It works on many levels. Some of the boys are sold into slavery: $55-a-year seems to be the going rate. Hawkins finds evidence of sexual exploitation in the case of a boy dumped in London, awaiting the football trial that never came.
It's a complex matrix of deceit and criminality – difficult to follow, sometimes, in the way the book spills it all out – but one which shocks in its revelation of how many are complicit. They include British football clubs, such as Cheltenham Town and Brentford, who take £60 and £40 respectively off African boys in return for a trial. They don't tell them that Fifa's Article 19 – a regulation that prohibits international transfers for those under 18 – means they never stand a chance of making it here. "Our bank account details are as follows if you want to make a bank transfer," Cheltenham Town reply to an email purporting to be from a boy in Nigeria. "You can bring cash on the day, but no cash, no play."
Even the individual who claims to be the saviour of these lost souls, the former Cameroon player Jean-Claude Mbvoumin and his Foot Solidaire charity which is fairly well known in the sport's circles, turns out to be less than he first appears. Your correspondent's own attempts to obtain an interview with him several years ago fell through. "He's out of town," the message came back.
Hawkins finds Mbvoumin equally difficult to pin down and only procures an interview, he says, when there might be financial gain for the charity. Hawkins later discovers that Mbvoumin has taken at least €2,300 from a Japanese boy who has been enticed to Europe on the promise of a football career that was never there. This includes a charge for a five-star Geneva hotel the boy did not stay at. It possibly covered the Foot Solidaire tab after taking a table for 10 at a Geneva restaurant to celebrate Mbvoumin's keynote speech at a United Nations convention in the city.
This discovery about the charity has not elicited a word of coverage in the British media, amid the tens of thousands taken up by the football circus each week. Hawkins's disinclination to accept the easy narrative of heroes and villains leads him to question the lost boys' motives, too. They simply want a way out to Europe. Foot Solidaire's claim that 7,000 footballers have been trafficked may be an exaggerated attempt to characterise illegal immigrants as victims.
The only transparent fact is the desperate need for an organisation to lead the effort against those who seek to capitalise on football. That would be the role of Fifa, an institution discredited to its very core, which does not emerge well from the book. So we won't be holding our breath.
The Lost Boys: Inside Football's Slave Trad, by Ed Hawkins (Bloomsbury, £18.99) Order at £15.99 inc. p&p from the Independent Bookshop
Join our new commenting forum
Join thought-provoking conversations, follow other Independent readers and see their replies