The Morning They Came For Us: Dispatches from Syria, book review: The inhumanity of war laid bare
What makes this work so powerful is Janine Di Giovanni's under-stated eloquence about its impact on her own psyche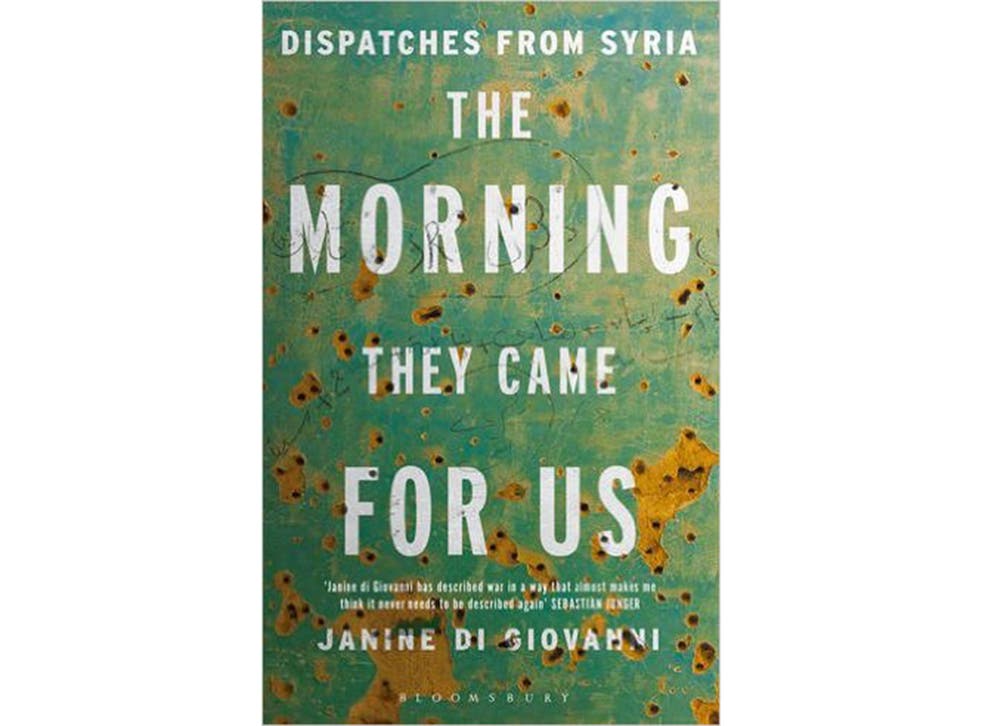 This slim volume of dispatches from the Syrian civil war is not for the faint-hearted. Beautifully told, its themes are anguish and horror, rape, torture and death. Nor does Janine Di Giovanni permit us to keep a distance between ourselves and all these terrors. By making herself an intermediary between that world and ours, her own reactions to what she is witnessing enforces the engagement of our own sympathy.
Syria is just the latest of a string of conflicts around the world Di Giovanni has reported from, and it's clear from the start that The Morning They Came For Us is her cri de coeur about the inhuman impact of warfare in general. She doesn't spare herself, and nor does she spare us. We meet Nada, an opposition activist, who cowers when Di Giovanni touches her hand in greeting and vomits when she is recounting the bestiality to which she has been subjected in detention. And we meet Hussein, a civilian from Homs, tortured by pro-regime doctors who slice him open and pull out his intestines, before throwing him into a cell to sleep on a pile of corpses.
Di Giovanni's profound understanding of the effects of rape and torture illuminates her interviews with Syrian victims like these. "Once tortured, you leave the human race", she recalls being told by a Palestinian survivor. Similarly, she can in a few short paragraphs summon up what war looks like, sounds like, and smells like, so that we can almost see, hear and smell it too.
Ignoring warnings from friends that she would be personally consumed by the Syrian conflict, as she had been in Bosnia, she goes because she "wanted to see a country before it tumbled down the rabbit-hole of war". This, you sense, is not merely because of journalistic curiosity, but stems from Di Giovanni's own deep need to bear witness and, if possible, prevent the recurrence of such tragedies.
Despite the vivid characters who inhabit her stories, what makes this work so powerful is Di Giovanni's under-stated eloquence about its impact on her own psyche. Towards the end, she describes a time, after the capture of Mosul by Isis, when she lay on her bed "feeling a dull, unending sense of depletion, damage, injury". You can't help feeling that she is risking her own sanity by repeatedly returning to such places. But if asked whether she's going back, she would probably answer in the same way as the young Syrian doctor she meets, temporarily in Turkey for the birth of his child: "How can I stay away?"
Order for £14.99 (free p&p) from the Independent Bookshop: 08430 600 030
Join our new commenting forum
Join thought-provoking conversations, follow other Independent readers and see their replies