Seasons in the Sun: The Battle for Britain 1974-1979, By Dominic Sandbrook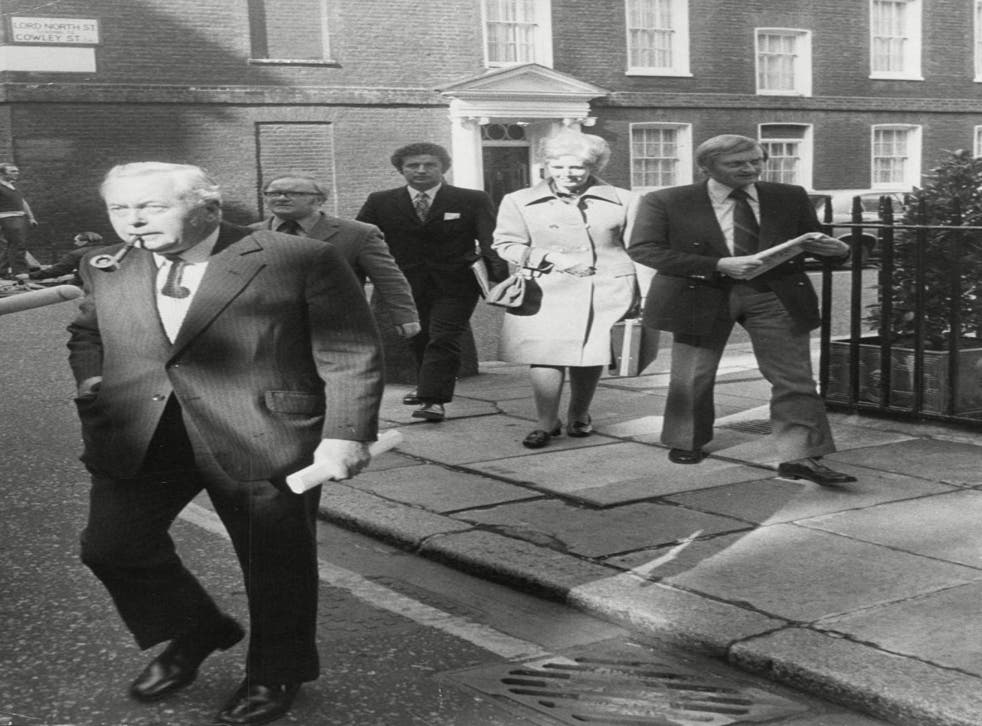 If the 1960s were the decade in which the British public fell in love with the consumer society, then the 1970s were the decade in which they discovered that this relationship had to be paid for. "Butskellism", the cross-party economic orthodoxy that dominated fiscal policy for the best part of a quarter of a century, now looks more like an exercise in wool-pulling, deluding yourself into thinking that you could sustain an economy on borrowing, not caring that your manufacturing sector was going down the pan and conciliating the demands of organised labour at any cost. As Dominic Sandbrook shows in the fourth segment of his entertaining history of post-war Britain, the later 1970s were the age in which most of these economic chickens came calamitously home to roost.
Sandbrook's last volume ended on the cusp of the February 1974 General Election, which Edward Heath's Tory government – overwhelmed by an oil crisis, striking miners and a three-day week – had opted to fight on the question of "Who governs Britain?" The Harold Wilson who tottered unexpectedly into 10 Downing Street early in March, after Heath's negotiations with the Liberals had broken down, was a much less attractive figure than the self-styled techno-visionary who had arrived there ten years before: tired, ground-down, dominated by his erratic private secretary, Marcia Williams, less exercised by the national interest than in the problem of keeping his party in one piece.
That these two policy areas were intimately connected is Sandbrook's principal theme. One of the most regular sights in his sharply-written pages is the spectacle of some grand Labour eminence sacrificing economic necessity on the altar of that ever more fanciful abstraction "working-class solidarity". The crisis was not merely economic –Britain's manufacturing exports had fallen by two-thirds in 25 years – or even statist (at one point the proportion of GDP assigned to welfare ran at 60 per cent); it was also spiritual. The books, films and television of the period offer evidence of a deep malaise, a suspicion that too much moral capital had been spent, that insurrection might lurk just around the corner.
The Conservatives, swapping Heath for the largely unheralded Mrs Thatcher after their second election defeat in October 1974, were grateful to be in opposition: they had only to wait. As the pay settlements headed towards 30 per cent, with inflation rates not far behind, even the TUC general secretary thought that "something ought to be done". Downing Street was drowning in what Sandbrook calls "sheer passivity".
Though of a transparently right-wing turn of mind (and phrase), Sandbrook's previous volumes were more or less even-handed. This one has no hesitation in marking down Wilson as the villain of the piece: a paranoid buck-passer on this evidence, whose thraldom at the hands of the sinister Marcia became so great that his doctor seriously suggested to other members of the prime ministerial entourage that she should be quietly done away with. To the villain can be added the pantomime clown, played by Tony Benn, of whose hapless tenancy of the Department of Industry his Cabinet colleague Barbara Castle remarked: "the constant flaw is that Wedgie has never faced up to... the problem of where the money would come from, and the sacrifices we would have to make while we were taking over and reconstructing all these unviable companies".
If Seasons in the Sun has a hero, it is Wilson's successor James Callaghan – tough-minded, conservative, an ex-union man convinced that the TUC barons had to be resisted, and overheard to remark on the day of his accession "There are many cleverer people than me in the Labour Party, but they're there and I'm here". But by this time, for all his Chancellor Denis Healey's proto-monetarism, it was too late. Labour gradualism could never be revived. Should any modern politician want an explanation of why free-market Conservatism whether practised by Mrs Thatcher, or in a slightly less strident form, by Tony Blair, became the dominant ideology of the past 30 years, it lies here in Benn's subsidising of industrial concerns that were doomed to failure and his sentimentalising of workers who were less interested in the Socialist dawn than preserving their differentials.
As in his previous volumes, Sandbrook has roved widely in his quest for sources. I particularly liked his referencing of a 1977 episode of Doctor Who, which features a trip to a futurist Pluto. The planet is now divided into a series of "Megalopolises", each controlled by a rapacious "Gatherer", one of whom, "Gatherer-Hade", bears a distinct resemblance to Callaghan's bushy-browed lieutenant at the Treasury.
Some of the most melancholy chapters chart the mess made of education and the decision – an altogether outlandish one to be taken by a Labour government bent on social mobility - to cancel the Direct Grant, by which certain private-sector schools offered a proportion of their places to bright children from poor homes. Putting the book down, I was eerily reminded of the time I gave my RAF veteran father a copy of John Keegan's history of the Second World War. Dad wrote his name on the flyleaf and then added the words "Who lived through it". The temptation to write something similar on Sandbrook's title page was every bit as strong.
DJ Taylor's new novel is 'Secondhand Daylight' (Constable & Robinson)
Join our new commenting forum
Join thought-provoking conversations, follow other Independent readers and see their replies