Sketchbooks by Grayson Perry, book review: Class act from art's great outsider
Grayson Perry's sketchbooks show why he is still one of the most acute social observers of our time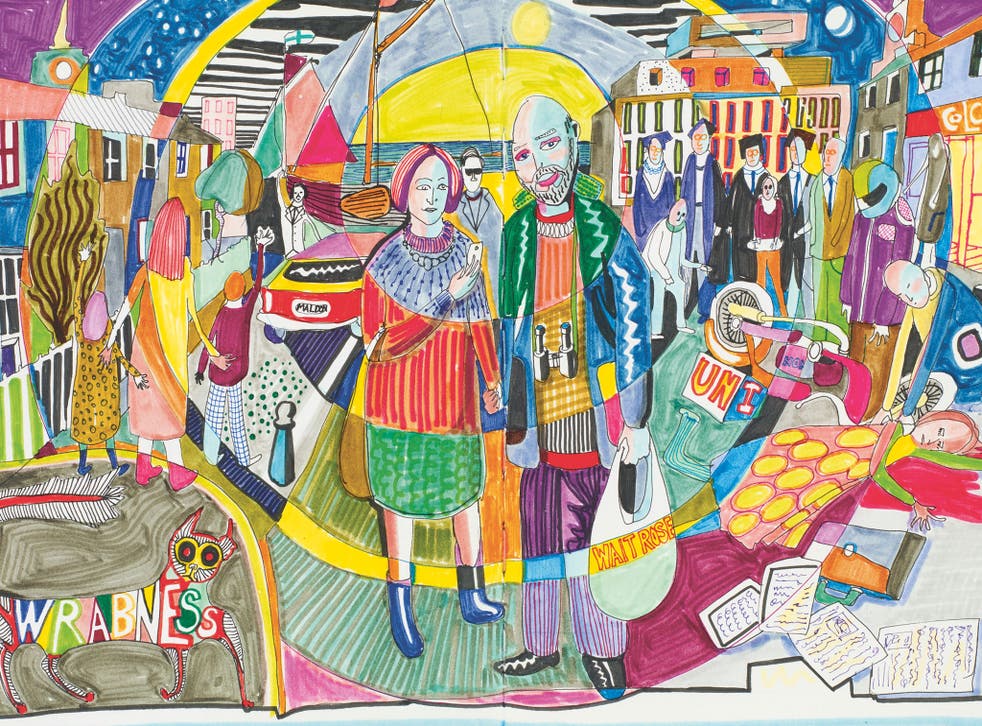 The earliest images in Grayson Perry's collection of drawings from his sketchbooks are strange and intense. Densely worked collages that date back to Perry's student years, they jangle with erotic tension. There are scenes of sexual humiliation and medieval torture, a demonic man-woman figure in bondage gear with horns, a forked tail, breasts and an erect penis, cut-out adverts of prepubescent girls in knickers, motor bikes and toy soldiers and the legend, scrawled across one page: "Living is a fantasy".
Living in a squat in the early Eighties, with no access to a studio space or money for materials, Perry poured his energy into the sketchbooks, detailing his fantasies and anxieties on page after page until the books in his words, became "part diary, part pornography, part graphic novel".
In the years since then, he has travelled a remarkable path. If the pages of those early sketchbooks bristle with the alienation of the outsider artist, Perry is now a consummate insider: winner of the Turner Prize, a member of the Royal Academy, deliverer of the Reith Lectures and the subject of major solo exhibitions all over the world. His transformation into one of Britain's most celebrated and best-loved artists is so complete that it's easy to lose sight of the sense of yearning and discontent that still runs through his work.
The drawings in Sketchbooks chart the broadening of Perry's preoccupations from the purely personal to questions of class, gender, power and points in between, including the pomposity of the art world and the disquieting superficiality of Chris Huhne. There are preparatory diagrams for The Vanity of Small Differences, Perry's masterful series of tapestries depicting Britain's obsessive relationship with class and taste with Hogarthian relish. And designs for vases such as The Frivolous Now, a pot decorated with the specious terminology of modern life, such as "corporate spirituality", "hard working families" and "hen party Botox".
Gathered together, the works in the book make a convincing case for Perry as one of the most acute social observers of our time. Yet the brave, and strikingly honest aspect of Sketchbooks, as a document of works-in-progress, is that it is also a book that undermines any claims to greatness by revealing the anxieties and dead-ends that are an inescapable part of the creative process.
A drawing for one vase looks like a typically caustic swipe at the pretensions of the art world, covered as it is in gallery speak phrases such as "carefully planned chaos", "compositional device" and "daringly casual". But at the side of the page,
Perry has also scribbled a list that reads like a more sincere grappling with questions of artistic practice: "Why do we do this?; Trying to fill an existential void; Going through the motions; Will the not-for-profit sector validate my social status?" And barely visible at the bottom of the page: "I hope my mum likes this."
Then there is his "biggest cock-up of recent years"; an ambitious attempt to re-create William Powell Frith's panoramic cross-section of British society, The Derby Day. Perry's version involved staging a huge photoshoot with one hundred people in the car park of Newport Pagnell motorway services in order to provide the subject matter for a nine-metre-long tapestry. Sketches from the shoot jostle with modern social archetypes – lads in baseball caps, women in hijabs, workmen in fluorescent vests, kids on games devices and parents on iPhones. But Perry writes that he was overwhelmed by the scale of the project and, unable to resolve his cast into a satisfactory composition after dozens of sketches, he abandoned the effort entirely.
Why the attempt to copy anyway? Sketchbooks is a glimpse into the inner life of a true original who is at his best when bringing his private obsessions gloriously to life.
Particular Books, £40. Order at £35 inc. p&p from the Independent Bookshop
Join our new commenting forum
Join thought-provoking conversations, follow other Independent readers and see their replies