Stalin's Englishman by Andrew Lownie, book review: Even the Soviets didn't trust Guy Burgess
The 'outsider' spy is vividly described, but might have escaped lightly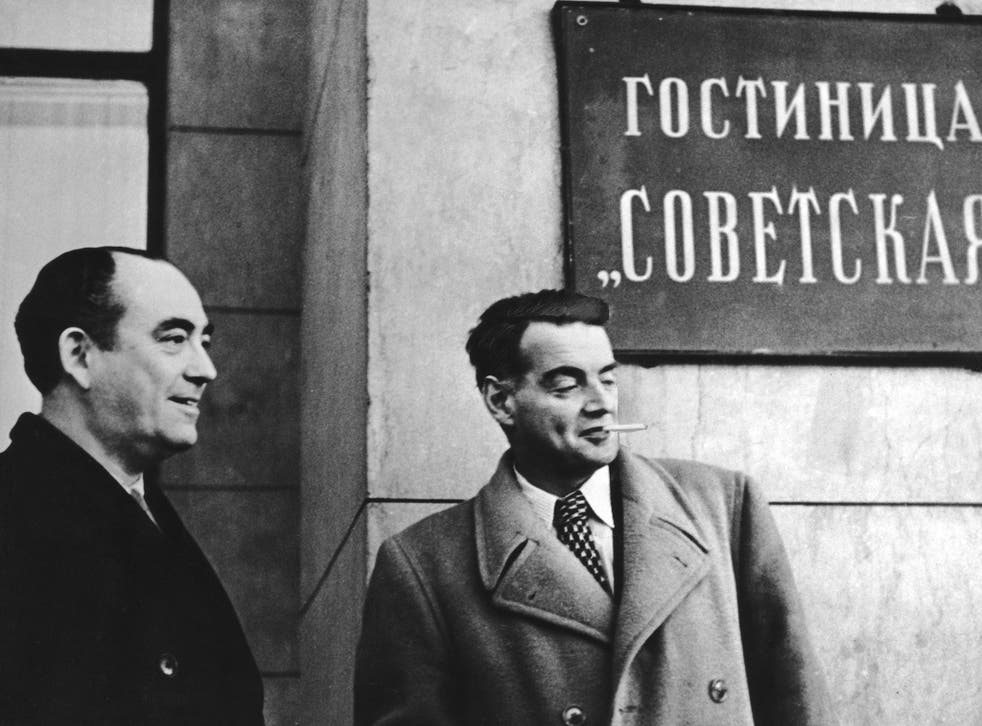 As one of this country's foremost literary agents, Andrew Lownie certainly knows what makes a good book, and in Stalin's Englishman, he has delivered one of his own, many times over. This life – or, as his neat subtitle has it, "lives" – of Guy Burgess commands authority from page 1.
Lownie takes the classical approach to this biography – strictly chronological, with a wealth of personal detail from the Soviet agent's contemporaries, and modest authorial comment on top. The pace is brisk; the account of Burgess's school days is, in its way, as absorbing as the pile-up of events surrounding his defection. The old ways of biography can still be the best.
The author allows himself to be led by his abundant material, much of it from interviews conducted over decades. The voices of those who knew Burgess come over loud and clear – notably that of the academic, Goronwy Rees, who expresses his reservations about Burgess with particular eloquence.
There is also the unforgettable comment from Burgess's ageing mother, who said she thought Soviet-style discipline was rather good for him.
How much Lownie adds to the familiar picture of Burgess – dissolute, depraved, amoral but to many also engaging – is mostly in the detail. The big questions gain no really new answers.
Take the damage Burgess may – or may not have done – to national security during his 20-year career, hopping between seemingly second- and third-tier jobs at the BBC and the Foreign Office. Lownie acknowledges the different opinions, from those who dismiss his activities as mostly ineffectual, to those – such as the US Joint Chiefs of Staff in 1955 – who concluded that "very nearly all US-UK high-level planning information... must be considered compromised".
For himself, Lownie offers a judgement that will ring true in an age when East Germany's Stasi files have been opened, and Edward Snowden's voluminous leaks from the NSA are still being assessed. Burgess, Lownie suggests, passed on such a multitude of documents that they were far more than the ponderous Soviet bureaucracy could handle.
"The irony is", he comments, "that the more explosive the material, the less likely it was to be trusted, as Stalin and his cohorts couldn't believe that it wasn't a plant." Similar misapprehension dogged Burgess's defection. He received a less than heroic welcome in Moscow because the Russians thought he could only be a double agent.
Lownie also accepts the conventional view of the spy's motives – the spirit of the age, the greater threat, as was perceived, from Nazism, his critical view of British policy towards the Soviet Union. But he adds, convincingly, the thought that Burgess's sense of being an outsider, of never quite attaining membership of the elite of the elite, drove him to seek somewhere to star.
Which leads me to my one frustration with this biography. It is too fair! Burgess (Eton and Cambridge) may indeed have felt himself an outsider, but consider the – many double-barrelled – names within his circle and the pedigree of those whose patronage he enjoyed. Time and again, these people turned a blind eye to his egregious misdemeanours for no better reason than his social status as "one of us" – a notably charming and clever one at that. Even after he defected, he received visits from his mother and retained access to his funds in Britain.
Of course, all this happened more than 50 years ago and institutions such as the Foreign Office and the BBC have had to change. But I wonder, deep down, how much.
It is easy to argue that Lownie could have vented just a little indignation – but then he would have written a different book. With a distinguished biography now in the shops, however, perhaps now is the time for a polemic.
Join our new commenting forum
Join thought-provoking conversations, follow other Independent readers and see their replies