The Last Word by Hanif Kureishi, book review: Kureishi's novel reflects Keats's claim that a man's life is a continual allegory
Boyd Tonkin
Friday 24 January 2014 20:00 Comments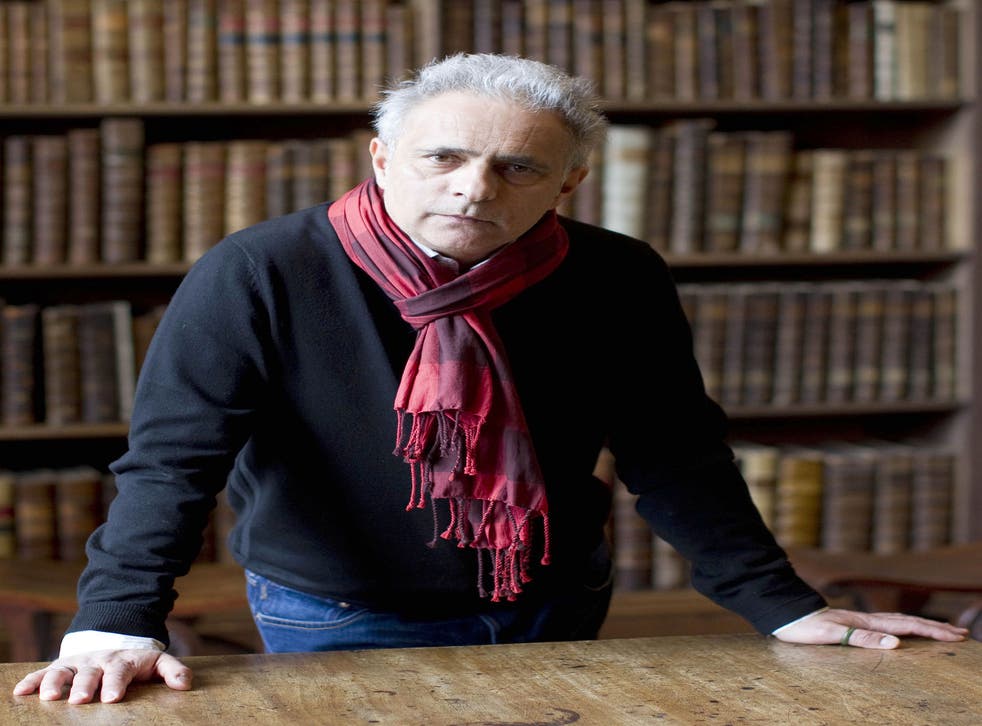 A contrarian and a curmudgeon, both visionary artist and tantrum-prone elderly brat, the Indian-born but Somerset-settled writer Mamoon Azam strikes his callow biographer on occasions as "more Johnny Rotten than Joseph Conrad".
Mamoon has certainly been quite a sex pistol in his time, as well as a dauntless explorer in the heart of modern darkness. Blond, bland but seductive, literary wannabe Harry Johnson lands a contract to write the life of this punkish – and puckish – sage in an age when blabbermouth biography "had been sucked towards the dirty stuff, a process of disillusionment".
Harry's "long game of intrigue and deception", egged on by his gifted but shambolic publisher Rob, means that he must win the great man's trust, then dish the dirt. The journals of a dead first wife-cum-mentor, a distraught long-term mistress, the seemingly servile "help", and a high-maintenance diva of a second spouse, vigilant keeper of Mamoon's flame: all may assist, or hinder, him. For his part, Mamoon finds himself in "fiscal turnaround".
His fame in eclipse, he needs a late-life jolt of notoriety to pay the champagne bills. And so the dance of predator and prey – but which is which? – begins. Harry parts from his silvery fashionista girlfriend Alice to "embed" himself in Mamoon's country life. For Rob, the household is "as if Gandhi had married Shirley Bassey and they'd gone to live in Ambridge".
You hardly need belong to what Hanif Kureishi calls the "gossipocracy of agents, publishers and writers" to know that, behind his new novel, early readers have detected traces – no, raw bleeding chunks – of the relationship between VS Naipaul and his biographer Patrick French. Kureishi has often plundered not merely his own background, but that of his peers. He has aimed not so much to tease us with coy romans à clef but to prove via the alchemy of fiction that – in Keats's words – "A man's life of any worth is a continual allegory."
So leave the gossipocracy to play snap with the lives and loves of Vidia and Mamoon. We should notice that The Last Word not only draws on a literary sub-genre about the oedipal stand-off between biographer and artist (from Maugham's Cakes and Ale to Roth's The Ghost Writer). Crucially, it also lends the ageing, snarling lion some traits of its author. A rebel from a Muslim family, Mamoon has flayed the patriarchy of new-wave Islamism and traced its re-birth in "the dark cities of northern Britain". In the wake of the Salman Rushdie fatwa, Kureishi himself did exactly that. You might equally read this novel as a portrait of the artist in the mirror of the future, as the maverick, heretic and debunker balances his books.
True to another side of his heritage, Kureishi as droll farceur sounds more like PG Wodehouse (repeatedly name-checked) than Philip Roth. Harry charms and smarms Mamoon, his volcanic Roman wife Liana and – in an American interlude – his rejected muse Marion into spilling the pungent erotic beans. Meanwhile, a country-house comedy unfolds around him. Kureishi has form on this Chekhovian territory (as in his play Sleep with Me). Here, the grungy foibles of Mamoon's rural backwater, "both dozy and violent", offset the more elevated wrangles over love, lies and literature. The staff at Prospects House – sly, secretive Julia and her ruined mother, Ruth – move from chav-like ciphers out of Little Britain to plot-driving centre-stage: this is Kureishi at his mischievous, subversive best.
Much of the dialogue sounds fruitily stage-bound. You can imagine The Last Word behind a proscenium arch. The women in particular – each dressed, voiced and staged with panache – have a ripe theatricality. A psychoanalytic sub-theme, highlighted by the profession of Harry's father, picks up material from Kureishi's therapy-centred 2008 novel Something to Tell You, and fuels a debate about sexual desire as "the motor of our existence". Biographer and subject concur that "intellect and libido have to be linked". Discarded or exploited, the link-women muses and mistresses will contrive their sour-sweet revenge…
For all his private shame, Mamoon emerges with the dignity of his work intact. He may be a bastard, but he is not a fraud. This "Asian Camus", a "radical transgressor" who has "looked into the dark without flinching", will snatch the last word. For Mamoon, "an artist is always… at his best in his art." A comic but not a cynic, Kureishi mocks the man but salutes the writer who has lived in truth while creating "freedom". The farce ends in a kind of prayer.
Hanif Kureishi will appear at the Independent Bath Literature Festival on Sunday 2 March (01225 463362; bathfestivals.org.uk)
Register for free to continue reading
Registration is a free and easy way to support our truly independent journalism
By registering, you will also enjoy limited access to Premium articles, exclusive newsletters, commenting, and virtual events with our leading journalists
Already have an account? sign in
Join our new commenting forum
Join thought-provoking conversations, follow other Independent readers and see their replies