The Horne Section: Wisecracks, drum solos and unusual celebrity star turns
Combining stand-up with jazz is a winning formula, says Alice Jones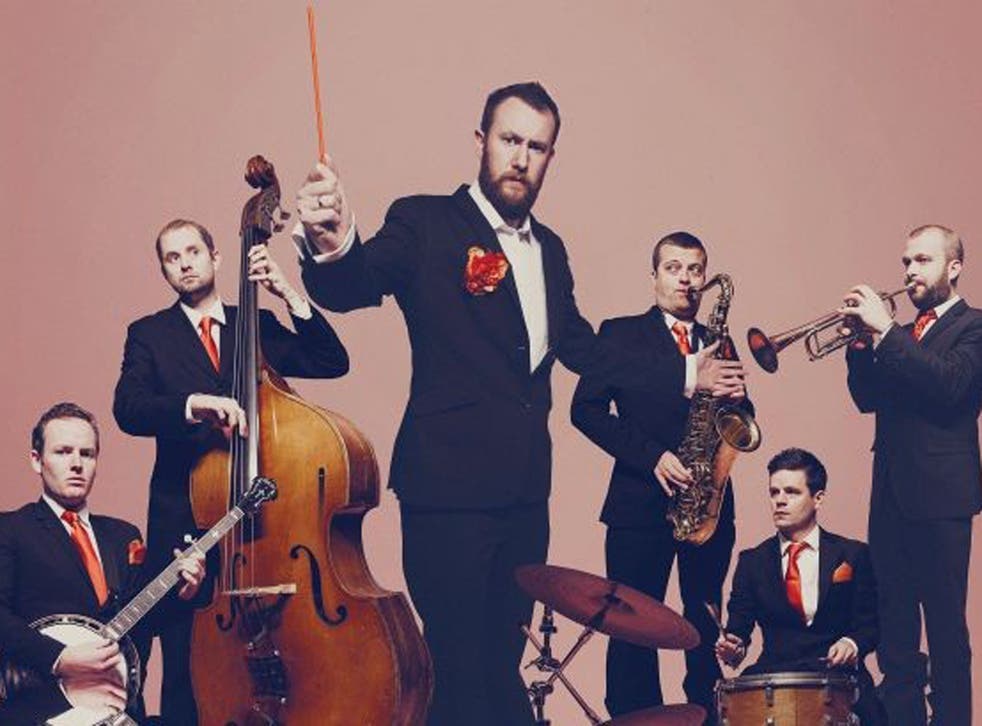 Three years ago, Alex Horne did a five-minute stand-up spot at Ronnie Scott's. It set him thinking. Comedians and jazz musicians have a lot in common, don't they? Both skilled with timing, adept at improvising and keen on, well, showing off in darkened rooms. His two best friends from school were jazz musicians and they'd been talking about working together for years. Why not combine their passions and stage a new show, one that would mix punchlines with basslines?
And so The Horne Section was born – a freewheeling variety night at which comedians perform backed by a live jazz group. Their first gig in May 2010 was a ramshackle affair, which saw them banned from London's Canal Cafe for squeezing too many people on to its tiny stage. Since then they've crammed just about every name in comedy into their shows. Anyone might pitch up and do a turn: Harry Hill, Simon Amstell, Jimmy Carr, Tim Minchin, Josie Long and John Oliver all have.
"We discovered straight away that it worked. Having live musicians in a comedy show adds a frisson," says Horne, 34, who has been performing stand-up since his Footlights days. "Comedy is getting more diverse – you can do anything on a stage now. It doesn't have to be just one man and a mic."
The Horne Section is far more than that. Horne (Grade 3 French horn; beginners' piano) is the benevolent MC, his five-piece band – Joe Auckland (trumpet) Mark Brown (sax) Will Collier (bass) Ben Reynolds (drums) and Joe Stilgoe (keyboards) – the talented fall guys, improvising soundtracks for the comedy star turns. In between, there are silly songs, audience games and cabaret turns. Some guests, like Minchin, slip easily into the format. Others – often the most exciting – showcase hitherto hidden talents alongside their usual schtick: Al Murray playing the drums, for example or Tim Key snarling along to Russian rock. Musical guests – Neil Hannon and Suggs have both shown up – are similarly encouraged to try out their comedy patter.
Since their chaotic first gig, The Horne Section have played the West End, Cheltenham Jazz Festival and three sold-out runs at the Edinburgh Fringe. These days they may wear matching ties and use whizzy projections but there's still a barely veiled anarchy to proceedings. "We thought that if we had a slick beginning and end and we looked good," says Horne. "We could muck around more in the middle."
While the hosts write their material, they have no idea what their guests will do and never rehearse with them beforehand. "I love being completely in the dark," says Stilgoe. "I thrive on it."
"It keeps it edgy and improvised," agrees Reynolds. "We're trying to keep that rawness that we felt when we did our first show, the excitement of not knowing what's going to happen."
Like the best comedy, it looks effortless but it couldn't work if the musicians weren't supremely skilled. They are an impressive bunch: Auckland plays with Madness, Brown is on tour with Robbie Williams, Reynolds and Collier are jazz stalwarts, playing with Clare Teal and Gwilym Simcock while Stilgoe (son of Richard) released his own album in July. More importantly, says Reynolds, they have known each other for years. "We just got together all of our favourite people. So the on-stage chemistry was already there. It wasn't forced."
Tonight they begin a four-night residency at London's South Bank with guests including Dave Gorman, David O'Doherty and Felix from Basement Jaxx. A second Radio 4 series follows in the Spring. Are there any comedians left on their wishlist? "Woody Allen on clarinet and Steve Martin on banjo", says Horne. "We approach people who are our heroes. We always think they'll never do it but they tend to say yes."
The Horne Section, Southbank Centre, London SE1 (thehorne section.com) to 2 November
Join our new commenting forum
Join thought-provoking conversations, follow other Independent readers and see their replies