Oedipe: The masterpiece opera is finally getting the staging it deserves at the Royal Opera House
80 years after its world premiere, Enescu's opera is being staged at the Royal Opera House for the first time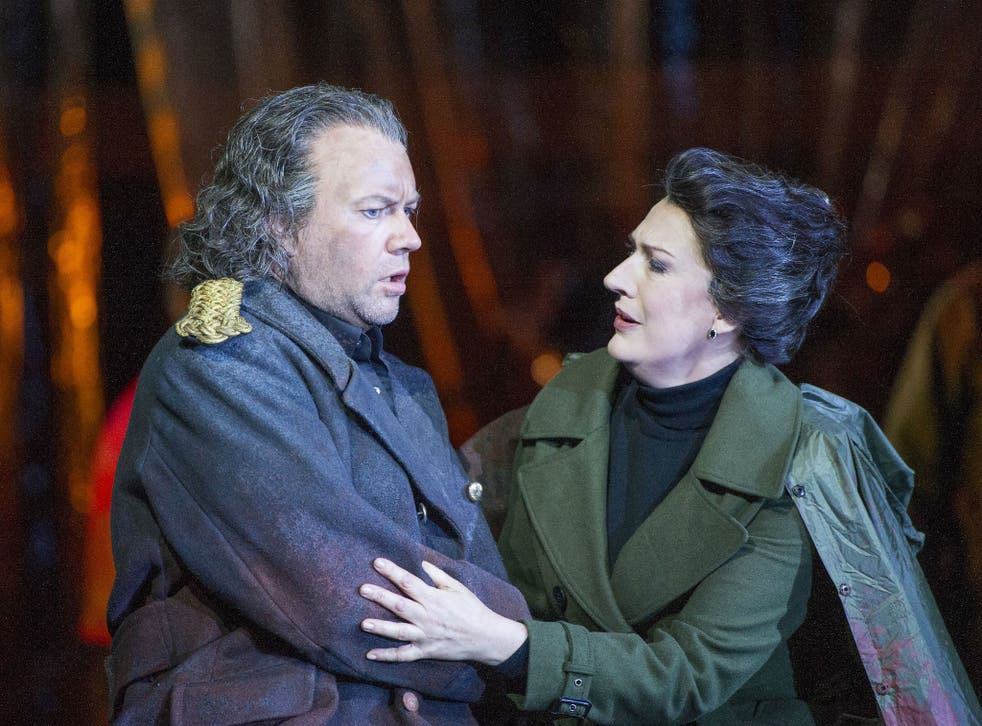 Some figures in the artistic world seem to have enough talent to fuel four ordinary beings. One such is the utterly remarkable George Enescu: composer, pianist, violinist, conductor and teacher, assuredly the most celebrated musician ever to have come out of Romania. His life is worthy of a Hollywood blockbuster, riven with personal tragedy, closing in exile. And his opera Oedipe, which he considered his masterpiece, is only now being staged for the first time at the Royal Opera House, 80 years after its world premiere.
Enescu was born in 1881 in a Romanian village named Liveni, which has since been renamed after him. Aged three he was captivated by the sound of the violin and the folk music of his native land. He soon emerged as a child prodigy and at the tender age of seven was sent to study music in Vienna. Later he headed for the Paris Conservatoire, where he became a composition pupil of Jules Massenet and subsequently Gabriel Fauré; his Romanian Poem was performed at Paris's Concerts Colonne when he was 17.
At first he divided his time between Paris and Bucharest. In the latter, the young musician became a favourite of Queen Elisabeth of Romania in her guise as the poet and patron Carmen Sylva, and he set some of her poems to music. In the former, his violin students numbered budding stars such as Yehudi Menuhin, Ida Haendel, Ivry Gitlis and Arthur Grumiaux. Menuhin declared: "To me, Enescu is the most extraordinary human being, the greatest musician, and the most powerful influence someone has ever had over me."
As for influences on Enescu, these were exceptionally varied. He was fortunate enough to be born into a turbulent time in musical creativity; composers everywhere were seeking a new individuality, often to free themselves from the overwhelming impact of Wagner. This was especially true in Paris, where Fauré encouraged his pupils to find musical voices that were uniquely their own.
Enescu was no exception. His music bears hints of Wagner, but also of Debussy and of the distinctive harmonic and rhythmic language of Romanian folk music; and his technical mastery of his instruments led him to challenge his performers mightily in that department. His compositions, including the Romanian Rhapsodies, giant symphonies and some intense, startlingly original chamber music and piano works, pack a punch with their ceaseless flow of ideas.
His magnum opus, though, was Oedipe, his sole opera: an ambitious, larger-than-life musical canvas that follows the life of Oedipus from birth through the Theban tragedy to a transcendent final death scene. It incorporates myriad styles: melodrama-like declamation rubs shoulders with almost filmic scene painting and shimmering impressionistic effects akin to Debussy. There's even one note on the musical saw, representing the death of the Sphinx.
So where has Oedipe been all our lives? And where was it all of Enescu's? It was as early as 1910 that the composer, mesmerised by a performance of Sophocles's play Oedipus Tyrannus in Paris, conceived the idea of basing an opera on it. The first performance, though, did not take place until 1936.
Leo Hussain, the British conductor who makes his Royal Opera House debut with the work, suggests that this long creation period was a complex affair. "Partly it was a difficult piece for him to write because he knew he wanted it to be his masterpiece," he says. The orchestration took nine years to perfect. "I get the impression it was written very fast, but finished very slowly, with Enescu refining, adding, taking away, and obsessing about it. And he was also a very busy man."
This multifaceted and sometimes turbulent opera is dedicated to the equally multifaceted and turbulent love of Enescu's life: Maria, Princess Cantacuzino via her first marriage. Her tale is laden with suggestions of mental instability, infidelity and, following an affair with the philosopher Nae Ionescu, a suicide attempt in which she poured acid on her own face. She and Enescu married, after a lengthy on-off relationship, the year after Oedipe's premiere.
Ultimately Enescu was caught up in the violent tides of the 20th century's progress; this may account for Oedipe's wider neglect, since a premiere in 1936 was hardly ideal timing with the Second World War imminent. He spent the war years in Romania, but in 1946 left for Paris to escape the new communist regime. After suffering a stroke while conducting in London in 1950, he lived thereafter in the French capital, where he died in 1955. The story goes that Maria had to prevent Romanian secret agents from kidnapping his body to take to Bucharest as part of the country's heritage.
Now it is time to see whether his magnum opus can establish itself here. And with a tried and tested production by Àlex Ollé and Valentina Carrasco of the Catalan company La Fura dels Baus, and an all-star cast including Johan Reuter, Sir John Tomlinson and Sarah Connolly, to name but a few, it should have its best possible chance. "It's a hard-hitting story, a huge challenge and a great night in the theatre," Conductor Leo Hussain declares. "I can't wait for everyone to see it."
'Oedipe' is at the Royal Opera House until 8 June. Box office: 020 7304 4000
Join our new commenting forum
Join thought-provoking conversations, follow other Independent readers and see their replies