Daniel Barenboim and Staatskapelle Berlin, Royal Festival Hall, review: Martha Argerich and Lisa Batiashvili light up the Southbank
Celebrated pianist leaves an indelible impression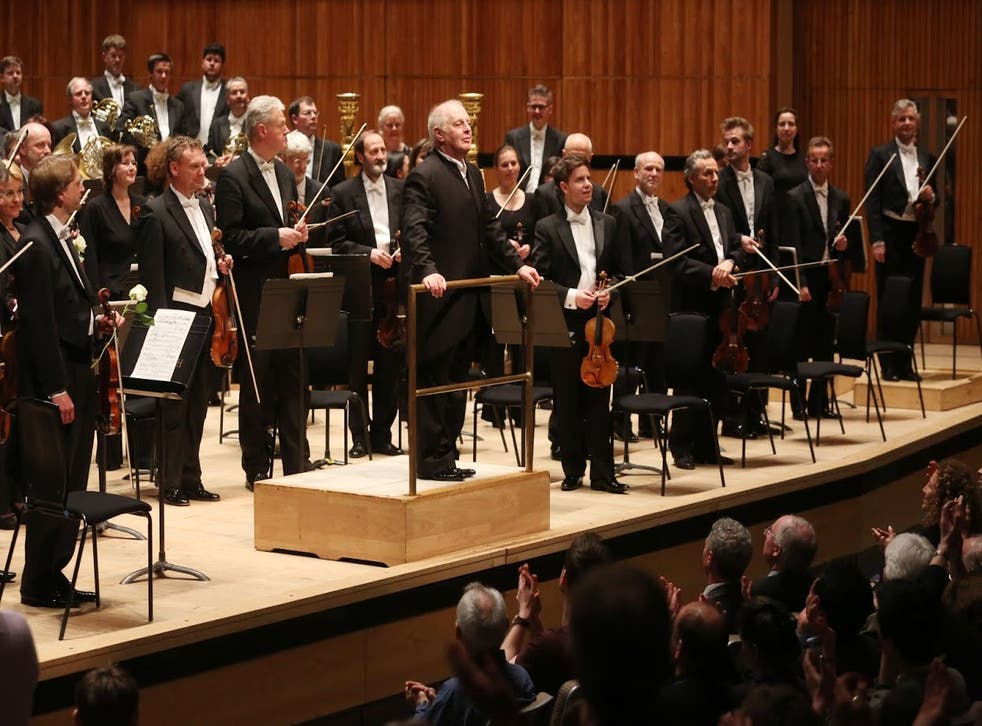 Daniel Barenboim may have been on the podium, but it was the figure at the piano – with whom as a boy he had briefly shared the same ferocious teacher – who guaranteed that the Festival Hall was filled to bursting, at the start of this year's Barenboim Project.
'If Mercury could play,' Martha Argerich's former partner (and fellow-pianist) Stephen Kovacevich once observed, 'Martha is what he would sound like.' Or, as one virtuoso said to another who had been trying to tame the budding young Argerich's fire, 'You can't make a race-horse trot.'
Indeed, with preternatural facility allied to a unique gift for keyboard poetry, this Argentinian virtuoso has been pianism's sacred monster for most of her 73 years. A maddeningly frequent canceller – thanks to caprice as much as fluctuating health - she now only plays when she can share the stage with trusted colleagues or promising proteges, but she still leaves an indelible impression with every performance.
You never know where the lightning will strike - when a familiar work will suddenly acquire a revelatory new dimension - and thus it was with her performance in Beethoven's Piano Concerto No 1. After Barenboim and the Berlin Staatskapelle had delivered a briskly compact opening, Argerich asserted dominance with a springtime eagerness perfectly suited to this youthful, ardent work. The emotion in her playing came over in close-up, and her colour-shifts dramatised every twist and turn in the musical plot. She found a limpid expressiveness for the Largo, and put on cap and bells for the exuberant finale. The revelations came at pivotal points: harp-like chords heralding her return for the recapitulation in the first moment, and an ineffably sweet farewell phrase before the closing orchestral flourish. Such moments touched the whole with magic.
The encore was no less pleasurable for being predictable, as Barenboim joined her for a four-hand rendition of Schubert's valedictory Rondo in A. They played like the old friends they are, and walked off with an arm over each other's shoulder.
The first half of the second concert in the series was no less glorious, as Lisa Batiashvili joined Barenboim and his band for Tchaikovsky's Violin Concerto in D. There was no trace of vanity in her playing or her body-language, and she presided over the orchestra as persuasively as Argerich had done – indeed, for much of the time Barenboim let this young Georgian virtuoso set the pace. She brought classical restraint to this high-Romantic music, with no indulgence in swoops or slides apart from the ones dictated by the score, and she delivered those – even when rapidly double-stopped – with flawless ease and precision; for the Canzonetta she found a chaste beauty of sound.
Though impressively played, the orchestral ballast with which Barenboim filled out these concerts will not have pleased all tastes – Strauss's Ein Heldenleben and Elgar's second symphony are both in my view marred by a grandiose garrulousness – but his forthcoming recital series of Schubert's complete piano sonatas should be fascinating.
Join our new commenting forum
Join thought-provoking conversations, follow other Independent readers and see their replies