Riccardo Primo, Britten Theatre, London Life Is a Dream, Argyle Works, Birmingham Timberbrit, Bussey Building, London
Awkward direction hobbles this Handel collector's item, but it takes more than that to keep a good performer down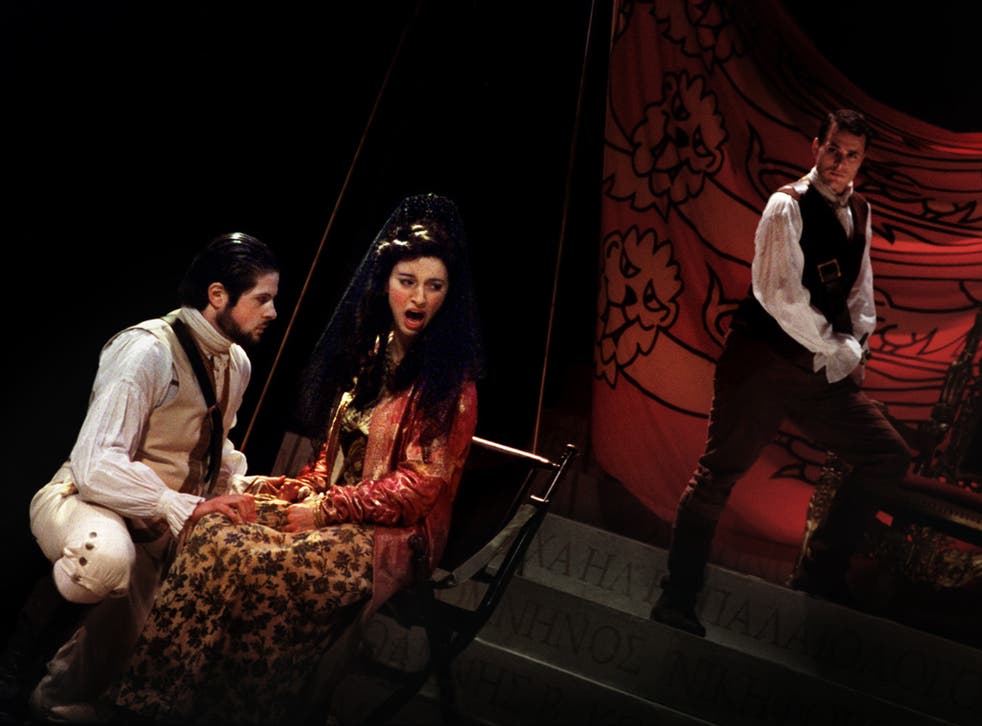 Four weeks after George II was crowned to the strains of Zadok the Priest, Handel delivered another compliment to his new king. Loosely based on Richard the Lionheart's swashbuckling rescue of Berengaria of Navarre from the evil clutches of Isaakios Komnenos, Riccardo Primo, Re d'Inghilterra tells us much about the 18th-century ideal of a modern monarchy. In real life, Richard and Berengaria's union was unhappy. But Riccardo Primo is not about Richard. It is about King George and his consort, Caroline. Born in the land of "freedom, virtue and gallantry", Richard/Riccardo is as merciful in victory as he is fearless in battle. Written for Francesca Cuzzoni, Berengaria/Costanza is afforded the most luxurious arias, though none advances more complex qualities than constancy and discretion.
The temptation to do a Wills and Kate production of Riccardo Primo for the London Handel Festival must have been immense. Instead, director James Robert Carson offers a straight period-costume staging of Acts I and II and a muddled critique of colonialism in Act III. A handsome, edgy presence in the second of two casts, Jake Arditti as Riccardo is belatedly revealed as a psychopath, vengeful in his treatment of the captive Isacio (Edward Grint). Having swooned in misery at the prospect of never seeing her beloved, Katherine Crompton's Costanza suddenly swoons in terror of spending the rest of her life with him.
Stranded in a production that seems not to know how seriously to take itself, Carson's singers are handicapped by candelabra-style blocking in which the person singing is symmetrically framed by two or four persons who are not. A wide flight of steps dominates Adam Wiltshire's set, sometimes veiled in silks and lit with Moorish lanterns, sometimes canopied with jasmine, sometimes studded with flags. Video projections include shooting stars, a reproduction of an 1841 painting of Richard, and, at the crux of the siege of Limassol, documentary footage of a lion in chase.
It is a cruel fact that while experienced singers can conceal incompetent direction, young singers expose their own and their director's weaknesses. James Hall's Oronte sang with a clear, bright tone, but wore an expression of beatific bafflement. Timothy Nelson's Berardo disappeared behind his wig, while Grint reached a startling fast-boil. Hannah Sandison was the most expressive singer, projecting Pulcheria's hauteur, warmth and sadness stylishly. As ever, the orchestral performance under Laurence Cummings was scintillating, propelled by a peppery bassoon, archlute, cello, bass and two harpsichords. It is this vivacity, and the rarity of the repertoire, that accounts for the loyalty of the festival's audience. But they deserve better on stage than human candelabras and a hungry lion.
Reminiscent of John Adams in its glancing figures for strings and tuned percussion, Jonathan Dove's immersive opera Life is a Dream is so much a bespoke commission for Birmingham Opera Company that it is hard to imagine it performed in any other setting than a former factory in Digbeth. Graham Vick's huge company of dancers, actors and singers have used this space before (for Otello) and will return in August for Stockhausen's Mittwoch aus Licht. It feels like home– if home is a warehouse in which you can see your breath in the air and have to swerve to avoid surgeons with bloody wrists, frantic brides, enraged mourners, thumb-sucking sleepers and a drunken Father Christmas.
Like Riccardo Primo, Dove's opera is about mercy. It is also about the terrible abuse of a child, Prince Segismund (Eric Greene), locked away since birth. Placed on the throne for one day by his father, King Basil (Paul Nilon), he rapes, stabs, defenestrates, is drugged and returned to his cell, and told that it was only a dream. Released by his people, he rampages again but relents, sparing Basil, rewarding the avenging Rosaura (Wendy Dawn Thompson) with a love match (Joseph Guyton), marrying Estella (Donna Bateman) and forgiving his jailer (Keel Watson).
In Vick's productions you can run with the pack, pressing in on the action, or stand back. Designed around a ring of padded cells by Samal Blak, with orchestra and conductor William Lacey at its centre, the production raced up gantries of scaffolding and whirled about on wheeled bunk-beds. It was thrilling and disturbing, wholly committed, a choral surround-sound.
Carmen Elektra, the company behind the UK premiere of Jacob Cooper's Timberbrit, probably aspire to the same rough thrill as Birmingham. Spread across two floors of the Bussey Building in Peckham, south-east London, this was an evening of loud DJ sets, barely audible chamber music (by Michel van der Aa and Kate Whitely), and a grinding electro-pop liebestod for "Britney Spears" (Lucy Cronin). Whether Timberbrit was truer to its living subject than Anna Nicole was to the late Anna Nicole Smith, I couldn't say. But the soul-fraying horror of sexual commodification was vividly felt in Cronin's mascara-streaked performance.
Classical Choice
Valery Gergiev conducts the chorus, soloists and orchestra of the Mariinsky Opera in Mahler's Symphony of a Thousand at the Wales Millennium Centre, Cardiff, at 4pm today. Laurence Cummings and the London Handel Orchestra put Bach's St Matthew Passion in the context of a Vespers service at St George's, Hanover Square, London (Fri).
Join our new commenting forum
Join thought-provoking conversations, follow other Independent readers and see their replies