The Silver Lake, Hackney Empire review: A larger than life performance of a show that could hardly be more topical
All the voices in this production are big, finds Michael Church, with Pasha Selim's roars of frustrated rage shaking the rafters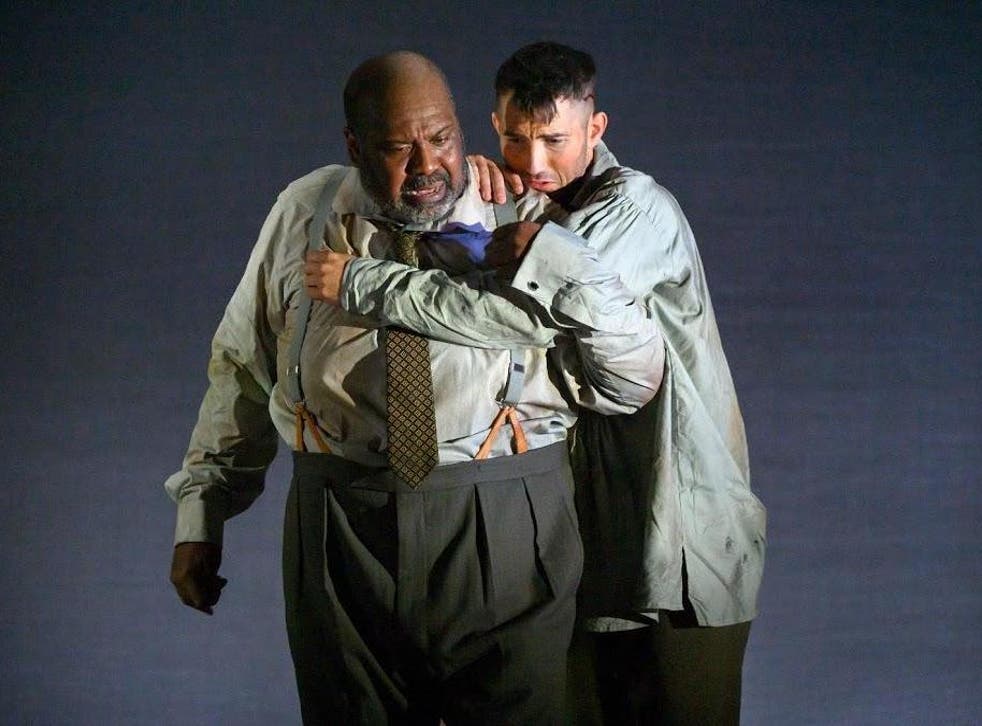 Year after year, English Touring Opera's resourceful director James Conway turns up trumps, and this year is no exception. Kurt Weill's Expressionist opera The Silver Lake got an un-staged Prom a few years ago, but otherwise it's been virtually forgotten since its Leipzig premiere in 1933. But as Conway observes, its inspiration – which was also its Nemesis – could now hardly be more topical.
It was created in response, says Conway to the Camden New Journal, "to a time when the far right had been able to grab power because no one had taken the threat seriously and the opposi­tion was splintered. Its message is that when people find it impossible to unite and address the problems of society with a single voice, it's up to individuals to do what they can and step into the breach."
Conway is far from being the only commentator to stress the queasy parallels between the rise of the Nazis and the rise of Britain's hard right today, and the significance of those parallels can't be overstated. The Silver Lake is a parable about rich and poor, the oppressive state and the brotherhood of man. Two weeks after its premiere the Nazis closed it down, with its Jewish composer fleeing the country, followed soon after by his librettist Georg Kaiser.
The plot turns on the relationship between a policeman named Olim and a vagrant everyman-figure named Severin: Olim shoots and wounds Severin, but Severin's forgiveness eventually allows them to realise their human bond; in the background are the huddled masses who queue for bread and have no home. For much of the time the work feels like a play with music, but it inhabits the same musical sound-world as Weill's great collaborations with Bertold Brecht – sardonic songs, aggressive brass, suggestive clarinet solos and a pervasively acidic colouring.
The 40 best albums to listen to before you die

Show all 40
Conway's austere and rough-hewn staging comes straight out of the Brechtian playbook, with the performers holding up placards giving a running commentary: we might be back in the Thirties. David Webb's Severin and Ronald Samm's Olim seem larger than life, while soprano Luci Briginshaw and narrator Bernadette Iglich stylishly complete the vocal balance; the local branch of Streetwise Opera – amateurs all – gives the piece an effective grounding. James Holmes extracts a quintessentially Weillian sound from the pit.
If the first act feels clunky – too much messing about with props, not enough drama – the rest of the work takes wing with graceful assurance: it's a brilliant restoration. If it has a magic ingredient, it's transparent integrity.
Meanwhile Stephen Medcalf's ETO production of Mozart's Die Entführung aus dem Serail – here sung in English as The Seraglio – is a treat. From the moment Matthew Stiff's blustering Osmin makes his appearance, and is baited by John-Colyn Gyeantey's Belmonte and Richard Pinkstone's Pedrillo, we know we are in safe hands: this is all a game, broad comedy giving the lie to any notion that the Europeans in the clutches of Pasha Selim (Alex Andreou) and his menacing-looking guards might be in any real danger.
All the voices in this production are big, with Selim's roars of frustrated rage shaking the rafters. Lucy Hall's lustily-sung Konstantze may lack refinement in her lament, but the fury of her "Martern aller Arten" cries to the heavens. In the role of the English maid Blonde, Nazan Fikret's gale-force performance is a brilliant comedy turn, while Pinkstone's delivery of his Romance from half way up a ladder supported by Gyeantey is both sly and sweet; Gyeantey himself brings baritonal richness to his theoretically tenor part.
This splendid company is now embarking on a tour to those parts of Britain where the other opera companies don't reach, with local amateur choruses doing the honours as the Brechtian crowd. Adam Wiltshire's elegant sets are suitably portable, but he absolutely must make the placards in Silver Lake easier to read.
Join our new commenting forum
Join thought-provoking conversations, follow other Independent readers and see their replies