Weinberg The Passenger, English National Opera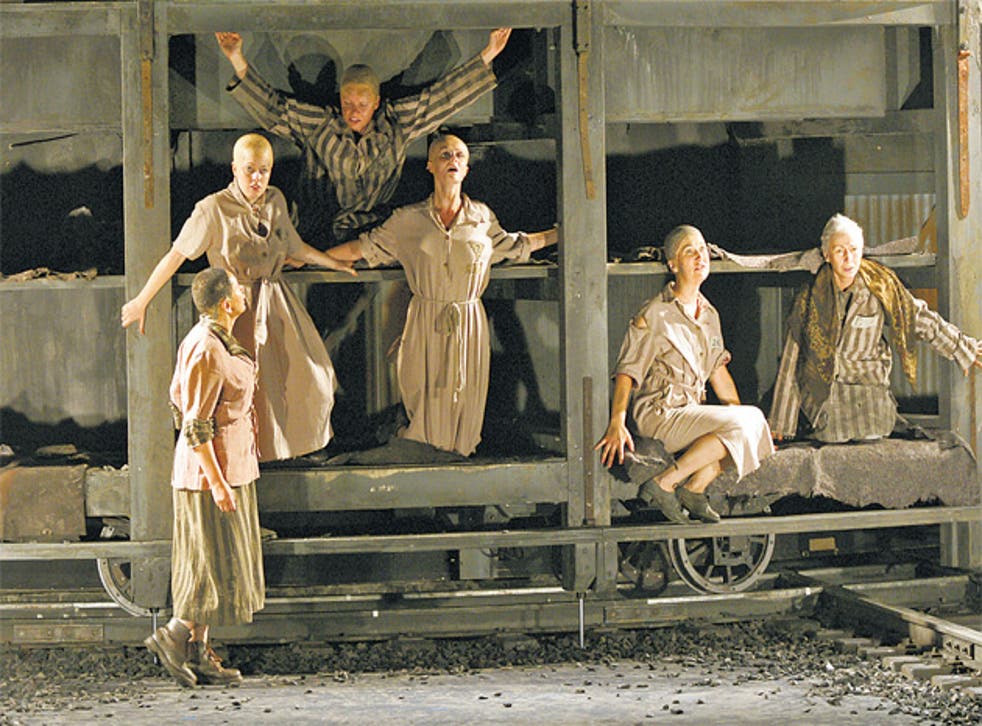 The railway tracks to Auschwitz hit the buffers just above the orchestra pit – the fount of so much heavenly music. Now there's an irony.
There's a front cloth suggesting Auschwitz sacking and once that has risen, the drama (or should that be melodrama?) is visually spelt out for us in Johan Engels two-tiered design: freedom is the promenade deck of a liner bound for Brazil; hell is where you would expect to find it – below – where cattle trucks spill out the dispossessed and lighting turrets manned by SS guards pick out principal "performers" with follow-spots. But can we really present Auschwitz as a dubious theatrical spectacle? Stylised or not, can we really ask an audience to suspend disbelief when the grim reality is still so immediate?
Zofia Posmysz is an Auschwitz survivor whose novel of the same name, The Passenger, provided the inspiration for Miecyzslaw Weinberg's opera – banned by the Soviet authorities in the late 60s and first staged in this David Pountney production only last year. In essence it tells of a chance meeting between a former SS Overseer, Liese Franz (the excellent Michelle Breedt), and one of her Polish prisoners, Marta (Giselle Allen, outstanding). But as this British premiere unfolded in tattoos of timpani and hectoring percussion, as the Shostakovich-like parodies and cheesy cabaret allusions were trotted out rictus-like with caricatured SS Officers teetering towards a "Springtime for Hitler" malevolence, it became more and more apparent that no music – and certainly not Weinberg's – could ever "underscore" the Auschwitz experience, no amount of grey parlando could ever bring hollow words off the page (and how crass they sounded "in translation") when the statistics – "20,000 corpses a day" - speak for themselves. It's interesting that the most affecting moments in this long and largely disaffecting piece are the simplest and sparest: the a capella Russian folksong – heartbreaking – and the solo violin which keeps alive the love between Marta and her lover Tadeusz (Leigh Melrose). But then one wonders if Weinberg's opera could ever have been good enough – it isn't – for the weighty burden it sought to carry.
I've added a third star for the unstinting commitment of all the performers. In a final scene which I can't help thinking had not truly been earned, the two women, overseer and prisoner, are isolated on stage. "Do not forgive them, never, ever", repeats Marta. One wondered what her creator, Zofia Posmysz, was thinking as she arrived on stage to a standing ovation.
Join our new commenting forum
Join thought-provoking conversations, follow other Independent readers and see their replies