How we met: Tommy Cannon and Bobby Ball
'If he's a bit down, I'll give him a clip and say: Come on, cock'
Independent Staff
Thursday 29 October 2020 10:39 Comments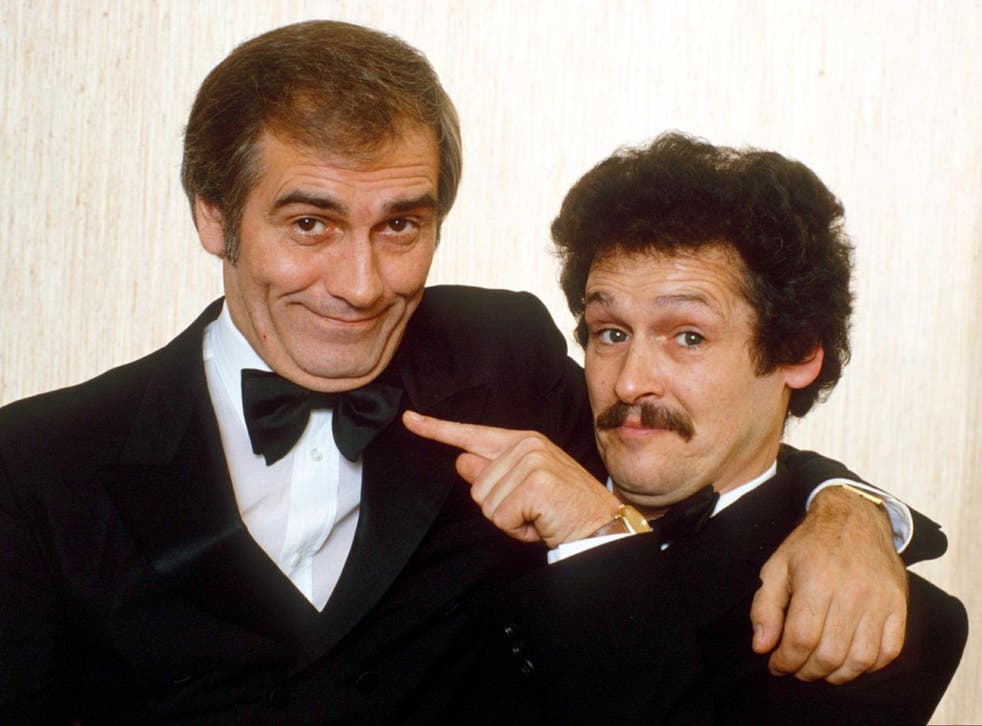 *This interview from 2006 has been republished in light of Bobby Ball's death, aged 76.
Born in Oldham in 1938, Tommy Cannon (real name Thomas Derbyshire) met his comic partner Bobby Ball while working in a welding factory in the 1960s. After years on the club circuit, the duo became household names when they were given their own TV show, which ran from 1979 to 1991. Married twice, he has five children and lives near York with his wife Hazel.
We first met in a welding factory in Oldham. He was the first person who spoke to me out of 500 men – he came in late for work and said, "Hiya, mate." Maybe he felt sorry for me. Bob used to sing at the weekends, and one night he said, "I'm singing at a working men's club, would you like to come along?" Perhaps in my younger days I wasn't bad looking. I don't know if I had that good a singing voice. We ended up as a trio, with a guy called Stan on the keyboard. Stan didn't want to take it on full time though. Perhaps if we'd all three stayed together we'd have kept going as a singing act.
In 1969 we went on Opportunity Knocks. We did the comedy and came last. But things like that shouldn't put anybody off. Michael Grade eventually saw a clip of something we'd done and he turned to the execs and said, "Give these two lads their own show." That was after 15 years slogging up and down to working men's clubs.
Of course Bob and I have fallen out. We fell out in the Eighties for a time. But most double acts don't like each other at all. We've got a very close relationship, like brothers. My wife often listens to me and Bob, and doesn't know what we're talking about. We've known each other for 45 years. I know when he's low or when he wants to be left alone. The way you do fall out is if you don't give and take.
We do both have a Christian faith, but my faith is very personal to me. I have a one-to-one relationship with Jesus and it's not something I talk about. Bobby had a faith about seven years before I did, and it happened to me about 15 years ago. People thought we were crackers.
We're on equal terms, nobody is stronger than the other. I sometimes feel I need to step in and take care of him, but I don't really; he can take care of himself. After so long together, you can't sum it up in words. We've been through trials and tribulations – I've helped him and he's helped me. I hope we remain together for the rest of our lives.
When I was voted out of I'm A Celebrity Get Me Out of Here (2005), Bob looked pretty lonely for a day or so. You do feel like you've lost one of your arms when you're separated. I wouldn't want to be a solo act. I'm possibly one of the shyest people in show business. After so long in the business, you become classical comedy - like vintage wine, it gets better. We'll always be a double act.
As part of the longest-running double act in Britain, Bobby Ball (real name Robert Harper), 63, continues to perform in summer shows, pantomimes and Christian concerts. Married twice, with three children, he lives with his wife Yvonne in Lytham St Anne's, Lancashire.
I met Tommy at work. It's like with anything else, when you start a new job, it's daunting. I was always late, so when I came in I said, "How are you, cock?" I suppose he felt relieved. We became friends and I asked him to come along to a club where I was singing. I've always done show business since I was a kid.
I said to him, "If you can get a set of drums, I'll teach you." And that's how it started. We had a jazz trio, we played weddings. He did have a great singing voice, but he used to be very nervous. He used to be sick before he went on.
One of us had a red silk shirt and one of us had a green one, I can't remember which was which. I said, "We look like traffic lights." It wasn't really funny, but it got a little titter and it felt quite good. And we realised that at the clubs, comedians got more money than singers.
I've never really wanted to be by myself as a performer. I did want to have a rock band when I was younger, but I enjoyed comedy so much, I didn't really think about being solo. Tommy's the best straight man in the business. I'm happy with my lot. The best performers have worked their way up to the top: Morecambe and Wise, Bruce Forsyth... Sadly today we're in the world of the celebrity. I read about a guy called Preston who said that he didn't want to be a second-rate celebrity and do panto. I thought, "You need to learn your craft, son."
Every double act goes through a stage of not getting on. It's like a marriage. If anyone who's married ever tells you that they never fall out, they're lying. But old married couples get through it, and it's better. That's what we're like. We're lucky. We can talk if something is bothering us We don't harbour grudges or anything. We're very blokeish; we wouldn't tell each other how much we care about each other or anything like that. But now and again we'll just clip each other, give each other a little hug, and we'll know what it means. If he's a bit down, I'll give him a clip and say, "Come on, cock."
We need our time apart. When we're together, we're together 24/7. I'm on the road now and I won't see my wife for a week.
It's funny having to talk about our relationship. It makes me realise. It's a marvellous thing we've got. He's always looked after me in his own way. There was no need to, but he's protective. We've become really like brothers now. It's sad to say, but I'll bury him or he'll bury me.
Register for free to continue reading
Registration is a free and easy way to support our truly independent journalism
By registering, you will also enjoy limited access to Premium articles, exclusive newsletters, commenting, and virtual events with our leading journalists
Already have an account? sign in
Join our new commenting forum
Join thought-provoking conversations, follow other Independent readers and see their replies