Adil Ray, Citizen Khan interview: I'm not writing Asian jokes for Asian people - I want everyone to enjoy them
Khan is in the 'very early stages' of making a 'Citizen Khan goes to America' comedy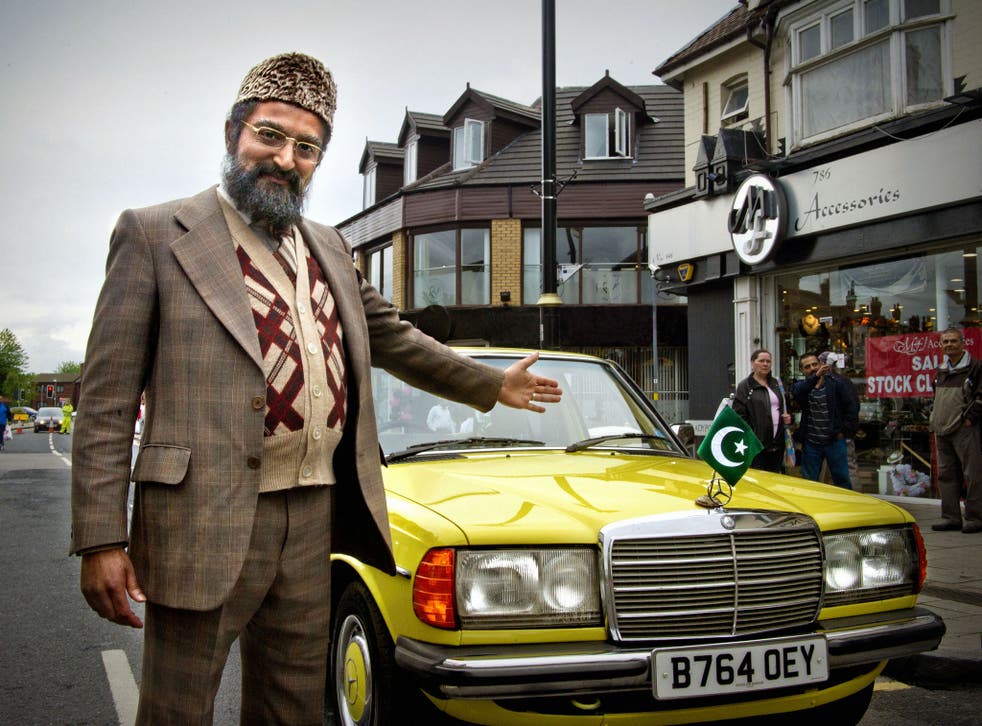 At a time when right-wing UK politicians are stooping to dog-whistle politics on race and immigration, it's heartening (if a little surprising) to find that a Pakistani grandfather from Birmingham may become Britain's latest cultural export – in the form of Citizen Khan, a sitcom created by Adil Ray.
Ray has just revealed that he is developing a film about the bumbling busybody and self-appointed community leader in Sparkhill – who may yet conquer Hollywood. Mr Khan was first seen on BBC2's spoof documentary Bellamy's People, and there have been four series (with a fifth later this year) of the BBC1 sitcom. In the meantime, fans of Citizen Khan can see Ray in They All Know Me!, now touring the UK.
I speak to Ray as his tour gets under way, and he explains the show's format. "Mr Khan is on stage solo, getting things off his chest about immigration and how to make Britain great again. There's a lot of audience interaction in the style of the great game shows I grew up watching on TV, too."
Clearly those attending the live shows are fans, but the sitcom is like Marmite – people either love it or hate it. It's an old-fashioned show, painted with a broad brush and featuring physical comedy and one-liners aimed at getting big laughs. Ray is unapologetic. "It's broad-stroke comedy, yes, but that's part of a traditional sitcom format and something that Britain has always done really well.
"People talk about 'old-fashioned' as if it's a bad thing. But Mr Khan is old-fashioned – that's the whole point. He, like many men of his generation within certain communities, is holding on to particular traditions and values. But I think that makes it very current, because he's grappling with the real world his wife and daughters live in."
Ray, 42, was born in Birmingham to a Kenyan mother (a civil servant) and a Pakistani father (a bus driver). "Watching sitcoms was a big thing in our house; we loved Fawlty Towers, Only Fools and Horses and Rising Damp. We even watched Alf Garnett." He cites Rowan Atkinson as his comedy hero.
Many have praised Ray for creating (with co-writers Anil Gupta and Richard Pinto) a comedy in which Muslims are allowed to laugh at themselves. Its fans – Citizen Khan averages more than three million viewers, peaking at five million with iPlayer views – also praise it for showing British Muslims in a positive light at a time when the news seems full of stories about young British men and women becoming jihadis, either here or in Syria and Iraq.

On the other hand, the BBC received 200 complaints (and Ofcom about 20) when the series first aired in 2012, saying it ridicules Islam and stereotypes Asians. When your comedy manages to appeal, and appeal in equal measure, you must be doing something right.
Rupa Huq, Labour MP for Ealing Central and Acton, dislikes the show so much that she singled it out for criticism in a Parliamentary debate on diversity earlier this month. Huq, born in London to Pakistani parents (and sister to TV presenter Konnie Huq), didn't pull her punches. "You'd think you were in the mid-1970s," she said. "The decor of the set, the guy's car and the canned laughter all feel stuck in a groove. [It's] a show where the comedy is based on hilarity derived from thick accents, executed with all the subtlety of being bashed around the head with lead piping. They are not quite cutting off people's hands, but I could imagine that being in a future episode."
Ray responds drily: "I think Rupa Huq is herself in danger of turning into Mr Khan. When people attempt to speak on behalf of an entire religion, they are kind of believing their own hype. I think if Mr Khan were watching the show, he'd be the first to complain."
But does the show pander to stereotypes? "Every single comedy ever made uses stereotypes, but nobody has ever told me what the Pakistani stereotype is. The thing is that men generally are given a hard time in sitcoms and Mr Khan follows in that tradition. He's a bit of an idiot, but loveable.
"Lots of parents – not just Asians or Muslims – hold on to certain values but are challenged by those around them. Mr Khan has three strong, independent women around him. In the end, in pretty much every episode, he comes to the realisation that what matters is not being the most important person at the mosque, or chasing another money-making scheme, but being a good husband and father, and being supportive of what they want to achieve."
In terms of diversity, Ray says: "I'm not writing Asian jokes for Asian people. I wanted to write something that the broadest number of people can enjoy." And on tour he seems to be achieving that. The first-night audience in Bradford was "about 75 per cent white and 25 per cent Asian", he says, which reflects the area the theatre serves and, roughly, the TV viewership.
A kind of "Citizen Khan goes to America" film would give Ray the opportunity to tackle issues such as racism, terrorism and airport security – subjects that wouldn't sit comfortably in a family sitcom. "A successful international comedy with a Muslim guy at the heart of it would be a really good thing," says Ray. "It's in the very early stages but I'm excited by the prospect."
He reminds me that Mr Khan's origins on Bellamy's People were satirical, and the writers slips in the odd knowing remark in each episode about how people such as Mr Khan are perceived. In the first episode, he said: "Seven times they mentioned Pakistan today [on News at Ten]." And then a beat before: "Five in a good way" – a wonderfully subtle putdown of the UK media.
Not everybody – Muslim and non-Muslim – may like Citizen Khan's comedy, but its cultural significance at a time when British Muslims are constantly under attack shouldn't be underestimated. A popular show about a British Muslim family dealing with their embarrassing dad – what could be more normal than that?
Citizen Khan: They All Know Me! is touring until 7 May (citizenkhan.co.uk)
Join our new commenting forum
Join thought-provoking conversations, follow other Independent readers and see their replies