The Chuckle Brothers: Life after television for Barry and Paul Elliott
The brothers are back in the spotlight – courtesy of the Dave Lee Travis trial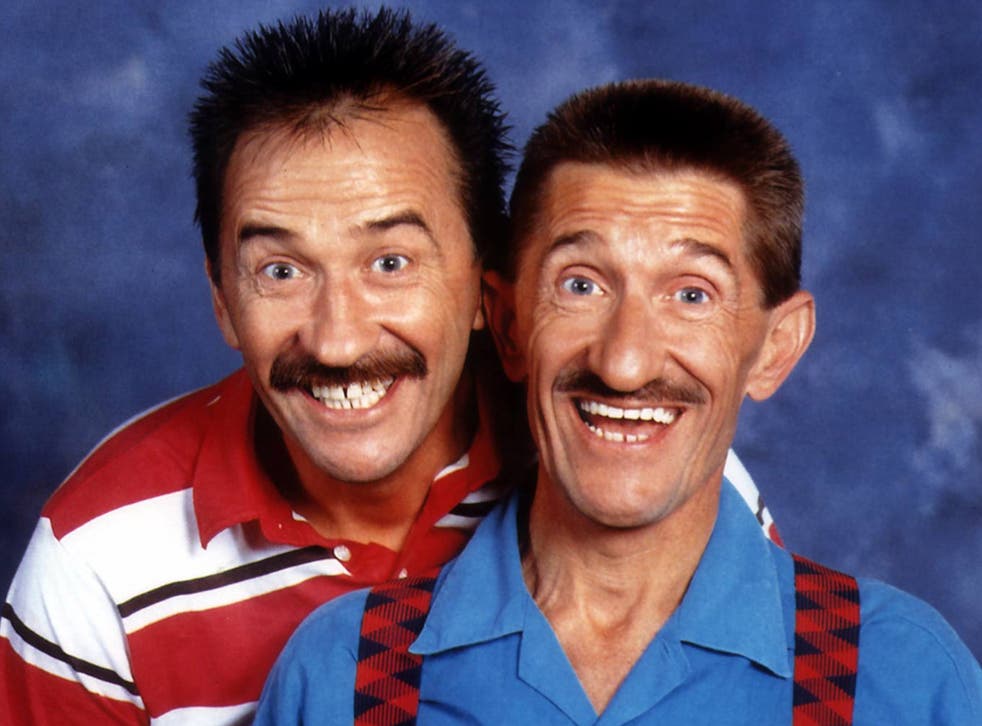 "Ch-ch-chucklevision, Ch-ch-chucklevision, Ch-ch-chucklevision…" is a theme tune embedded in the consciousness, for better or for worse, of generations of children. And there can have been few more incongruous sights recently than that of "Chuckle Brothers" Barry and Paul Elliott grinning toothily for the cameras outside Southwark Crown Court. But fear not – no cherished memories of innocent childish enjoyment were about to be trashed by unseemly allegations. The Elliotts have been accused of absolutely nothing; they were at Southwark to give evidence in favour of Dave Lee Travis in the bearded DJ's trial for alleged indecent assault.
Paul, aged 66, and Barry, 69, worked with Travis in pantomime in Crawley in the early 1990s and, giving evidence separately, Paul was interrupted by the judge when he referred to himself as "we". The collective pronoun is understandable. The brothers have been performing together since long before winning the ITV talent show Opportunity Knocks in 1967 and New Faces in 1974 – a unique double in what were The X Factor/Britain's Got Talent of their day.
Born into a showbiz family from Rotherham, their father, Jimmy Elliott (aka "Gene Patton"), was a well-known Gang Show performer who once appeared alongside an 18-year-old Peter Sellers. Paul and Barry's two older brothers, Jimmy and Brian, also formed a double-act, the Patton Brothers. And while another sibling, Colin, eschewed the family trade, their late sister, Sheila, married an actor – Coronation Street star Bill Waddington, no less, of sainted Percy Sugden memory.
Chuckle Brothers: From then to now

Show all 5
It was children's television that finally made Paul (he's the tall one) and Barry (he's the short one) – playing the accident-prone protagonists in BBC1's ChuckleVision. For 10 years following their New Faces victory, the brothers had trodden the variety-show circuit – even joining the circus for a while – before being spotted by BBC producers in 1984 and offered seven weeks' work in a new childrens' TV series called Roger the Dog. "It was like Laurel and Hardy", recalled Barry in 2010. "But we were dressed as dogs". It gives a whole new meaning to Ollie's "Here's another nice mess you've gotten me into".
Roger the Dog begat The Chucklehounds which, in 1987, begat ChuckleVision, with Paul and Barry finally allowed to reveal themselves as Laurel and Hardy in shell suits instead of dog-suits. They were physically mismatched slapstick clowns known for their catchphrase, "To me, to you"– which was, says Barry, "a family thing... we used to say it at home, when we were moving furniture for example."
It was a simple formula, with surprising longevity, ChuckleVision running for 292 episodes between 1987 and 2009, a fair number of the shows also featuring Paul and Barry's older brothers, Jimmy and Brian, who would take it in turns to play a character named after the catchphrase "No Slacking". And when the Chuckle Brothers won a Special Children's Bafta in 2008, it was presented by Queer as Folk/Doctor Who re-boot creator Russell T Davies, who had written for ChuckleVision in the early Nineties. There's a lesson for any aspiring television gods.
Outside TV, Barry and Paul have starred in at least 40 consecutive years of panto, as well as being prolific creators of such stage shows as Indiana Chuckles and the Kingdom of the Mythical Pout and Chuckle Trek – The Lost Generation. Their latest production, The Chuckle Brothers in a 2014 Space Oddity, continues its tour of major regional theatres later this month. "It's a friendly sort of humour," says Barry, so don't expect a satire of their latest outing; there will be no Barry Potter and the Legend of the Hairy Monster. "Oh dear, oh dear", as another of their catchphrases has it.
Join our new commenting forum
Join thought-provoking conversations, follow other Independent readers and see their replies