Edinburgh Festival 2014: Warm-up comedians Joe Bor and Jo Caulfield step into the limelight
Warm-up acts are the unsung stars of TV comedy shows whom the viewers at home never see, but Bor and Caulfield are taking their own material to this year's Festival
Gerard Gilbert
Thursday 07 August 2014 06:08 Comments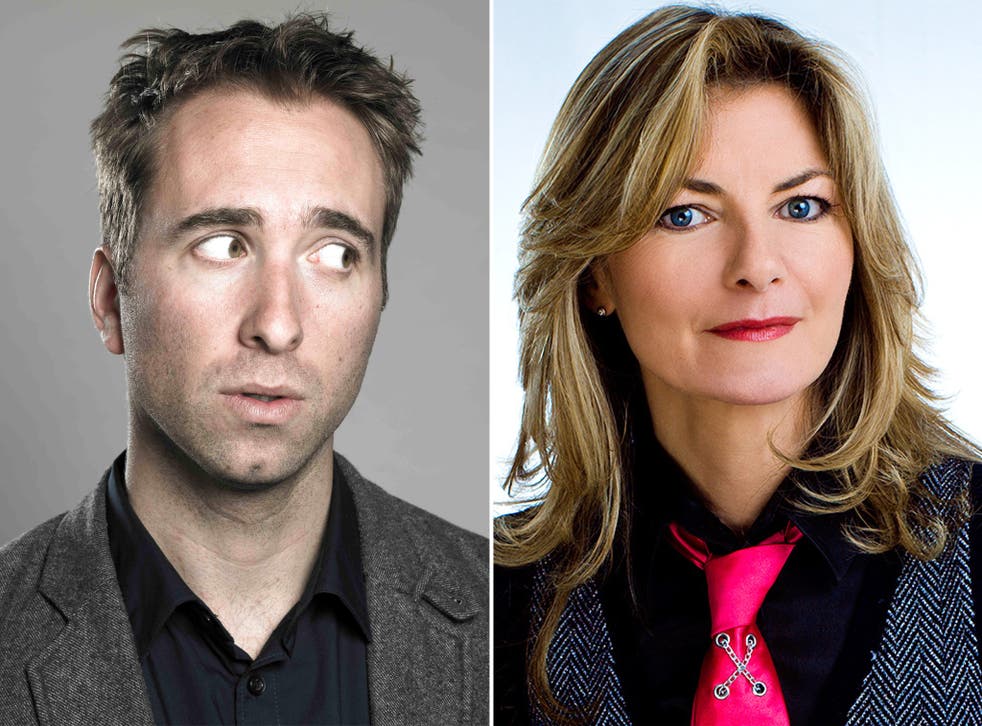 Watching comedy being filmed is not usually a bundle of laughs: it can be arse-numbingly repetitive in fact, as I rediscovered last year when I went to see the BBC2 sitcom Count Arthur Strong being recorded at Pinewood studios. As Jo Caulfield, regular warm-up woman for Have I Got News for You, puts it: "Particularly with sitcoms, audiences think it's going to be like watching some telly. They think they'll be out of there in 40 minutes and don't realise how long these things take," she says. "And maybe they've seen a scene and didn't laugh the first time and now they're going to see it four more times…"
Caulfield is one of several warm-up comedians taking her own material to this year's Edinburgh Festival – glad for once not to be (in the words of Andy Collins, James Corden's favourite warm-up) "always the bridesmaid but never the bride".
"Collins is the king of warm-up," says Joe Bor, whose job is to get the 600-strong audience for The Graham Norton Show into a responsive mood, and who has stood in for Collins once on Ant and Dec's Saturday Night Takeaway. "I love watching a comedy show on telly and guessing who the warm-up is from the audience's energy – I can sometimes go 'Oh yeah, Andy Collins did that'."
Bor himself does it mainly for the money. "It's not something I aimed to be in, but it's actually quite lucrative," he says, explaining that where a comedy night might net him £100, his 15-minute slot geeing up Graham Norton's audience pays him four or five times that. The most financially rewarding of all, apparently, is Deal or No Deal, filmed twice a day every weekday – and the job of Bristol stand-up Mark Olver.
"Mark Olver's a very respected stand-up who started with Russell Howard and I think for him warm-up took over," says Bor, past winner of Best Value Show at the Leicester Comedy Festival ("I should have charged more") and Jewish Comedian of the Year. In fact, one of Bor's two Edinburgh shows this year is an examination of his ethnic identity entitled A Room with a Jew.
"I've done being Jewish in my warm-up and it gets an odd reaction," says Bor. "In warm-up you can only talk about things that are light; you're there to provide energy and laughs and you certainly can't go into the relationship you have with your dad."
In his other Edinburgh show (Jasper Cromwell Jones: This Is Not a Holiday' at Just the Tonic at the Caves), Bor plays "a posh idiot climber who gets optioned by a television company" – but character comedy is also a no-no in warm-up, along with swearing and jokes about sex. "You have to self-censor," he says. "I'm quite chatty and I find that lends itself to warm-up, and that's probably why I get quite a bit of work.
Hot stuff: other top warm-up acts

Show all 4
Alongside The Graham Norton Show, which he has just given up after three years, Bor also titillates audiences for Mock the Week, Have I Got News for You, Jack Whitehall's Back Chat, The Kumars at No. 42, The Matt Lucas Awards, Loose Women and Alan Carr: Chatty Man.
Carr was himself once a warm-up comedian, as was Peter Kay. "Alan's always very nice to me and we have a drink afterwards," says Bor. "You can tell a lot by a host by how they treat the warm-up. Billy Connolly came up to me after The Graham Norton Show and said, 'Peter Kay did warm-up for me and he was great and you're definitely on the up.' I like to feel it's a stepping stone."
But sometimes it's a millstone, he admits. "It can be quite lonely; the guests hang out together and the crew hang out together, and I'm often on my own twiddling my thumbs before a show. And you get pigeonholed – I have had people come up to me afterwards and say, 'You should do comedy.'"
"But the only time it gets really hard is when I'm warming up a show I feel I could be on, or when you get the audience really laughing and the show itself doesn't go down as well." Something that happened, he feels, on the Dave panel show Alexander Armstrong's Big Ask. "The audience loved me… to the detriment of the show I think. I've heard a producer say, 'Don't be too good.'"
Only once, during a marathon five-hour recording of The Big Fat Quiz of the Year, when the audience was clearly exhausted, did Bor find himself floundering, but usually he has a selection of "bullet-proof gags and routines". Like what? "Oh, a quick one-liner like: 'My wife told me recently sex was better on holiday, and that was not a nice postcard to receive.' Jokes have to be short because especially if you're doing sitcom the floor manager can suddenly say, 'Right… that's it.' You can be stopped at any point."
"You have to put your ego aside… you're really serving the show," says Jo Caulfield, one of the few female warm-up comedians, who started out on Graham Norton's first chat show, Channel 4's So Graham Norton. "Graham didn't want a male stand-up because all the ones doing warm-up at that time were very old-school, Jimmy Tarbuck-style," she says.
And as proof that the gig can indeed be a stepping stone, Caulfield went on to become a writer on Norton's show. "You also do learn about television, which is useful if you're writing sitcoms," she says. "I know exactly how a studio works".
In America, warming up the audience is taken to ever greater extremes, says Bor: "I've been to see Letterman and they really go to town on the warms-up. They have runners getting people clapping while you're in the queue and then you get another runner in the audience who keeps you clapping and then introduces the warm-up who does 10 minutes of jokes and then once the show starts you're exhausted."
'Joe Bor : A Room with a Jew' is at the Free Sisters, Edinburgh, until 24 August; his character comedy and 'Jasper Cromwell Jones: This Is Not a Holiday' is at Just the Tonic at the Caves, Edinburgh, until 24 August; Jo Caulfield: Cancel My Subscription' is at the Stand, Edinburgh, until 24 August (edfringe.com)
Register for free to continue reading
Registration is a free and easy way to support our truly independent journalism
By registering, you will also enjoy limited access to Premium articles, exclusive newsletters, commenting, and virtual events with our leading journalists
Already have an account? sign in
Join our new commenting forum
Join thought-provoking conversations, follow other Independent readers and see their replies