Josh Widdicombe interview: The Last Leg comedian on having his own BBC3 sitcom and making it to the top of UK stand-up
In person, he is calmer, more sensible, and less prone to exasperation than his stage persona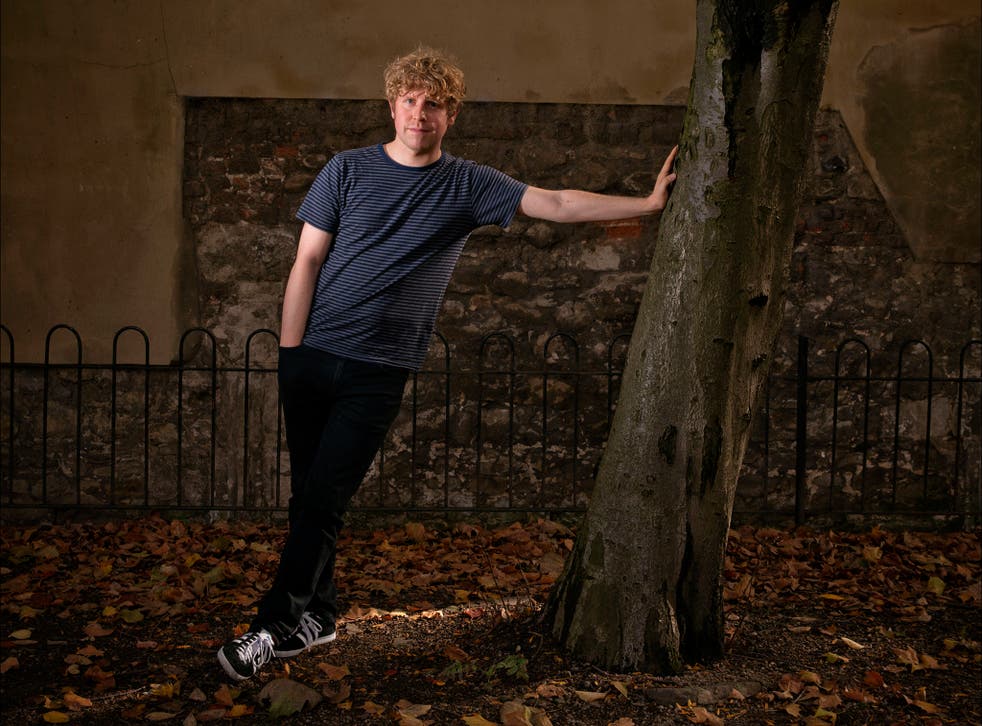 Josh Widdicombe nearly had a very different career. The popular stand-up and one-third of The Last Leg team started out working on Nickelodeon's Dora the Explorer magazine, writing stories and poems and setting puzzles based on the perky Hispanic girl cartoon. "I dabbled in Angelina Ballerina and Mr Bean magazine, too. Nice job, very nice. Quite a weird job. I didn't think I'd found my calling."
After a year he left to do a postgraduate course in journalism and then got a night job uploading content to The Guardian website. It turned out not to be his calling, either. "I was very bad at it. I remember one FA Cup weekend, I managed to get the scores the wrong way round on both of the main fixtures," he howls with laughter. "I mean, it's almost impossible."
Almost, but as aficionados of his comedy know, this is the kind of thing that happens to Josh Widdicombe. His stand-up is a high-pitched chronicle of one young man's frustrations with modern life – from useless phone batteries to measly helpings of Super Noodles or the perils of contactless payments. As he freaks out over a hotel breakfast buffet, say, his voice rises to a stuffy yelp, his cheeks redden, even his angelic curls get to look a bit stressed. Does he find day-to-day life quite difficult?
"No!" he yelps. "That would be awful, my life would be terrible. I'm not like that, I don't think. Maybe I am." So it's a persona? "It's an exaggeration. There's a bit in Frank Skinner's autobiography where he talks about it being you but with certain funnier elements turned up to 10 and the not-funny elements turned down to one. So you're kind of a two-dimensional version of yourself. It slowly evolves."
In person, he is definitely calmer, more sensible, less prone to exasperation than his stage persona, though he is working himself up into a tizz nightly on his current tour, What Do I Do Now... His audience is diverse, from teenagers to pensioners. The other night he was halfway through a routine and realised he was swearing a lot. "There was an old couple in the front row and I was thinking, I hope they're not thinking 'This rude young boy'." Certainly he has the kind of family-friendly, mass appeal, and a way with universal but not obvious observations, that might mark him out as an heir to Michael McIntyre. "I haven't set out to be someone, to aim for a target with my stand-up. I think that's where doing something shit lies. You've got to just write what you think is funny."
So he has just written his first sitcom. Josh is a twenty-something flatshare comedy, set in north London. ("In terms of the flat, they would never be able to afford that. It's absolutely absurd," he grumbles Meldrew-ishly.) He plays Josh, comedians Elis James and Beattie Edmondson (daughter of Adrian Edmondson and Jennifer Saunders) play his flatmates and Jack Dee their odd, ubiquitous landlord, Geoff. Directed by David Schneider, it is very funny, very immediate and has a cracking supporting cast including Jennifer Saunders, Romesh Ranganathan and, er, The Chuckle Brothers.
Josh is a classic sitcom loser – old before his time, middling in his career, unlucky in love, the kind of guy who finds the idea of a pool party horrifying because he can't swim. Widdicombe wrote it with comedian Tom Craine, his co-writer on The Last Leg and his ex-flatmate. He didn't want to act in it – or to call it Josh for that matter – but reasoned that he could probably manage to play himself. "The character of Josh is probably me four years ago." So he's grown up now? "I'd hope so." He still can't swim, though he now lives with his girlfriend, Rose, a television producer, in east London. "That's a totally different sitcom to be written," he says.
Comedians say the most controversial things

Show all 11
Josh has made it on to BBC3 just before the channel goes online – "Like in Indiana Jones when he just gets in and grabs his hat," says Widdicombe, who is never more than five minutes away from a Nineties reference. He is not, he admits, typical of BBC3's demographic.
"The problem is I'm 32 but I'm quite behind the time, technologically. I've got a smart TV or whatever it's called, but I'm still flicking through the channels rather than going to Netflix or iPlayer, which I know a 20-year-old would think was an insane thing to do," he says. "There was never a plan to make a youth TV show because if they're making a youth TV show, I'm not the person to get involved. We wanted to write the sitcom that we wanted to see. So there are lots of references to things that we would find funny. We haven't put in a reference to Rizzle Kicks to pander to people," he says. "When I was a kid I didn't watch TV that was targeted specifically at me. I watched The Day Today, Shooting Stars, Father Ted."
Widdicombe was born in London but his parents moved to Dartmoor when he was three. He grew up in the hamlet of Haytor Vale that once had a post office and a pub but now just has a pub. At primary school, there were only four people in his class. "You don't realise it's weird at the time – that's what life is like."
His father was a builder-turned-house husband and his mother edited books for Dorling Kindersley. He has two half-brothers and two half-sisters on his father's side; one of them, Henry, now runs the Machynlleth Comedy Festival. His performing genes probably come from his grandmother, who lived in half of the family home and starred in the first ever BBC radio soap opera, Mrs Dale's Diary. "She played Mrs Dale's daughter. She was thespy, drank gin and tonic, told anecdotes and watched TV and said, 'I know that person'. A brilliant person."
At school in Ashburton, Widdicombe was, he says, a "non-event". Not an uber-dweeb but not super-cool either, clever enough to get by and into music and football, though he didn't play either. Perfect grounding for a future comedian, then. He went to Manchester University to study linguistics because he was dying to move to a city, loved the music and secretly hoped he might befriend Johnny Marr. "Bizarrely I'm suited to the city. I could never imagine really going back to Devon. I go back but you can take it in 72-hour blocks before you start getting cabin fever."
After graduating he worked at Waterstones in Deansgate – "The classic, don't-know-what-to-do-with-my-life job" – before moving to London. It was while working shifts at The Guardian that he enrolled on an Amused Moose comedy course, which gave him the confidence to book his first gig. It turned out to be the first round of the Laughing Horse New Act of the Year 2008. He had no idea it was a competition, but ended up reaching the semi-finals. "I can't tell you how low the level is in the first round of those competitions. By dint of not being mentally unwell, I got through."
Around a year into performing, he broke up with his girlfriend of six years, which spurred him on. "Once that happened I thought, well I'm in now. In for a penny, in for a pound. This has cost me my relationship, I'd better make this work." So he did 400 gigs in two years, won the Leicester Mercury New Comedian of the Year competition in 2010, got an agent and went professional, two-and-a-half years after his first gig. "Which is quite good."
His rise continued at the Edinburgh Fringe, where he was nominated for the Best Newcomer prize and Malcolm Hardee's Act Most Likely to Make a Million Quid Award in 2011. So has he? "No, but it's going all right." He was soon supporting Michael McIntyre and Stephen Merchant on tour.
Would he like to follow them and play the O2 one day? "Um, no. Financially, yes. If you're in Michael McIntyre's position, I don't think you've got any option. The other option would be 44 nights at Hammersmith Apollo, which would send you slowly crazy." I could see him doing it one day. "Oh thank you, I don't know if that's a compliment or not. Yeah, maybe."
Is he ambitious? "Yes but you've got to focus on the variables that you can affect. Be ambitious to be really good. Your dream should be to do a really good show."
Widdicombe certainly works hard. Every night of this tour he makes himself sit down for an hour to work on new material for the gig ahead. "Always thinking that you're not very good is far better than being cocky. You never feel like you're good, I wouldn't want to ever think that. I never feel like I should have any time free. I would never lie in on a weekday."
Nevertheless, he sometimes finds himself joking on autopilot on stage. "You know when you can drive two miles of road and you don't know you've done it? You can do that with stand-up. You think, 'I've just done that bit and it was fine! They all enjoyed it.' But literally my mind was thinking 'I reckon I might be back by 2am...' It's terrible. I wonder if you're better when you're not thinking... But I'm trying to concentrate more now."
He is just back from filming a three-week travelogue in Australia with his Last Leg colleagues Adam Hills and Alex Brooker. The show, which started as a spin-off from the London Paralympics, is now heading into its seventh series. "It's the worst idea for a TV show ever. It's insane, it shouldn't work. But the reason it does is because it came up quietly through the Paralympics. So it was allowed to be a slow-burner and work out what it was."
Next he'd like to write a nice, Vicar of Dibley-style family studio sitcom. "In 15 years' time when I'm less worried about being cool. I couldn't write that now. I don't like thinking too much about the future – it freaks me out," he says. But then again, most things do. µ
'Josh' starts on BBC3 on 11 November; Josh Widdicombe's tour continues to 21 February (offthekerb.co.uk)
Join our new commenting forum
Join thought-provoking conversations, follow other Independent readers and see their replies