Kids' comics Trevor and Simon have relaunched themselves in podcast Strangeness in Space
Hannah Verdier meets the ex-swingers (of pants) as they return to their surreal comedy roots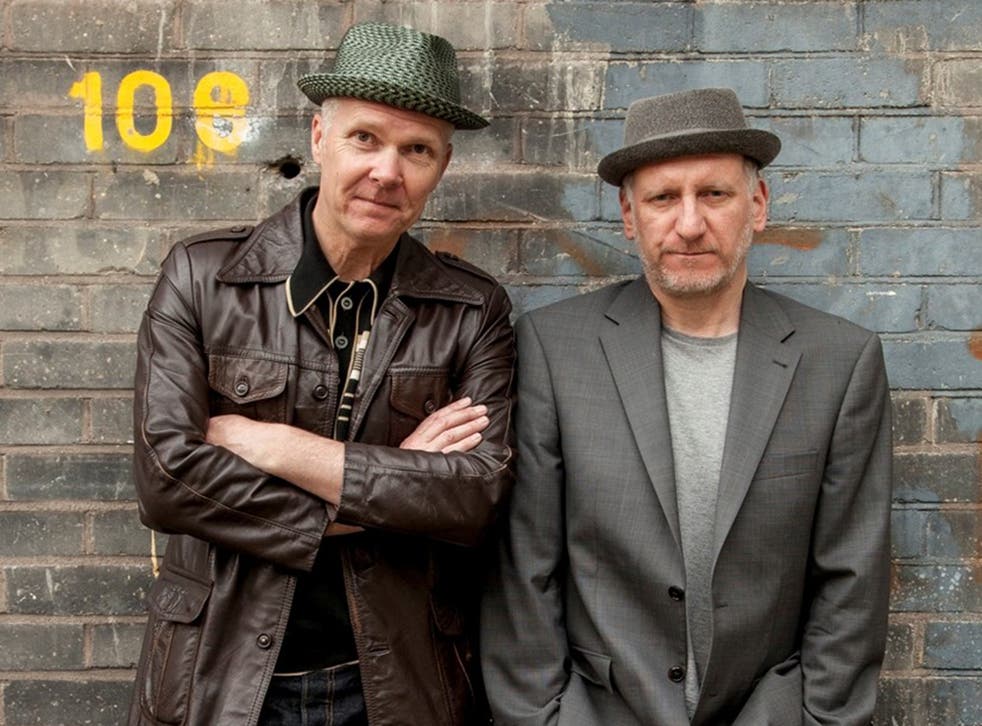 "Imagine if the Pet Shop Boys were played by the Chuckle Brothers," says Simon Hickson, attempting to describe the characters he and Trevor Neal play in their new podcast, Strangeness in Space.
In the late Eighties and early Nineties, Trevor and Simon spent their Saturday mornings on Going Live! (latterly Live and Kicking) doing comedy sketches that appealed to parents as much as kids. Kylie Minogue, Take That and Paul Simon were among those happy to join in the mayhem and catchphrases such as "Swing your pants" and "We don't do duvets" were playground and student-union currency. "People still shout 'Swing your pants' at us in the street," Trevor says. "And they say, 'You must have heard it before.' Yes, yes we have, but it's still fun."
Since then, they've written for CBeebies shows such as Get Well Soon, Let's Play and Dinopaws, but Strangeness in Space sees Trevor and Simon return to their surreal comedy roots. They play Eighties synth-pop duo Pink Custard, who visit a Nasa space centre in Thurrock and, along with the manager of the gift shop (former Doctor Who companion Sophie Aldred), blast off into space. Orbiting Planet Mirth, they battle hairy, scary enemies the Rhinocerbikers and the half-bird, half-human Featherheads. If that sounds weird, it's because it is.
Along with Sophie and producer Clare Eden, the duo have just raised nearly £20,000 through Kickstarter to fund the first two episodes. Potential backers were offered perks such as badges and a "sneaky peek" of the script. Doon Mackichan has been cast as narrator Bounty Flightingale and panel-show regular Rufus Hound signed up to play Atrocious Knocious.
Podcasting the project rather than pitching to television companies was a conscious decision to secure the freedom they wanted. It'll be free to download in the autumn. "It's not second fiddle to TV," Trevor says. "When you're making children's TV, you're always up against people [who are] saying, 'That sounds expensive.' We've done a bit of radio in the past and we've never had a chance to explore the possibilities of audio until now."
"Trev is being disingenuous there," Simon says. "The only reason he wants to do audio is because we can be 25 and get our hair back."
"Audio really suits science fiction, as you can leave so much to the imagination," says Sophie, who played Doctor Who's companion Ace. "You can go to the most amazing places and have any sets, costumes and aliens you want. It's easy to dip in and out, too. You might be an adult listening to it on a commute or a child listening at bedtime."
Pink Custard, Trevor and Simon's joint alter ego, gives them the chance to spark off each other once again. "We love synth pop," Simon says. "There's a bit of Erasure, Depeche Mode and Human League in there as well as comedy duos we like, from Beavis and Butthead to Bill and Ted. We do spark off each other, but that's the problem of wearing nylon jumpers."
"And that's the level of the humour you can look forward to here," Trevor says.
Having made their names on Saturday morning kids' television, it's surprising that they don't mourn its decline. "You look back fondly, but you've got to keep moving," Trevor says. "What's available to children has changed so much. My two boys will be on the Xbox or one might choose to find something on YouTube or Netflix. There's no such thing as a Saturday morning slot any more. They watch what they want when they want to watch it."
"The way people watch TV is changing radically and it won't change back," Simon agrees. "In the next five or 10 years, you may not even have a TV in your house. I like to think that the TV will go, audio will become more popular and in the end we'll see a family unit in a lounge, sitting round a piano, singing songs.
"Anyone who says we should be back on Saturday morning TV would get such a shock if we were," he adds. "It'd be a hideous sight."
Life after Saturday morning TV
Phillip Schofield
Schofield was a Going Live! stalwart. He presented Dancing on Ice for eight years and now sits on the This Morning sofa.
Sarah Greene
Former Blue Peter presenter Greene survived a helicopter crash in 1988 and made a comeback on Going Live! while she was still in plaster. She skated in Dancing on Ice in 2008.
Andi Peters
The original presenter of Live & Kicking was the creator of youth strand T4 and came second in Celebrity MasterChef in 2008. He narrates The Big Reunion and runs a model agency.
Edd the Duck
Edd was the star of the Broom Cupboard. He released a single, "Awesome Dood!", in 1990 and later guest-starred on CBeebies as well as appearing as a guest on Celebrity Juice.
Gordon the Gopher
Schofe's right arm, Gordon capitalised on his Going Live! success with a guest appearance on Dancing on Ice. The two had a bust-up and Schofield later revealed his friend was in rehab.
The Singing Corner
Folk duo Don Singing and Bob Corner went their separate ways after Live & Kicking ended, but they recently reunited for a charity gig.
Join our new commenting forum
Join thought-provoking conversations, follow other Independent readers and see their replies