Laughter Lines: Fresh Meat gets first class honours for student comedy
The Channel 4 show is one of the finest comedies to emerge this decade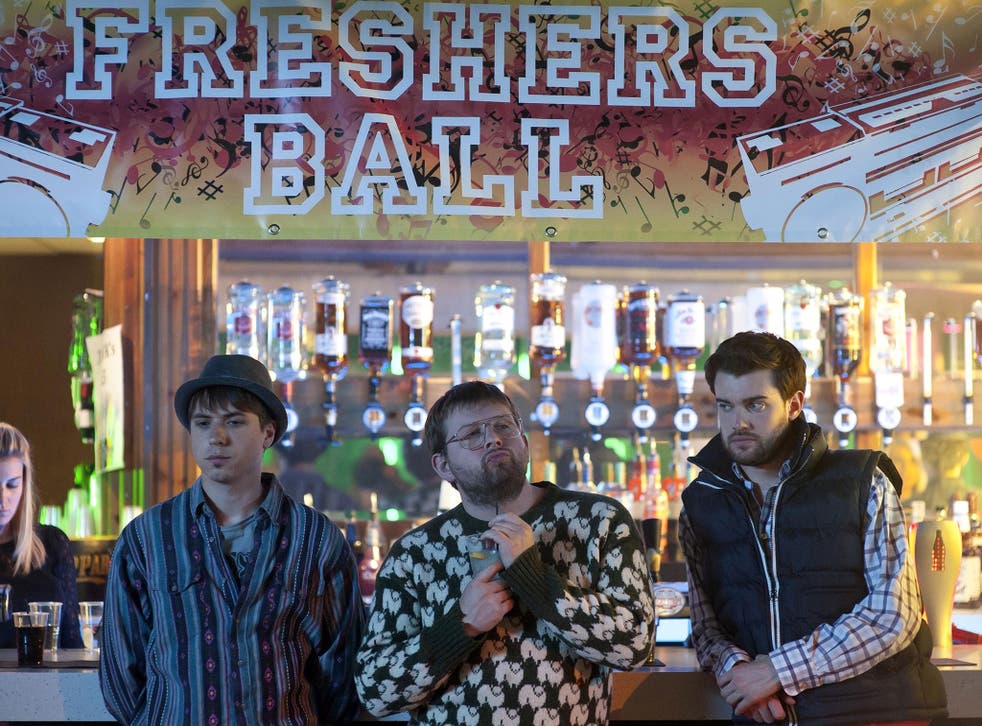 The return of Fresh Meat for a third series is a bittersweet joy.
JP, Vod and co are growing up so fast. Well, in a manner of speaking they are. Already second years, in the blink of an eye they will be finalists, then unemployed graduates, and then they will have to join the cast of Drifters. Not too soon, I hope. Rude, puerile and hilarious with a giant heart, the Channel 4 show about a houseful of Manchester University students is one of the finest comedies to emerge this decade. Its creators, Sam Bain and Jesse Armstrong, have form with long-runners, having spun Peep Show to nine series. But Fresh Meat is more complex and it has a fixed sell-by date – unless the gang go on to do PhDs or, more likely, resits.
In any case, there is already an eager set of freshers waiting in the wings, ready to miss lectures, down Jagerbombs and refuse to clean their bedsits for our amusement. Next month Comedy Central will shoot the pilot episode of Medics, a half-hour sitcom set in the raucous, scatological world of student doctors. The characters, including a rugger-bugger party animal called Jugs and "Dangerous Dave" sound not unlike JP and Howard, or The Young Ones' Rick and Vyvyan before them. Perhaps it will do for its writer, Mark Grimmer, what A Very Peculiar Practice, set in a university medical centre, did for a fresh-faced Andrew Davies back in the 1980s.
Meanwhile, BBC3's high school romp Bad Education was picked up for an American remake this week. Man Down, featuring Greg Davies as a childish teacher who hates his job, has just had a second series confirmed by Channel 4. And David Walliams' staffroom sitcom Big School will return to BBC1 in time for the summer holidays next year.
Schooldays are top fodder for comedy and have been since the days of Billy Bunter. Pretty much everyone goes to school so when it comes to amusing touchstones, sadistic PE teachers and ill-fitting uniforms are as safe a bet as mothers-in-law or Michael McIntyre's man drawer. Every generation has a mischievous schoolboy it idolises, be it Jennings or Ferris Bueller. University days may have less widespread appeal but students and academics like John Belushi's Bluto in Animal House or Kingsley Amis' Lucky Jim are among the all-time great comedy creations. Besides, you don't need A-levels or a degree to know what it is like to share a house with a weirdo, or to feel out of one's depth at work, or to enjoy the sight of a bully getting his or her just desserts.
Educomedies tap into all of those memories and insecurities. Which does not mean that they are all funny. For every Bad Education, there is a Chalk (a rare mis-step from Steven Moffat), for every Fresh Meat, there is a Campus (the ill-fated follow-up from the team behind Green Wing). Often what distinguishes the successful ones is often an oddball group dynamic – the unpopular kids who band together in The Inbetweeners, the thrown-together students of Fresh Meat or Community.
I've been trying to come up with the characteristics of a comedy star pupil. I think he or she would combine the mischief and bad spelling of Nigel Molesworth and the pompous absurdity of Fresh Meat's JP, with the pathos (and dance moves) of Napoleon Dynamite and the motormouth of Catherine Tate's Lauren. Who would be top of your class?
If the secret of comedy is timing then the latest addition to the circuit ought to be a runaway hit. "RoboJase" is the world's first comedy robot, a precision-built joke-making machine. He made his debut on a mixed bill at the Glee Club in Birmingham last night. Modelled on Jason Bradbury, comedian-turned-presenter of The Gadget Show, "RoboJase" is programmed with enough jokes and audience banter for a five-minute set. He apparently honed his material using SHORE (Sophisticated High-Speed Object Recognition Engine) technology, which helped him to detect audience reactions and jettison the jokes that didn't raise a smile. Pity those poor flesh-and-blood comedians who have to rely on low-tech eyes and ears to tell them if a room is laughing or not.
What I Watched…
Stewart Lee
At Leicester Square Theatre, London. The stand-up was on the form of his life as he performed work-in-progress sets for his TV shows. Topics included UKIP, wildlife, artisanal beer and Brand vs Paxman - "like watching a monkey throw his own excrement at a foghorn." Bliss.
Fist of Fun
On Radio 4Extra. A chance to hear where it all began for Lee, and Richard Herring, with a re-run of their cult Radio 1 series from 1993. It still sounds fresh. A youthful Alistair McGowan, Peter Baynham and Rebecca Front pop up too.
On The Poke. The sketch trio imagine the Black Eyed Peas holding a tense band meeting. Will.i.am, Taboo and apl.de.ap have never sounded quite so British, or low-key. Will Sharpe and Tom Kingsley (Black Pond) direct.
Join our new commenting forum
Join thought-provoking conversations, follow other Independent readers and see their replies