Nick Helm: Loud, aggressive - and a big pussycat off stage
The comic's aggressive style does not match his true self, finds Gerard Gilbert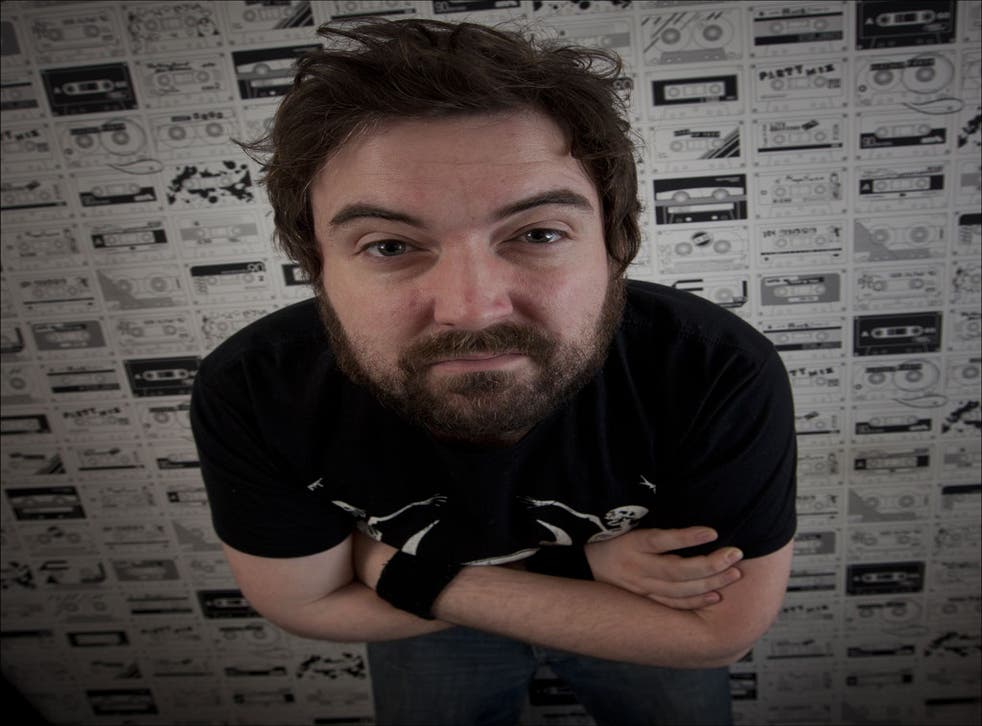 Nick Helm gig is not for the faint-hearted. Indeed the burly 33-year-old comic says he has become a favourite of stag parties – probably because, like bungee-jumping or drinking a yard of Sambuca, watching him live contains an element of risk. Stomach bulging out of his shirt, Helm has a very "intimate" style of audience participation, locking punters in a sweaty embrace, or thrusting his bearded face into theirs as he shouts "Do you like jokes?, Do you like jokes?, Do you like jokes?".
Needless to say, he's a pussycat in the flesh, softly spoken and thoughtful. "My rule of thumb is the nicer somebody is on stage the worse they are in real life," he says, looking weary after meeting me straight from the train from Manchester where he's been filming an episode of 8 Out of 10 Cats Does Countdown. In his shows he's playing a part, he says, like his hero, mascara-abusing shock-rocker Alice Copper. "He's a teetotal Christian golf player who gets on stage and beats up a doll."
Indeed Helm's aggressive assault is undercut by something more vulnerable and sensitive – he even spouts poetry. I particularly like his composition "Gin", I say, in which he impersonates somebody in the depths of alcohol-induced self-pity – though it's not exactly impersonation, he reveals. "That happened. A girl dumped me and I went out and drank loads of gin and burst into tears in front of her mum. Poems are [my] way of re-framing material."
And then there are his songs: satirical ditties with titles such as "Don't Want to Work in Admin" that began as a way of padding out his act. "I'm not a fan of comedy songs, but I had 15 minutes of material and I got booked for a 20 minute slot", he says. His "house band", the Helmettes, really just a revolving bunch of his mates, were a regular feature alongside him on BBC3's Live at the Electric, and he has also played festivals such as Latitude with them.
Helm is now channelling his talents, both as comedian and songwriter, into a funny new BBC3 sitcom, Uncle, in which he plays a suicidal musician who finds himself in charge of his 12-year-old nephew. It was scripted by Oliver Refson for Baby Cow, the production company co-created by Helm's comedy hero, Steve Coogan. "It wasn't written for me but it was 75 per cent what I would have done," says Helm.
Originally piloted by Channel 4, Uncle was taken up by BBC3 when Channel 4's head of comedy, Shane Allen, moved to the corporation. However, Helm found the BBC less relaxed about some of the sweary scenes he shares with his juvenile co-lead, Elliot Speller-Gillott. "His mum was on set all the time and we had Compliance all over him," says Helm. "There's not much swearing, just really crazy things he [can and can't] say – 'wanker' but not 'bastard' – and we'd do a 'clean' scene together, and then he'd be replaced by his mum who would wear a wig because she's the same height as him."
Helm plans to start writing his own sitcom in the summer, for Channel 4 this time, after he has finished filming a new show for BBC3 called Heavy Entertainment. "It's like The Harry Hill Show or Reeves and Mortimer or Brian Conley or Les Dawson or The Tommy Cooper Hour", he explains, not entirely successfully.
Like many comedians before him, Helm made his name in Edinburgh. He has attended the festival ever since an enlightened drama teacher took the school play there in 1997. He premiered his own play in 2006. "I spent seven years writing it," he says. "Seven years and we got a one-star review in The Scotsman. I was gutted. And then we got rung up the next day by The Scotsman saying it was a printing error … it was meant to be two stars." The experience prompted him to try his hand at stand-up instead. "I went from something that took seven years to write to something I could write on the bus," he says.
It's a decision that paid off: he has twice been nominated for an Edinburgh Comedy Award and, in 2011, he won the prize for the best joke at the festival with "I needed a password with eight characters – so I picked Snow White and the Seven Dwarves".
His belligerent, in-your-face stage persona developed because "audiences in Edinburgh are so apathetic", he says. "It's their ninth show and they've come to see this thing and they're just bored, and you're going 'why are you even here?' Instead of just grinning and bearing it, I'd shout at them."
What does his girlfriend think of his ranting act, I wonder? "She saw [me on stage] before she met me, and she's actually disappointed that I'm so mild-mannered," he replies. "No, but some people are disappointed that you're not shouty or sweary. If I did that in real life I'd get beaten up all the time."
'Uncle' begins on BBC3 on Monday 13 Jan at 10pm
Join our new commenting forum
Join thought-provoking conversations, follow other Independent readers and see their replies