The Independent's journalism is supported by our readers. When you purchase through links on our site, we may earn commission.
These cracker joke-writers will make you laugh
Cracker factories, a black Santa and alternative John Lewis adverts figure in Sky Arts' star-studded Christmas Comedy Shorts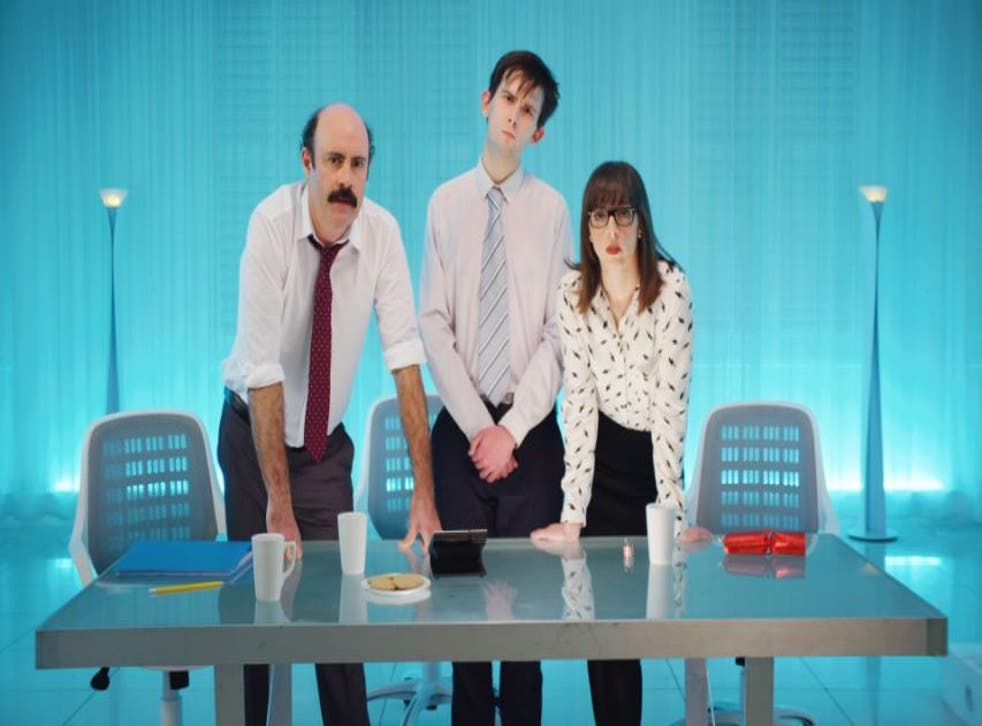 The thing about Christmas cracker jokes is that they never change. No-eye deers, low elf esteem and snowmen riding icicles all tend to figure. Contemporary references are rare and, Scrooges might say, laughs are even rarer.
So a competition to write a topical cracker gag was always likely to produce a few turkeys along the lines of "What did Taylor Swift do when she was covered in snow? Shake it off", or "Why is there no champagne at the Chelsea Christmas party? Because Mourinho got rid of the Fizzy-o."
Those two gags came in at 17th and seventh place respectively in UKTV Gold's amateur contest to write a new cracker joke for 2015. The winner was "Why does Ed Miliband like advent calendars? He gets to open the door to number 10." OK, but the joke in third place was clearly better: "Why were Jeremy Clarkson's colleagues excited to try his mulled wine? Because they'd been floored by his punch." Now that's a punchline.
I found out who really writes Christmas cracker jokes the other day. Well, sort of. I was at a screening of Sky Arts' Comedy Christmas Shorts, a set of 12 mini-films that are due to air on the satellite channel from 10pm on Christmas Day. Sam Simmons' Xmas is set in a clinical institute where three straight-faced employees – played by Simmons, Bridget Christie and Kieran Hodgson – are hard at work testing their festive jokes on unsmiling guinea pigs. When their efforts fail to raise a titter, they have to send for the mystical Tall Paul (Matt King, aka Peep Show's Super Hans) who arrives in a Christmas jumper to save the day.
Other highlights included Pappy's novel take on the annual John Lewis advert, featuring Dara O Briain and produced by Baby Cow and Lolly Adefope's turn as a black Santa, directed by Destiny Ekaragha (who directed Lenny Henry's Danny and the Human Zoo for the BBC earlier this year). Limmy's Xmas was a typically bracing selection of mini sketches and hand-held camerawork while The Horne Section presented a selection of off-key Christmas songs including their new carol with the memorable lyric, "Into a manger/ Out of a lady."
My two favourites of the 12 are by Gein's Family Giftshop and Spencer Jones. The deliciously dirty Manchester sketch troupe's film involves a grown-up Ed discovering that Santa isn't real for the first time; Justin Moorhouse makes an unexpected cameo. Jones' is a lovely slice of festive feelgood magic in which the charming comedian stays up all night to rescue his family's Christmas from disaster.
It's an enjoyable and impressively leftfield collection of films, and for anyone looking to discover the newest comic talents around before the new year kicks off, well, they're a gift.
Join our new commenting forum
Join thought-provoking conversations, follow other Independent readers and see their replies