The Independent's journalism is supported by our readers. When you purchase through links on our site, we may earn commission.
US stars in UK panto: From David Hasselhoff to Jerry Hall
Is it the bumper pay day or the swashbuckling storylines that lure US stars to panto? Veronica Lee talks to this year's transatlantic thigh-slappers and sees them perform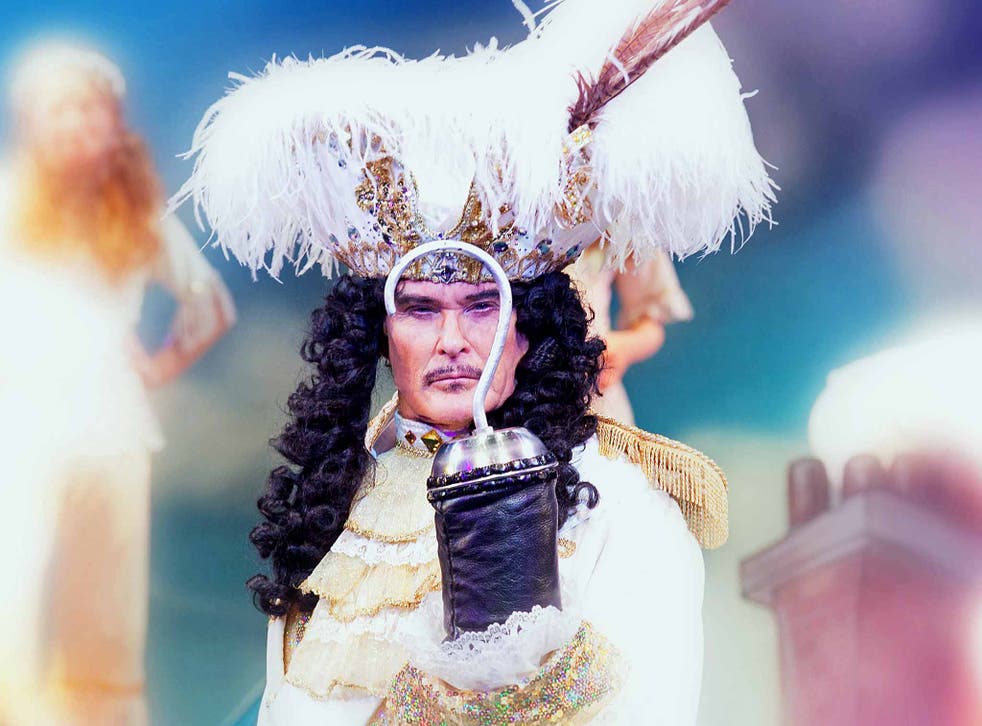 Pantomime, a uniquely British artform, has become very popular with Americans lately. American performers, that is – panto hasn't yet managed to take Broadway by storm – but this year no fewer than five of the big commercial pantos have a US celebrity headlining. Jimmy Osmond, David Hasselhoff and Priscilla Presley are now almost old hands at it, having trodden the panto boards since 2008, 2010 and 2012 respectively, while this year there are two debutants in Linda Gray and Jerry Hall.
In the past few years the two biggest producers of commercial pantos, Qdos and First Family Entertainment (FFE), have persuaded stars including Henry Winkler, Pamela Anderson, Mickey Rooney, Stefanie Powers, Antonio Fargas and Patrick Duffy to cross the pond. What may seem remarkable to some is that most – with one or two notable exceptions – have taken to swashing their buckles and slapping their thighs rather well.
The first big American star in modern-day panto was George Takei (Mr Sulu from Star Trek), who played a genie in Aladdin in Reading in 1987; when he shouted "yoo-hoo" the audience responded "yoo-hoo, Sulu". But producer Kevin Wood of FFE credits Winkler – who for several years was a superb Captain Hook – with starting the trend in 2006. "Everyone asks him about it in the States," Wood tells me, "and he's brought us a lot of new artists because he always tells them they must do it."
Wood says he describes panto to Americans as "Disney stories performed in a vaudeville style" – which covers the sparkly bits, but avoids mention of jokes about flatulence-inducing sprouts and men with large false bosoms playing women of a certain age; one wonders how many of them have taken a close look at their contracts when they receive their scripts. The audience participation, too, is a huge cultural difference for Hollywood stars used to being told how wonderful they are. Presley admits it took her several performances to get used to the audience booing her on and off stage as the Wicked Queen in Snow White at Wimbledon two years ago. "In all honesty, I really didn't understand the script when I first read it," she tells me. "In one of my lines I say, 'Go ahead and boo. Boo all you like', and I thought, 'Should I be coaxing people to boo at me?'"
In pictures: US stars in UK panto

Show all 5
One American who Wood and Winkler persuaded to travel to the UK was Pamela Anderson, who played the Genie of the Lamp in Aladdin at Wimbledon in 2009. Anderson said that when her agent told her she'd been offered pantomime: "I thought he meant miming, you know, walking an invisible dog like Marcel Marceau." She received mixed reviews and didn't endear herself to her producers when she cancelled her first previews, citing "unspecified issues", in what was already a short run.
The usual drill is that, in their first year, producers give a US star a strong supporting cast of established panto performers who are big draws in their own right; if the American turns out to be a dud, then at least there are other performances to enjoy. Two stars who have lasted only one season are Steve Guttenberg (from the Police Academy franchise), who totally underwhelmed as Baron Hardup despite his grandiose approach – "It's usually a small part, but here it is bigger and people are here to see me" – in Cinderella at Bromley in 2008, and Charlene Tilton (Lucy Ewing in Dallas), who received the withering review "she does her best" as Baroness Sadista in Cinderella at Southsea in 2008.
You may wonder why they choose to spend two months in a country with inclement weather, rehearsing in draughty church halls and performing 12 shows a week to screaming children on a sugar high. It may be the serious money on offer; headlining acts make tens of thousands of pounds a week for what is usually a maximum six-week run – not a bad earner during the Christmas hiatus in Hollywood films and television. I'm sure some really do love it: Osmond enjoys panto so much that he brings his wife and four children over each year to experience it, too – although their thoughts on the subject have never been made public.
What of this year's transatlantic offerings? At New Wimbledon Theatre, Dallas star Gray gives an utterly charming, if at times tentative performance as the Fairy Godmother in Cinderella, well served by a script by Eric Potts (the most prolific of today's panto writers) that makes copious references to Texas, oil and Southfork – and she channels Sue Ellen, swigging from a hip flask on a chain (bejewelled, of course) around her neck. At times on press night, Gray stood side-stage waving her magic wand without much purpose and she could join in the finale singalong with more gusto, but she delivers her rhyming lines with aplomb and – this is a clincher for any American's success in panto – she clearly gets the joke.
The terrific cast includes Matthew Kelly, appearing with his son, Matthew Rixon, as the Ugly Sisters, dressed in a series of comically outrageous costumes; Wayne Sleep as a very cheeky Dandini who twirls his way on and off stage; and Tim Vine as a pun-slinging Buttons. Their presence and interplay give this panto a higher comedy quotient than most and I thoroughly recommend it.
Hall, appearing as the Wicked Queen in Snow White and the Seven Dwarfs at Richmond Theatre, makes a more assured debut, but then she has appeared before on the British stage (in the West End in The Graduate and High Society) and this is her local theatre. Richmond proudly claims the Texan as one of its own: she's lived in the area for more than 20 years, as it's where she and ex-husband Mick Jagger raised their four children. She is, she told me, so much part of the local landscape that no one bats an eyelid when she does her shopping at Waitrose.
Although it's her panto debut, the producers have rightly trusted Hall to carry the show. She's on stage a lot, and the script (Potts again) makes multiple references to her exes Bryan Ferry and Jagger – "Get off my cloud," she tells a minion at one point. But while she rather jarringly lip-synchs to the live band, she hoofs like a pro in the song-and-dance numbers and is suitably mean to everybody, cackling wildly over her steaming cauldron. The Rolling Stones references must surely go over children's heads, although they may have seen her on Strictly Come Dancing and they will know CBeebies presenter Chris Jarvis as Muddles.
Jimmy Osmond is Baron Hardup in Cinderella at Venue Cymru in Llandudno, his fifth outing in panto and one that growing up in a performing family has prepared him well for, as his CV covers the artform's tick-list of singing, dancing and telling gags. He loves panto's physical comedy – "I grew up in the old Hollywood way, doing variety, and there was a lot of slapstick," he says – and, as a family man, its broad appeal: "You look into the audience and you see everyone, from grandma to a little kid – and they all take away something from it."
Hardup is a new role for Osmond; previously he's played Buttons, Aladdin and Captain Hook, and he says he's aiming to play all the lead male roles, although I would pay good money to see him as a Dame – but that may be against his Mormon beliefs. As ever, he's throwing himself into it, even learning some Welsh. "I can't speak it, obviously," he said. "I'm just out there trying to say the right words." Thankfully the teetotaller didn't practise it on the local police when he was stopped for a random breathalyser after the press night: "I'm Baron Hardup in Llandudno" sounds rude enough in English.
At Manchester Opera House, Presley reprises her role as the Wicked Queen in Snow White and the Seven Dwarfs, in which she made an accomplished debut two years ago when this production was at Wimbledon. She says she now knows more about panto's traditions, so the booing won't put her off this time round. She appears again with Warwick Davis as Prof the Dwarf, with a Potts script that draws on both her Dallas days and her marriage to Elvis.
Talking of Elvis, Hasselhoff – star of Baywatch and Knight Rider, whose albums are huge in Germany – is back again as Captain Hook in Peter Pan, this year at Southend Cliffs Pavilion. He may not immediately have grasped panto's intricacies – rumour has it that in his first year he asked the show's director if he could dispense with his character's hook as it was uncomfortable – but now, in his fifth outing, he's got the role down pat.
He thunders about the stage as a menacing (and, nicely knowing this, preening) Hook. The Hoff plays opposite Christopher Biggins – one of the great Dames of the modern age – as the pirate ship's cook, Mrs Smee. Biggins and Steve Laister as Starkey the servant provide much pleasingly base humour – fart gags and jokes about pirates striking camp abound as the winner of the 2007 I'm a Celebrity, Get Me Out of Here! sports a badge saying Queen, rather than King of the Jungle.
The duo's broad comedy provides a nice contrast to Hasselhoff's straight-faced delivery, and the show includes a wonderfully enjoyable piece of audience participation as they help defeat the wicked Hook by bombarding him with foam "stones". Music lovers may wish to book their tickets now.
'Cinderella', Wimbledon Theatre, London SW19 (atgtickets.com; 0844 871 7646) to 11 January; 'Snow White and the Seven Dwarfs', Richmond Theatre (atgtickets.com; 0844 871 7651) to 11 January; 'Cinderella', Venue Cymru, Llandudno (venuecymru.co.uk; 01492 872000) to 4 January; 'Snow White and the Seven Dwarfs', Manchester Opera House (atgtickets.com; 0844 871 3018) to 4 January; 'Peter Pan', Southend Cliff Pavilion (southendtheatres.org.uk; 01702 351135) to 11 January
Join our new commenting forum
Join thought-provoking conversations, follow other Independent readers and see their replies