Rowan Atkinson says comedians 'lose comic authority' as they get older
The 61-year-old Blackadder star is returning to TV with the lead role in ITV's new adaptation of Maigret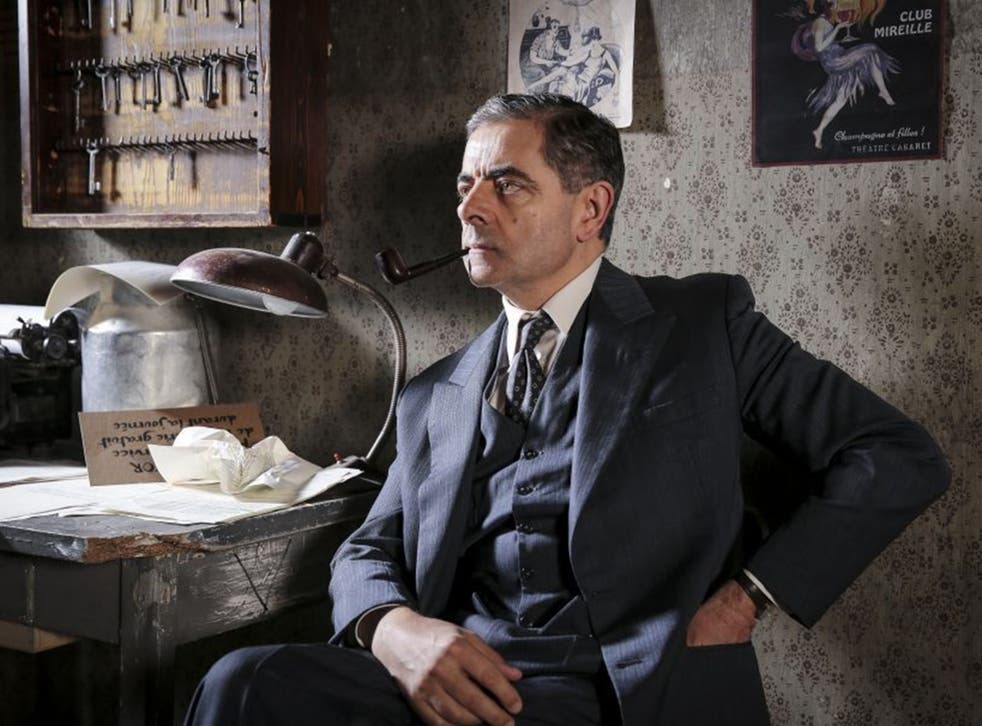 It's no laughing matter when you are a comedy legend the wrong side of 60. Rowan Atkinson claims that even the greatest comic actors lose their power to send audiences into paroxysms of mirth after they hit middle age.
After bursting on to national TV with the satirical Not the Nine O'Clock News, Atkinson dominated British comedy in the 1980s. However, he now rations his small screen appearances and is set to return after two decades' absence with the lead role in ITV's new adaptation of Georges Simenon's Maigret novels.
The fictional detective, a brooding and intense presence in the new films, marks a fresh challenge for Atkinson, 61, who fears that audiences will no longer accept him as an older comic character.
"There is that slightly dull feeling sometimes that people think you should get serious when you get old. And, unfortunately, you do lose in the audience's eyes a degree of comic authority as you get older," Atkinson told The Independent in a rare interview.
Critics hail Woody Allen's recent films as some of his finest, as the auteur enters his ninth decade. But Atkinson believes the decline of a comic's hold over an audience begins at a much younger age.
"There's something about over-45s in comedy," he said. "It's great if you get something like Dad's Army in which everyone was extremely old and that, generally speaking, their joke is about being old."
The Dad's Army film, released last month to mixed reviews, gave screen time to Michael Gambon, 75, Tom Courtenay, 79, and 82- year-old Annette Crosbie, star of One Foot in the Grave.
But Atkinson does not care for roles featuring mature actors where the comedy is generated by mocking their infirmity. "You're stupid or you're short-sighted," he said, "or you're incontinent."
His last big-screen comedy role was in a 2011 sequel to his 2003 spy caper, Johnny English. Following Blackadder, his most recent recurring TV comedy role was in Ben Elton's police sitcom, The Thin Blue Line, which ended in 1996. He retired Mr Bean, beyond animations and one-offs, fearing his famous physical comedy skills would decline in his 50s.
Maigret will keep him busy – there are 75 novels primed for adaptation in the Simenon series – but Atkinson also hopes to challenge the reticence of audiences to accept an older comic persona. "I don't want to lose touch with comedy and I'm sure I won't."
Vintage comedians who retain their timing are able to command the same arena-sized audiences as ageing rock acts. The five surviving Monty Python members reunited for a lucrative series of O2 Arena shows in 2014, defying a combined age of 357.
And Atkinson felt his age was an asset for the "straight" role of Maigret. "I quite liked the fact that I'm rather old for it because he's supposed to be around 50 and I'm definitely around 60 ... he's not an old man, he's supposed to be a vigorous middle-aged man."
The star first turned down the role of the pipe-smoking detective, once played by Michael Gambon, unsure he could pull it off. "The first couple of weeks on the first film I found very, very difficult," Atkinson admitted. "The main problem being not the fact the part is serious but that the character is very low key and his whole delivery is decidedly untheatrical and naturalistic ... you can't do anything too big or silly or theatrical."
'Maigret Sets a Trap', ITV, Monday 28 March, 9pm
Join our new commenting forum
Join thought-provoking conversations, follow other Independent readers and see their replies