Edinburgh Fringe 2015: Is Our Ladies of Perpetual Succour about Catholic choir girls behaving badly a blockbuster in the making?
It has a creative team including Vicky Featherstone, head of the Royal Court, and 'Billy Elliot' writer Lee Hall
"It's got a great headline," says director Vicky Featherstone of the project that drew her back to Scotland for a summer and away from the artistic directorship of the Royal Court in London. "'Catholic girls' school choir goes to the city for the day, gets drunk, gets into lots of scrapes and then goes home in time for the last dance at the local nightclub'. It's a fun romp," she claims.
This new show from the National Theatre of Scotland also has a creative cast to suggest there might be some blockbuster potential in there. As well as Featherstone – who joined the Royal Court in 2013 after a six-year period as the National Theatre of Scotland's founding artistic director, where she oversaw hits including Black Watch and Alan Cumming's one-man adaptation of Macbeth – Our Ladies of Perpetual Succour is a retitled version of Alan Warner's 1998 third novel The Sopranos, adapted for the stage by Lee Hall, the screenwriter of Billy Elliot and War Horse and playwright of The Pitmen Painters.
Although her contract allows her to do one freelance project a year, Featherstone would normally rather get on with the business of running the Royal Court: "I'm not there but I'm still getting the emails," she jokes during rehearsals for Our Ladies... in Glasgow. Yet with this play there was a sense of unfinished business.
She had set it in motion herself while at the head of the NTS, Hall remembering that they first discussed their mutual love for Warner's book outside the toilets at the Evening Standard Theatre Awards when he won for The Pitmen Painters in 2008. When her replacement at the NTS Laurie Sansom took over, he told her he'd still like to see it produced. "I feel very lucky about that, it was very generous of him," says Featherstone, who has worked on this show in the background for the last two years. "It's great being back in Glasgow, it feels like I'm home again."
Part of the point of Featherstone's desire to see this play produced was her belief that it represents something far more than just a fun story. "Underlying that headline is a beautiful, profound story about youth, about girls, about the power of girls together as a unit," she says. "About the adulthood they will have to face at some point, but not today. And that feels very provocative to me. We live in a world where we so demonise youngsters, and young women particularly, and I really wanted to put characters on stage who are sexual but not sexualised, and allowed to be powerful and in control of their own story. And not in a titillating way, which is the way we normally look at teenage girls, I think.
"If you look at years and years of theatre and playwriting," she continues, "the statistics are there that so many more male characters are given the right to tell a story. It just feels like if I do nothing else, I should do something that begins to redress that balance. It shouldn't be an unusual thing that there are six female characters on stage in a female band, but even when I look at it it feels unusual. It actually shocks me that it feels unusual to me. It really shouldn't be in 2015."
Set across a period of 24 hours, the play follows six girls from a Catholic school in Oban who travel to Edinburgh for the finals of a choir contest, determined that they'll drink, shop and have fun when they get there. Against this sense of freedom together, each is struggling with their own issues: serious illness; their sexuality.
"They've got this innate gift, but their own lives are in chaos and disarray," says Hall, "so there's this marvellous tension between the purity of what they can do musically and this roughness outside of that. The play is about this moment, which is possibly their best and most transgressive until now, but we have a feeling that their lives are closing in on them and their opportunities to express themselves are about to be taken away. It's a very common place to be when you're in that delicate moment between finding yourself and wanting to express yourself, and the reality of being an adult and leaving school and getting a job."
Music is integral to the play. Not just the classical works by Handel and Bach, which the girls perform, but also the cover songs they play by artists like ELO. Both Featherstone and Hall enthuse about the six unknown young performers, who were chosen for their spread of abilities to act and play instruments. The work of musical supervisor Martin Lowe, who also worked on Once director John Tiffany, is integral to the piece.
"They play their dads' record collections," laughs Hall. "It's as if they're putting on a gig and telling us about their day while they do it. I come from a traditional place where I can't imagine a show for the theatre without music in it. Music was at the very root of all forms of theatre, from people round the campfire in Africa to all the Greek tragedies. I'm always on the lookout to make shows that have music, and I think in this play it really makes sense."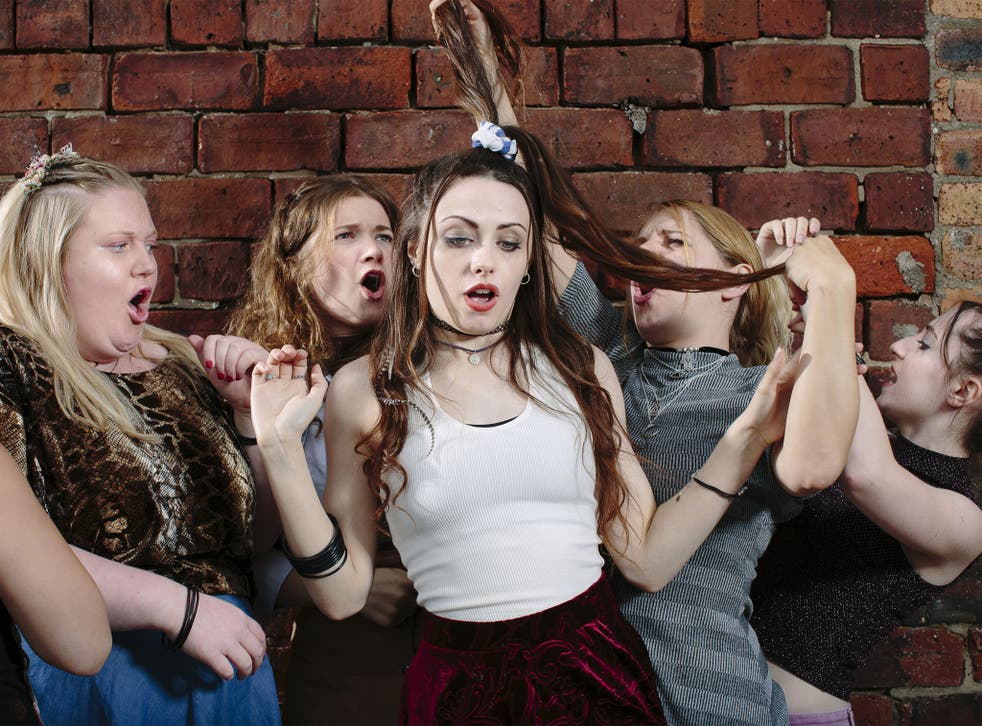 That they're girls is crucial to the substance of the play, and that they're Catholic heightens the sense of expectation upon them, but the class of these characters is in keeping with Hall's regular themes as well. "Just last week I thought, this is very similar to Billy Elliot," he says, "in that these women are artists in much the same way. They're ordinary people who have art as part of their life, but there's nothing sentimentalised about that. It's very much a celebration of working-class life and culture, and working-class feelings, and I think that's what attracted me to the book.
"It's a world I understand, even though I was brought up in Newcastle," he continues. "These girls are my sister, my mates from school. A lot of the London media pour scorn on working-class people for being themselves and having a good time, but I want to celebrate the energy of that hedonism because it's a culture of resistance.
Writing drama about ordinary people's lives is much more rare on the ground now, and now we're back to Downton Abbey and all that. That's worrying, because there are more people like these girls in the country than there are people who go and see theatre. I think that hopefully we're redressing the balance." µ
'Our Ladies of Perpetual Succour' is at the Traverse Theatre, Edinburgh, from 18 to 30 August, then touring the UK
Join our new commenting forum
Join thought-provoking conversations, follow other Independent readers and see their replies