Edinburgh Fringe 2015: the trials of being a comedian
Anyone who's flunked a Best Man's speech knows that being funny is a serious business. As they prepare for the festival, five acts reflect on the challenges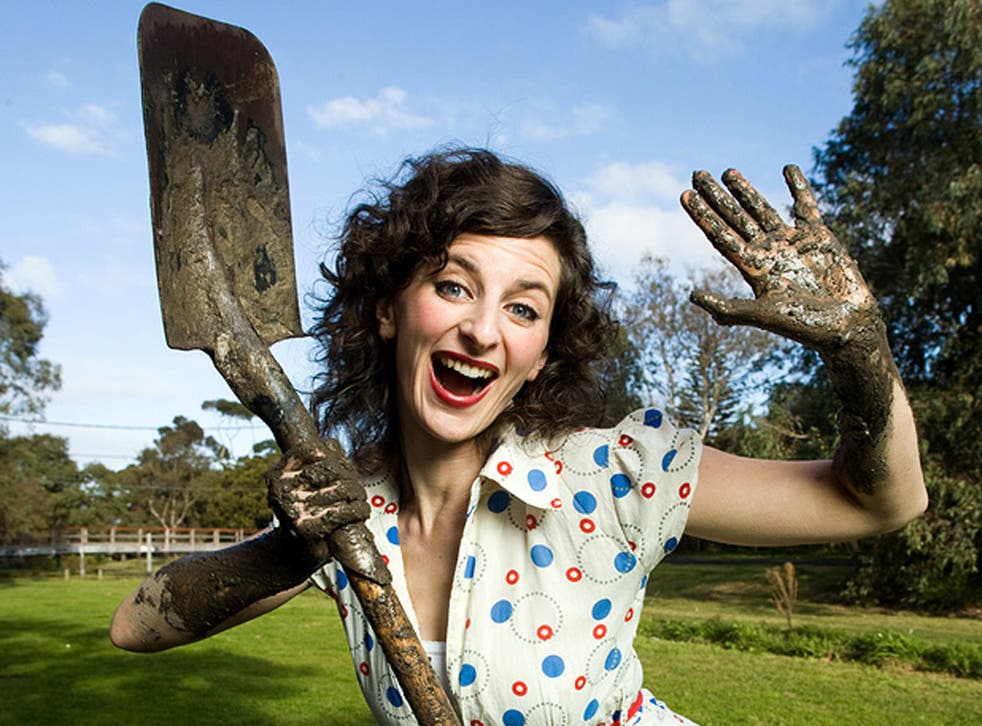 Felicity Ward - Spilling your guts out
This year, I've decided to write a show about mental illness and irritable bowel syndrome … because I hate making money. Hate it! Get it away from me! "How do you write jokes from such dark, intimate material?" I hear no one say. Well, I'm glad you asked.
Firstly, book yourself a great holiday in September so you have something to work toward. Secondly, sit down in front of a mirror, nude, with deep, forest-trance music vibrating in the background. Burn some incense. Paint your skin with mud. Now talk out your darkest, deepest secrets into the truth of your own reflection. Make sure you record this on your phone – to remember what you've said, and so you can still see if anyone retweets you while you're in firm discourse with your subconscious.
Once your stories are out and your tears have opened racetracks through the mud on your face, go and have a shower, because you're gross. The mud has dried in places that's making it uncomfortable to walk.
Now that you've distilled that sadness, take out a piece of butcher's paper and listen back to the words you chanted. Write down anything you think you can make funny. Then think about your family. And think of all the things you could have been instead. Then, back to the paper. Procrastination and unforgiving self-analysis is the backbone of any good routine.
Once this has magically shaped itself into an hour of laugh-out-loud material, take it on stage every night for a month, in front of strangers to discover whether you've made a horrible mistake, or something that people can somehow relate to and laugh at. Either way, you have a nice holiday to look forward to!
Felicity Ward's 'What if There Is No Toilet?' is at Pleasance Courtyard 5- 31 Aug
Dane Baptiste - Living up to the hype
Last year, I was nominated for Best Newcomer at the Edinburgh Fringe. It turns out that I was the first black Briton to be so. I feel my value on the NASBLAQ (The Black Entertainer Index) has risen. With Idris Elba being at the top, speculators now place me at 674th – just above Trevor McDonald's travel agent but below Tinie Tempah's barber. I mean, it won't get me a black card at Nando's but I get all the serviettes I want (#Glamorous).
However, this newfound recognition doesn't come without emotional baggage: "tokenism", "political correctness" and "box ticking" are all words whispered into my ear by my own ego. The fact that I've called my new show Reasonable Doubts should be a clear indication of how much time I spend thinking about my act not living up to expectations. I lie awake worrying people will call me the F-word – Fluke.
Then again, you're always going to have critics. I've kept this in mind ever since I had my first comedy headshots taken. I was asked to wear a suit for them: seeing the final prints made me realise that I wouldn't be able to please everyone. Unless people wanted me to be P Diddy's stunt double or perform as part of a Motown tribute act called Jokey Robinson. But they don't. I've checked.
The way I've always dealt with "living up to the hype" is to pretend it doesn't exist. Not in the hope that it will go away, but because I don't think that it got me to where I am. I focus on writing the very best show possible. That means the hype has to work to keep up with the act, not the other way round.
Dane Baptiste's 'Reasonable Doubts' is at Pleasance Courtyard 5-30 Aug
Sam Simmons - Being an acquired taste
To die on stage in pursuit of a joke you believe in is a noble end indeed, like a gladiator's death, or a samurai fallen on his sword … it is the good death.
I've died a thousand times and I'll die a thousand more. I still retain jokes in my set that don't often work, but they are there for me, not you, dear audience.
I am currently writing you this from the Montreal Just For Laughs festival in Canada where, just last night, a large bit died in my solo show. Then, surprisingly, at the end of the gig a "VIP" Hollywood producer stood up, giving me a solo ovation; it was like that brilliant scene in Little Miss Sunshine at the catwalking babies' show.
Said Hollywood producer told me things like I was "brilliant" and "brave". I agreed with him. "I'm the anti Christ of relatable standup," I thought to myself as I drank heavily into the night. "I'm a hot little rebel, I'm definitely not a crowd-pleaser, more a crowd teaser ... Man I'm good," I thought to myself. Then I woke up at 6am in a cold sweat feeling dreadfully unfunny because of the show the night before.
Then I remembered I won best show at the Melbourne International Comedy festival this year*, my show is in fact excellent, and I am a big brave in deed!
These moments of self doubt are crucial in shaping the clown.
I could make it easier on myself and chose a safer comedic path, but I'd rather choke on poo and sand than join the ranks of the relatable reliable T-shirt philosopher brigade.
And so, I shall stand valiantly like a gladiatorial clown warrior, ready to fall on my sword in defence of the funny bone. Today is a good day to die.
Sam Simmons's 'Spaghetti for Breakfast' is at Underbelly Potterow 5-30 Aug
Chris Stokes - Staying mentally healthy
There's almost a cliché that comedians are at least a tiny bit unstable, otherwise why are we doing what we do? I had usually dismissed it and, to some degree I still do, but there was a time when I reached the conclusion that it wasn't exactly helping me to be mentally healthy.
The recent breakdown of my marriage was obviously informing a lot of what I was doing onstage, though I was being naive about how it was affecting me. Rather than identify how that was altering my psyche, I saw comedy as the problem which eventually led me, in 2013, to fall out with comedy and go off, stubbornly, to drive a van. However, comedy was actually part of the solution. Much like putting the incorrect word into a crossword and not being able to get the other clues because of that, yet having no idea why, I did not immediately see that.
I had eradicated an outlet which, had I kept exploring it, might have seen me work this out much, much sooner.
Another cliché is "comedy as therapy", one I think does hold some truth. Therapy is talking through your thought processes and emotions out loud to another human being who will be able to interpret them for you with a view to working out any mental ailments you may be walking around with.
Comedy is much the same, thinking out loud to a group of objective strangers whose instant reactions to what you are telling them will inform you as to how much truth is in it. Upon (belatedly) reaching that conclusion, I was able to recalibrate successfully and begin sorting things out. In fact, I was able to start talking about recent issues and how they affected me mentally when I returned to stand-up earlier this year.
Chris Stokes's 'Altruism in Birds' is at Pleasance Courtyard 5-30 August
Pajama Men - Putting yourself in physical peril
Mark Chavez (right in picture): Our comedy is quite intensely physical, so you'd think it would pay to warm up. But a few years ago, while getting ready for a performance, I was practising cartwheels and I pulled a muscle in my groin. Clearly, I should have stretched first. Both of my inner thighs were purple for two weeks, and it was painful to walk for the next few days.
Also, it's important to note that, as far as I can remember, I've never done a cartwheel in any of our shows, so I don't know what I was "practising" for. Whatever the case, it put me off doing any major warm-ups before performing because I don't want to risk another injury like that. Now I limit my pre-show ritual to exhaling loudly a few times, and maybe jogging in place for four or five seconds. Then I pace around a lot.
Shenoah Allen: Sometimes I play a ghoulish character named Leopold. He's a twisted-up Nosferatu kind of guy. To give him a cartoonishly gaunt look, I suck my cheeks in and hold them in place with my teeth. During an extended run of shows, this technique can lead to cuts on the inside of my mouth. The saving grace? Drinking my own blood is very much in character.
Pajama Men's '2 Man 3 Musketeers' is at Assembly Roxy 7-30 Aug; 'Pterodactyl Nights' is at Assembly George Square 14-22 Aug.
For tickets for all the above acts go to edfringe.com
Join our new commenting forum
Join thought-provoking conversations, follow other Independent readers and see their replies