Mr Swallow - The Musical, Pleasance Dome, review: 'Heroically ambitious and brilliantly entertaining'
Edinburgh Festival 2014: Mr Swallow is a quite hilarious creation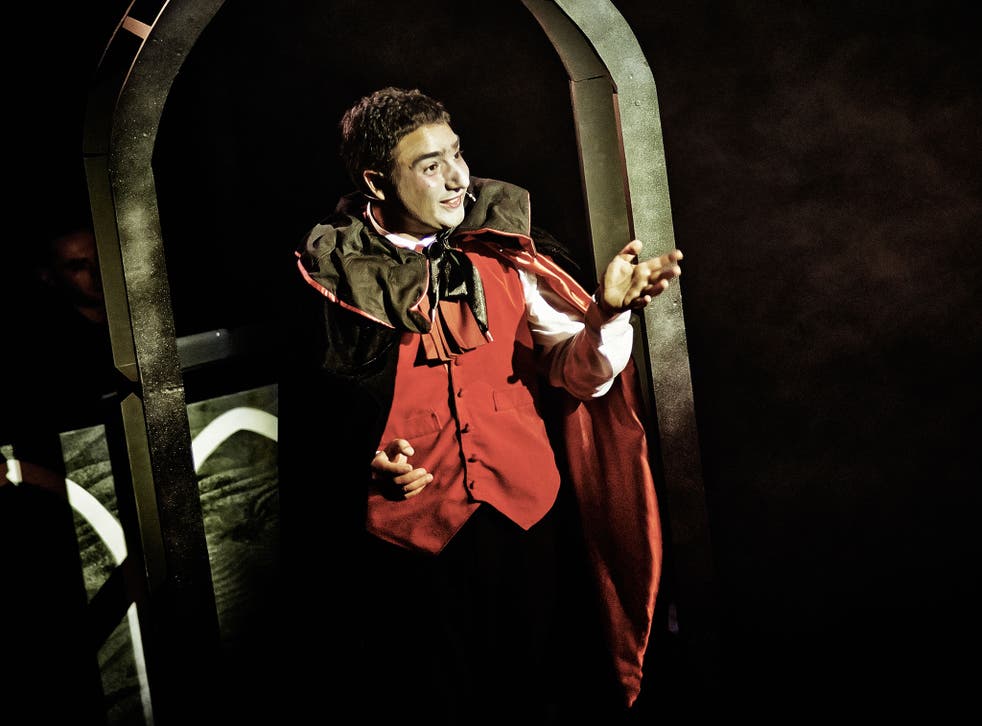 "How does Dracula stand?" squawks Mr Swallow, coquettishly cocking a knee as he welcomes Jonathan Harker to his spooky mansion. Not like that, Swallow. Nor was Dracula a talkative Northerner known for making his entrance on rollerskates - but this is Mr Swallow's musical and he'll skate if he wants to.
A regular on television sitcoms, Nick Mohammed has been bringing Mr Swallow to Edinburgh for a few years. A non-specific motivational speaker who never manages to stay on topic, he is a quite hilarious creation - camp, daft, huffy and, like all the best comedy characters, endowed with an inflated sense of his own talents.
In this new heroically ambitious and brilliantly entertaining show, Mr Swallow finally gets his big break, as the star of a new Dracula musical. Unsurprisingly it goes to the chatty megalomaniac's head and as the final dress rehearsal unfolds, he becomes a monstrous diva - tweaking a line here, extending a solo or trying out a new Scouse accent there, all the while fumbling his fangs and bungling his blood capsules. "Who WROTE this?" he demands, outraged, at one point.
It's all in the silliest tradition of backstage farce but crucially, like Noises Off and other classics of the genre, the musical itself is really rather good. The finer points of the lyrics are sometimes lost to chaos and the band but there are jokes aplenty, whether in a number about the appeal of evil or ordering a Chinese takeaway.
Kieran Hodgson, David Elms and Joanna Grace provide excellent support as Swallow's world-weary co-stars, but there is one reason to see this and he is standing centre-stage, in a wonky cape and roller-skates. Immensely enjoyable.
To 24 August, 0131 556 6550
Join our new commenting forum
Join thought-provoking conversations, follow other Independent readers and see their replies