Adam Driver interview: 'Part of your job as an actor is to be a spy'
The actor talks to James Mottram about losing 30lbs for his role in 'Silence', the new Martin Scorsese film, and why he is happy with the way 'Girls' finishes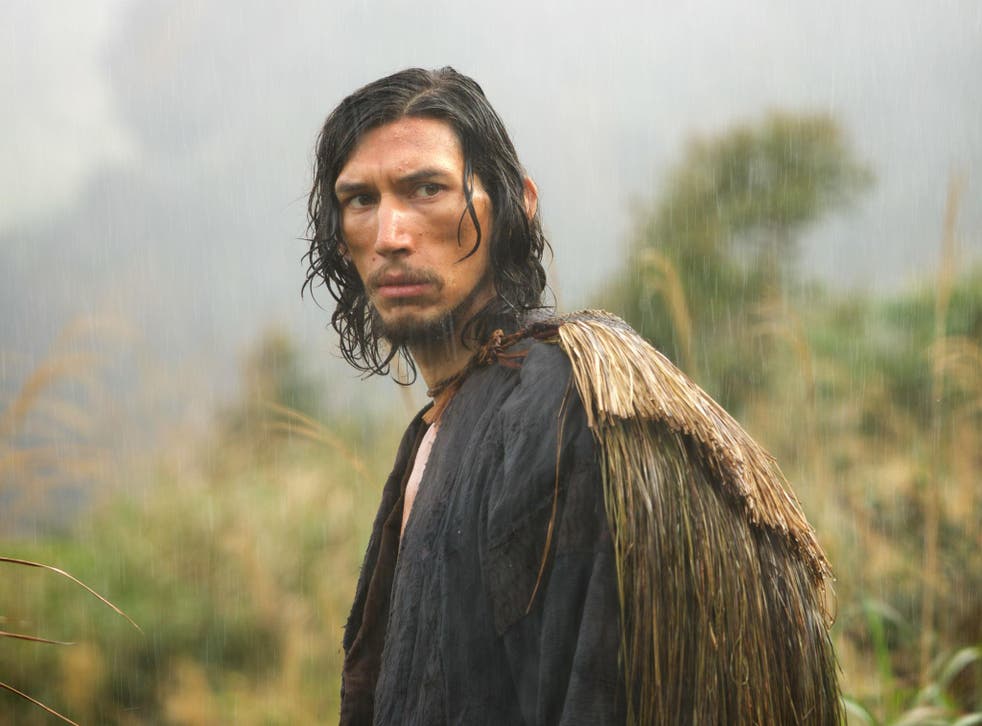 Suited up, Adam Driver is sitting in a London hotel boardroom contemplating the meaning of faith. That might sound like a heavy topic for an interview, but the American star is here to talk Silence, the new film from Martin Scorsese. The third in Scorsese's unofficial spiritual trilogy, after The Last Temptation of Christ and Kundun, it's an adaptation of Shūsaku Endō's novel about 17th-century Portuguese Jesuit priests who journey to a hostile Japan to spread Catholicism.
In the film, he plays Father Garrpe, who travels to the Land of the Rising Sun with Andrew Garfield's fellow believer to search for a fellow priest – played by Liam Neeson – who has disappeared amid his religious mission.
"It's about the relationship to faith and the crisis of faith," says Driver. "I based him a lot on St Peter, who I really relate to having doubts. When tested, hopefully he rises to the occasion, but is very open about his anxiety and doubt along the way."
Driver had a religious upbringing in Idaho, with a stepfather who was a Baptist minister, even singing in the local choir. But it "didn't stick with me", he says. He spent the film contemplating crises of faith in other ways. "Anything you've committed yourself to," he says. "Even within this movie, and it's in the boundaries of religion, it could be a substitute for marriage. You've made this commitment to this other person – it's not just, 'that's it'. It needs constant work."
Wed for three years to his long-term partner, actress Joanne Tucker, Driver probably isn't referring to his own marriage. His crisis of confidence, he says, is more work-related. Despite working with such esteemed directors as Steven Spielberg (Lincoln), the Coen Brothers (Inside Llewyn Davis) and recently Jim Jarmusch (Paterson), not to mention playing the villainous Kylo Ren in last year's Star Wars: The Force Awakens, Driver says he deals with personal crises (in his own ability, at least) "all the time".
"I don't think about things in terms of successes," he says. "I still have to do my job. A lot of times, you're with a group of people figuring things out but you have to be very aware and self-analytical of what it is, the story you're trying to tell, or is your ego getting in the way, or is your insecurity getting in the way, or is your expectation of other people getting in the way, or are you not listening to everybody else? I feel like there are constant unspoken checks and balances that happen."
Nonetheless, working for Scorsese represents a high-point in an already impressive career – one that began in earnest after spending two years in the Marines, post-9/11, until a mountain biking injury ended his military stint. This brief time as a soldier might be why Driver can endure hardships. For Silence, he dropped 30lbs, using weight loss pills that kept him awake at night. He remembers one scene where he and Garfield, half-starved, were out on a boat. The crew broke for lunch and he and his co-star were left stranded.
"I don't know if they even told us they were doing that or they asked us if they wanted to bring us in, so it was just me and Andrew sitting in the boat in the middle of the water," he recalls, "but we had a panoramic view of everyone eating lunch! So everybody's eating food all along the coast, and we had to sit and watch everyone eat. Then you have two Jesuit priests – or in priest garb – standing in the middle of the boat going, 'Fuck you, guys!'"
After Silence, Driver will next be seen in the final season of Lena Dunham's Girls, the show that first brought him to our attention as the artistic, angry boyfriend. Concluding the show for good "was bittersweet" he says, sad and exciting at the same time. "I've never played a character for six years before. Who I am as a person is different than when we started." Inevitably, the crew now feel like family. "The boom guy Jason has seen me naked probably more times than" – he stops, thankfully – "probably second only to my wife!"
Access unlimited streaming of movies and TV shows with Amazon Prime Video Sign up now for a 30-day free trial
Sign up
Driver is happy with the way Girls finishes. "Everyone seemed to be very excited that it's also ending on a note that they can control, that it seemed to make sense. It's not just an arbitrary ending to it. And they're excited to move onto other things. But I've been doing it for the past six years every summer, so I think it will hit me more when this next summer comes, when I'll be at home." How is his relationship with Dunham now? Are they like siblings? "It is very close," he nods. "I've known her for... it's one of the longest relationships I've had in this business."
It doesn't stop there, with Driver already wrapped on Logan Lucky, Steven Soderbergh's return to directing. He's also committed to Leos Carax's tale of a stand-up comedian and his daughter, Annette, and Terry Gilliam's The Man Who Killed Don Quixote, the long-gestating Cervantes-inspired project that famously collapsed with Johnny Depp in the lead role. "I'm totally on board, whenever we can pull it together – sooner rather than later. I'm optimistic. And so is Terry – surprisingly! He's very much Don Quixote!"
Then there's the little matter of Star Wars: Episode VIII, the next chapter in the saga, which will see him return as Kylo Ren. How much did the previous film change his life? "When you walk around, it's a different group [of fans]... a smaller group!" he laughs. "But it's good. The kids part of it is great. Even older fans, they seem to like it." But losing his anonymity has been difficult. "Part of your job as an actor is to be a spy. When suddenly you go places and you're the focus of attention, it's hard to do your job." Hopefully, he'll keep the faith.
Silence opens on 1 January. Girls returns on Sky Atlantic in early 2017
Join our new commenting forum
Join thought-provoking conversations, follow other Independent readers and see their replies