Alexander Skarsgård on why a new Tarzan is all about 'releasing the beast'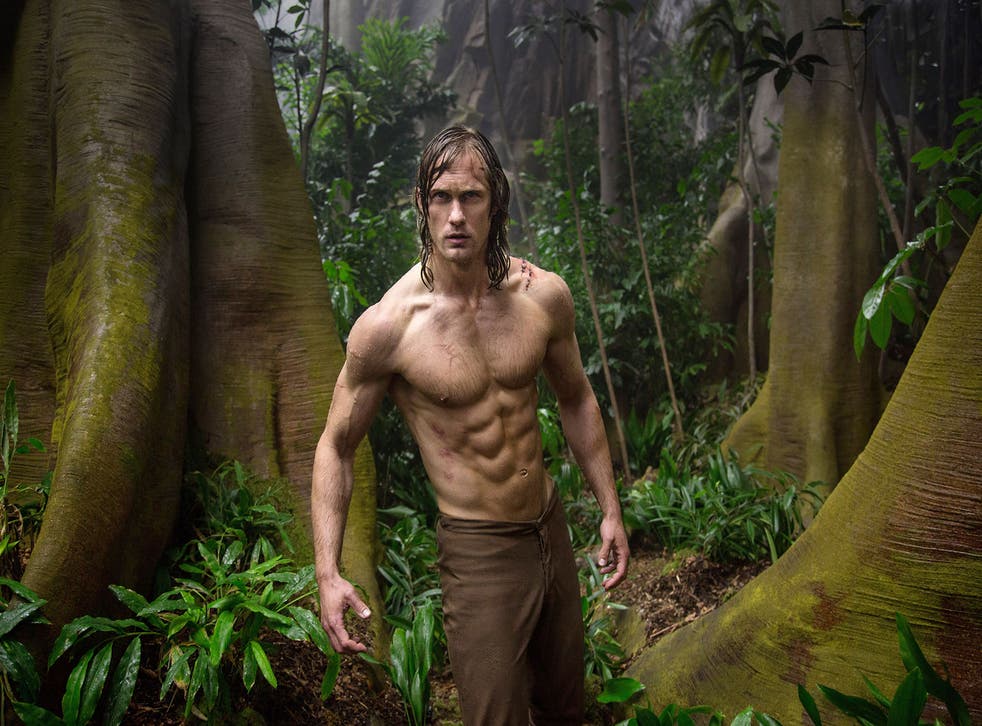 "It's a jungle in here!" Alexander Skarsgård walks into the room and immediately dispels any doubts I had that he would make a suitable Tarzan. He is referring to the sweltering temperature in the Los Angeles hotel suite where we are meeting to talk about The Legend of Tarzan, and swiftly sorts out the air conditioning issue.
It transpires that Skarsgård, the 39-year-old Swedish actor who plays Lord Greystoke in the latest reboot of Edgar Rice Burroughs' tale of a vine-swinging aristo, had doubts about another take on Tarzan. "I didn't immediately jump at it," Skarsgård says. "There have been so many adaptations of this famous story so when you hear about it, you're like, 'Why are we making another one?' Then I opened the script and the first page is him drinking tea with the Prime Minister in London with a buttoned-up suit, proper hairdo, very polite. I was like, 'That's so cool. I'm in.'
"It's not the Tarzan you expect to meet, not the loinclothed 'me-Tarzan-you-Jane'. It's very sophisticated. He goes back to the jungle, and so if the novel and most other adaptations are about taming the beast, this is about releasing the beast."
Skarsgård is best known for vamping it up as Eric in HBO's True Blood and – aside from 2012's Battleship, about which the less said the better – he has never made a film coming close to The Legend of Tarzan's $180 million budget. "I think the reason I got excited about it is we can all relate to that dichotomy of civilised human beings and animals. This is obviously an extreme version of that, but we're all animals deep down who try to function in a civilised society and politely drink tea together."
Sadly the news suggests we increasingly want to kill each other as well. "Sometimes," he replies. "Or make love to each other. That's a lot better!" (Skarsgård is dating Alexa Chung, but he doesn't talk about his private life.)
The Legend of Tarzan also stars Margot Robbie as a feisty Jane, Christoph Waltz as a corrupt Belgian envoy and Samuel L Jackson as real-life American politician George Washington Williams, and also covers colonialism and slavery perpetrated in the Congo by King Leopold of Belgium.
Skarsgård's ties to Tarzan go back to his childhood. "My dad is a massive fan of Tarzan," he says of his father Stellan Skarsgård (a renowned actor himself in films ranging from Good Will Hunting to Thor). "In Sweden, every Saturday he would go to the matinee of the old Johnny Weissmuller movies. As a kid, we would watch the VHS cassettes; he was more excited than I was when I got this role."
The Weissmuller connection doesn't end there. "The night I wrapped True Blood, twelve hours later I was on a plane to London to start Tarzan. Which was a nice transition because the very last night on True Blood, we shot in the woods on the Warner Brothers backlot in Burbank where Weissmuller shot the old Tarzan movies. It was a lovely way to end the show in Johnny's footsteps." And, when it comes to Tarzan's trademark shout, Skarsgård says "there's a little bit of Weissmuller in there."
But shooting a Tarzan movie today is rather different to the six Greystoke movies that Weissmuller made in the 1930s and 1940s. The Legend of Tarzan, directed by Harry Potter filmmaker David Yates, was filmed at Leavesden studios in Hertfordshire with two hangars transformed into jungle sets with real trees, flowers and rivers: "When they told me that we were going to shoot the entire movie in Watford, I was afraid that it would be like a green box that we would be in. But I was blown away – it felt like we were in the jungle."
Access unlimited streaming of movies and TV shows with Amazon Prime Video Sign up now for a 30-day free trial
Sign up
The gorillas and elephants were created by CGI, which must have been disorienting. "I'm standing there caressing this tennis ball [as a stand-in] instead of looking into an elephant and of course it felt incredibly ridiculous. But when I saw the movie, it felt trippy because the animations are incredible."
Having previously worked with intimate filmmakers such as Lars von Trier and Zal Batmanglij, Tarzan came as a shock to the system to Skarsgård. "How do you compare David Yates to Lars Von Trier?" he asks. "I've never worked on a movie this big before. I worked mostly in independent movies where you can say, 'This isn't working, let's change this or rewrite the scene.' But even though it was a massive movie, a big beast of a production, when you're there with the director and other actors it doesn't feel that different from working on a tiny movie like Diary of a Teenage Girl or with Lars von Trier, because it's about that connection that you have together.
"Technically it was different. Lars shot everything using natural light and with just him and the cast in the room. You couldn't shoot Tarzan that way. But David's an amazing director who trusts his actors and he makes everyone feel they're working with him and not for him. He genuinely wanted everyone to pitch in and he had this incredible way of getting people excited."
Skarsgård spends much of the second half of the film showing off his 8-pack abs, for which he had a 7,000 calories-a-day diet. As with True Blood, there was no reluctance at shedding his shirt: "If I felt that was the most exciting aspect of the character, I would have hesitated, but I didn't even think about that because I was genuinely so excited about the opportunity. I can't turn it down because it has to be shirtless!"
The film entailed other sacrifices. Skarsgård became a passionate Leeds United fan when he briefly studied at Leeds Metropolitan University in 1996. (Throughout Tarzan, Skarsgård conveys a look of smoldering exasperation as though he's just seen a compilation of Leeds United's greatest hits before being reminded of their present sorry plight.) Despite spending eight months in England filming, he never made it to Elland Road.
"I did go to one game, Arsenal-Man City, which was great. That was the most and probably the only exciting thing I did in eight months! The days were very long – mentally and physically exhausting. So on weekends I would just sleep and I was also on this very strict diet, so I couldn't really go out and have a pint with my friends or eat at restaurants. I was depleted."
I ask Skarsgård about the contrast between his achieving success so young and his father who came to prominence – in Hollywood at least – relatively late in life. But Skarsgård, whose youthful looks make it easy to foget he's almost 40, replies that his father actually had it harder. "It wasn't until season two of True Blood, six years ago, when people started to recognise me. It wasn't like I was fresh off the boat. In a way it was tougher for my dad because he did a television show when he was sixteen, and back then there was one channel in Sweden so everyone was watching. He became an overnight sensation, a rock star. I wasn't that."
He might play down his pretensions to rock stardom but in fusing HBO, vampires and sex, True Blood was rock'n'roll TV. Can he see it ever returning, perhaps – like HBO stablemates Entourage and Sex and the City – via the cinema? "I don't know, we'll see. I think we had a good, very long run. There are moments where I miss playing Eric and my True Blood family. Not only the cast – we had pretty much the same crew for seven years, which is unheard of in this business."
A year ago I watched Skarsgård being grilled at the New York premiere of Diary of a Teenage Girl over his earlier decision to dress up as a drag queen for the film's West Coast premiere at The Castro Theatre in San Francisco. He was visibly uncomfortable at being questioned on the red carpet.
He now seems more serene about being in the public eye. "You can be annoyed at people constantly observing you, and think it infringes your privacy," he says, "or you appreciate the fact that people are responding. I'm incredibly passionate about what I do for a living. Would I rather no-one watches it or cares?"
Clearly, he would not. But then again, it doesn't seem likely he'll have to be test his theory anytime soon.
The Legend of Tarzan is out now

Join our new commenting forum
Join thought-provoking conversations, follow other Independent readers and see their replies