Casey Affleck's Best Actor Oscar sparks outrage due to his sexual harassment allegations
Viewers claimed Brie Larson looked visibly unimpressed after bestowing Affleck with the award for Manchester by the Sea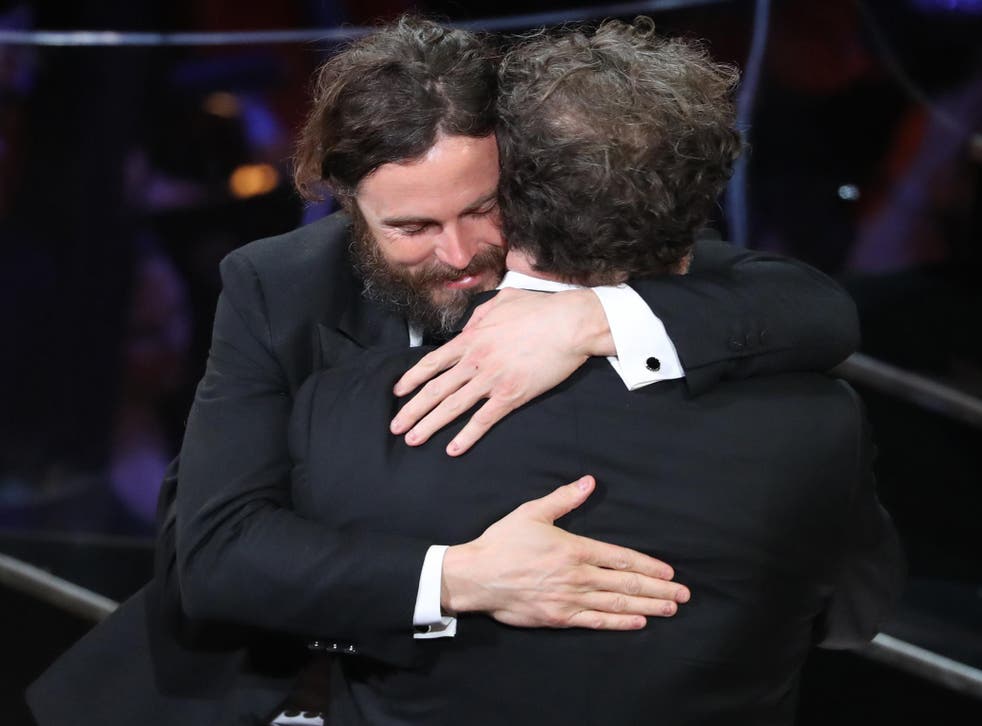 There is nothing Hollywood likes more than a breakthrough underdog and that is why the academy was all too keen to bestow Casey Affleck with the Oscar for Best Actor for his widely lauded role in Manchester By The Sea. Affleck lives up to all the usual runner-up tropes: not only has he been overshadowed by his megastar big brother Ben, he also has something of the tortured misunderstood artist about him.
But not everyone is best pleased about Affleck's Academy Award win. This is because the 41-year-old actor, who was widely tipped to take home the award, faced two sexual harassment allegations in 2010.
Affleck has faced fresh scrutiny over the historical sexual harassment allegations since he has moved ever further into the limelight for his portrayal of a grief-stricken divorcee father.
Producer Amanda White and cinematographer Magdalena Gorka sued for $2m and $2.25m respectively over alleged offences during the filming of the mockumentary I'm Still Here which stars Joaquin Phoenix.
In the original allegations, Ms White alleged that Affleck referred to women as "cows", groped her when she rejected his sexual advances and instructed a camera operator to flash his genitals at her on several occasions. Ms Gorka claimed she was confronted with a "near daily barrage of sexual comments, innuendo and unwelcome advances" from fellow crew members who were encouraged by Affleck.
Affleck has repeatedly and vehemently denied the allegations and settled both claims out of court in 2010. While actual details of the deal remain secret, Ms Gorka and Ms White's complaints continue to be online on the public record.
Oscars 2017: Best dressed on the red carpet

Show all 25
The above allegations explain why people are incensed about Affleck's Oscar award.
"Last year Brie Larson stood and hugged every sexual assault survivor who was on stage with Gaga and now she has to hug Casey Affleck," said one person on Twitter, referencing the fact that Larson presented Affleck with his award.
"Casey Affleck is avoiding eye contact with every woman in the room. #Oscars," said Clickhole, a viral news website.
Other viewers claimed Larson looked visibly unimpressed after bestowing Affleck with the award, noticing that she failed to clap immediately after announcing the award.
Access unlimited streaming of movies and TV shows with Amazon Prime Video Sign up now for a 30-day free trial
Sign up
Media commentators have argued Affleck has not been sufficiently scrutinised for the allegations due to his big Hollywood family name and his privilege as a wealthy white man.
The Oscar is by no means Affleck's first gong of award season. He also took home the BAFTA, Golden Globe, Gotham, Critic's Choice, and National Board of Review awards for his performance in Kenneth Longeran's drama Manchester by the Sea.
The actor fought off competition from Denzel Washington (Fences), Andrew Garfield (Hacksaw Ridge), Viggo Mortensen (Captain Fantastic) and Ryan Gosling (La La Land) to win the Oscar.
A representative for Affleck did not immediately respond to a request.
Join our new commenting forum
Join thought-provoking conversations, follow other Independent readers and see their replies